This pan seared chicken breast from Cook's Illustrated calls for just four ingredients—chicken, olive oil, salt, and pepper—but boasts shatteringly crisp skin, tender meat, and a stovetop that isn't spattered with grease. This is going to change your weeknight chicken game.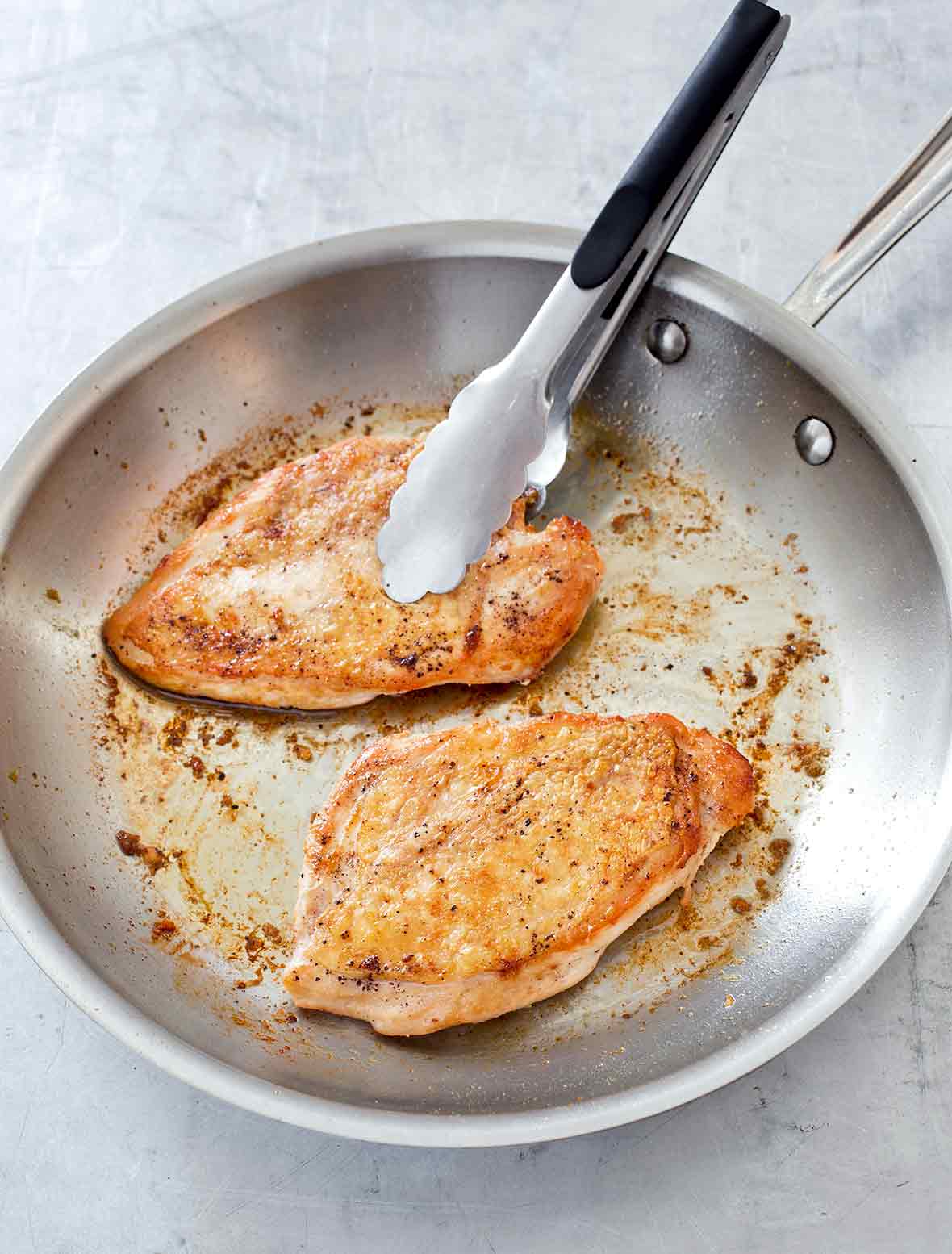 We confess that before we tried this pan seared chicken breast recipe, we were somewhat skeptical. After all, we respect America's Test Kitchen and all, but we were sorta wed to a different method for cooking skin-on chicken breasts—a method we'd used for years without complaint. That changed the moment we tasted this hen. If you cook a lot of chicken, this recipe is life-altering. It's cheap. It's easy. It's fast. It's fail-proof. And wow! (We said "wow" because that's what we say when too many words are jangling about in our minds at the same time and they can't all come through on the keyboard to the page at the same time. Wow is simple. Short. And says it all.) Suffice it to say, our skepticism flip-flopped. You may need to do a little DIY butchering to remove the bone from the chicken breast so you get skin-on chicken breasts at a fraction of the cost of store-bought, but it's a cinch. Follow the instructions below and you're gonna be just fine. All that's left to do is sit down, smile a little smugly, and accept accolades. Bottom line: Best pan seared chicken breast ev-ah.
Oh, and if you want to cook boneless chicken breasts with the skin-on, as we do here, you'll either have to sweet talk your butcher or do a little knife work yourself. (And if you're wondering why on earth you'd want to do that, it's because removing the bones allows the entire surface of the meat to lie flat and even against the pan—a must for perfectly crisp skin.) We instruct you how to do it below. Originally published October 21, 2015.–America's Test Kitchen
Pan Seared Chicken Breast
Quick Glance
15 M
25 M

Serves 2
Print Recipe
Ingredients
Email Grocery List
Two (10- to 12-ounce) bone-in, skin-on, split chicken breasts

Salt and freshly ground black pepper

2 tablespoons olive oil
Directions
At least 1 hour before cooking

1. First you'll need to remove the bone from each split chicken breast. It's really easy. To do this, grab a sharp paring knife in your dominant hand and place 1 chicken breast, skin side down, on your cutting board with the ribs facing away from your knife hand. Starting at the thick end of the breast, run the tip of your knife between the breastbone and the meat, angle the blade slightly, and follow the rib cage and cartilage all the way toward the thin end. Repeat the cutting motion several times to remove the ribs and breastbone from the chicken breast and run the tip of your knife along both sides of the short remnant of the wishbone along the top edge of the breast to separate it from the meat. Remove the tenderloin and reserve it for another use, taking care not to cut into the skin. Repeat with the remaining chicken breast.

2. Using the tip of your paring knife, poke the skin on each chicken breast evenly 30 to 40 times. Turn the breasts over and poke the thickest portion of each breast 5 to 6 times. Cover the breasts with plastic wrap and pound the thick ends gently with a meat pounder, rolling pin, or a heavy skillet until the chicken is an even 1/2-inch thickness.

3. Pat each chicken breast dry with paper towels and sprinkle each breast with 1/2 teaspoon kosher salt. Place the breasts, skin side up, on a wire rack placed in a roasting pan, cover loosely with plastic wrap, and refrigerate for at least 1 hour and up to 8 hours.

Just before cooking

4. Pat the chicken breasts dry with paper towels and sprinkle each breast with 1/4 teaspoon pepper. Pour the oil in a 12-inch skillet (preferably cast-iron) and tilt to coat the surface with oil. Place the chicken, skin side down, in the cold skillet and place the skillet over medium heat. Place a heavy skillet or Dutch oven on top of the chicken to weight it and keep it flat. Cook until the skin begins to turn golden brown and the meat begins to turn opaque along the edges, 5 to 9 minutes. (If you're the impatient sort, you can inch the heat up to medium-high, although we gotta say, it's really not necessary.)

5. Remove the weight and continue to cook the chicken over medium heat until the skin is well browned and very crisp, 6 to 8 minutes. Flip the chicken, reduce the heat to medium-low, and cook until the second side is lightly browned and the chicken registers 160° to 165°F (71 to 74°C), 2 to 5 minutes. Transfer a sautéed chicken breast to each plate and let rest a few minutes prior to serving.
Recipe Testers Reviews
Wow. I honestly didn't think that it was feasible to achieve pan-seared chicken breast perfection with so little spatter on the stovetop. But I stand corrected. Everything in this recipe was accurate—the typical size of a bone-in, skin-on chicken breast; the directions describing how to debone the chicken breast; the visual cues as to what to expect; the timing; and, most importantly, the promise of "shatteringly crisp skin" and remarkably tender, juicy chicken breast meat. I've made this on several occasions already and, when time is short, I skip the salting-and-shoving-the-chicken-in-the-fridge step, and the results are still nothing short of incredible. This recipe is going to change your weeknight chicken game. Swear.
Pan Seared Chicken Breast Recipe © 2014 America's Test Kitchen. Photo © 2014 Carl Tremblay. All rights reserved. All materials used with permission.
If you make this recipe, snap a photo and hashtag it #LeitesCulinaria. We'd love to see your creations on Instagram, Facebook, and Twitter.