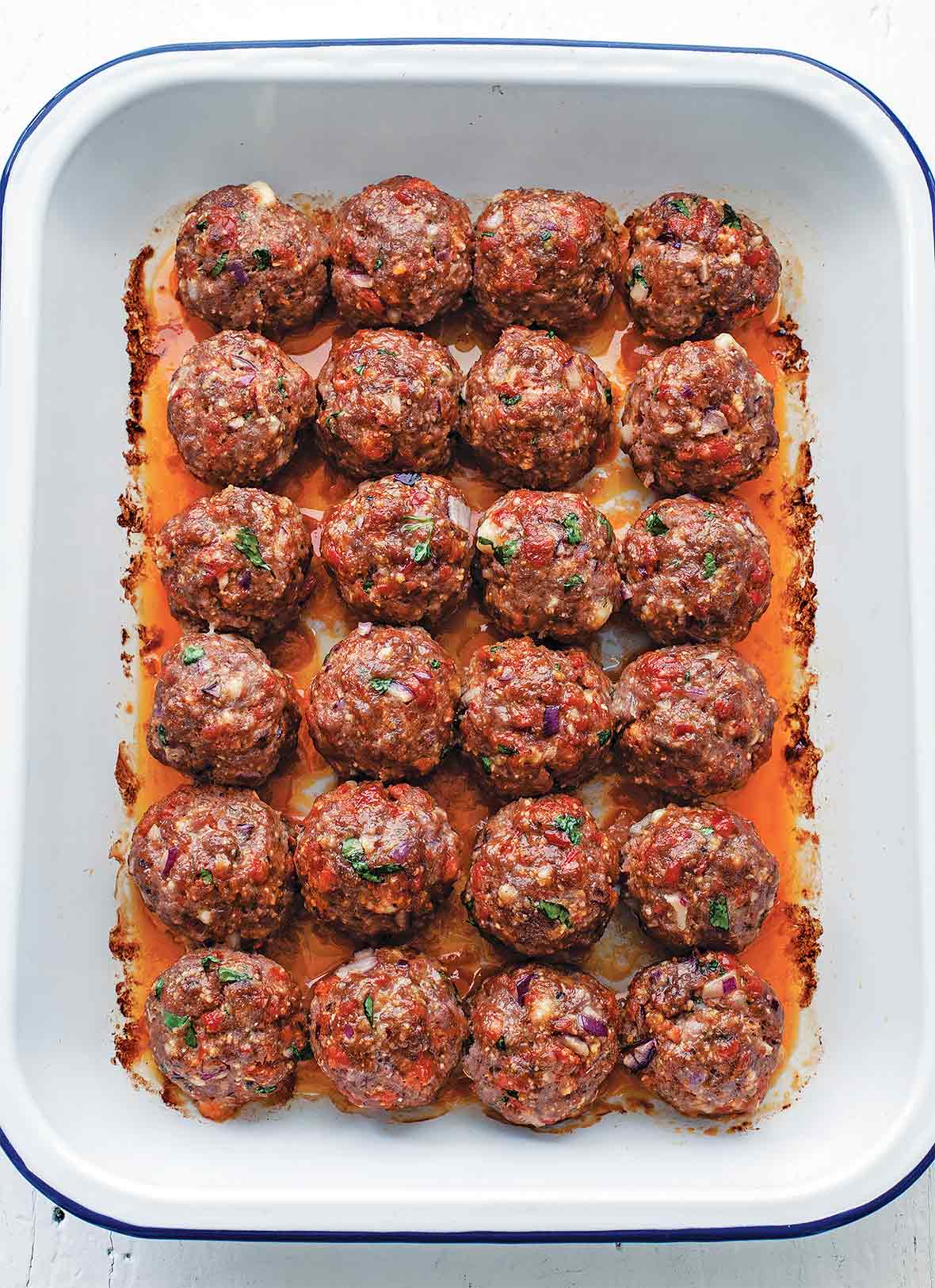 Meatballs [Editor's Note: We're talking meatballs in general and not these chorizo meatballs] are popular, easy to make, and are part of the cuisine of almost every country of the world. Often though, they can be pretty basic; think meatballs with tomato sauce and pasta, or the meatballs served up in the cafeterias of a certain well-known Swedish furniture company. Inspired by the Cafe Moderne menu, this chorizo meatballs recipe sets about restoring the meatball to its former glory. Choose a piece of beef with a fairly high fat content (15 to 20%) to give your meatballs a better texture. [Editor's Note: And better flavor.]
–Cafe Moderne
LC What Folks Are Saying About This Recipe Note
"Foolproof, flawless, flavorful." "I love this recipe." "This chorizos meatball recipe is a keeper." That's what folks are saying about this recipe shared with us by the kind folks at Cafe Moderne in Paris. Effectively, this Spanish meatballs recipe is the attempt of some French chefs to return the American meatball to a thing of glory. Incidentally, the chefs at Cafe Moderne are curious to hear YOUR favorite meatballs recipe, so if you've got one that you feel is the bomb, head over to the Cafe Moderne website and click on "Nous ecrire/Nous soumettre votre recette de MeatBalls" (MeatBalls. The French and their Franglais are just too funny. Incidentally, the proper French way to say "meatballs" is "boulettes." May come in handy someday.)
Chorizo Meatballs
Quick Glance
25 M
45 M

Serves 4 to 6
Print Recipe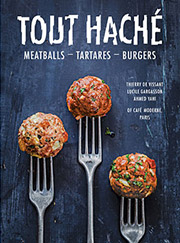 Ingredients
3 tablespoons olive oil

1/4 medium red onion (75 grams), finely chopped

3 cloves garlic, finely chopped

1 large egg

2 tablespoons milk

3/4 cup (50 to 75 grams) fresh store-bought or homemade bread crumbs*

1/2 cup (50 grams) Cheddar or Monterey Jack cheese, grated

3 tablespoons chopped cilantro

1 teaspoon chili powder

2 teaspoons ground cumin

1 teaspoon oregano

1 pound (450 grams) ground beef

1/2 pound (230 grams) ground chorizo

1 teaspoon salt, or to taste
Directions
1. Preheat the oven to 450°F (230°C). Slick a rimmed baking sheet with 2 tablespoons oil.

2. Heat the remaining 1 tablespoon oil in a skillet over medium heat. Add the onion and garlic and cook for 3 minutes, stirring frequently until the onion is transparent.

3. Meanwhile, beat the egg and milk together in a bowl. Add the bread crumbs, grated cheese, cilantro, chili powder, cumin, and oregano. Mix together thoroughly.

4. Add the sautéed onion and garlic to the egg mixture along with the beef and chorizo. Add salt to taste and mix together thoroughly. Using dampened hands, roll about 1 tablespoon chorizo mixture into balls about 1 1/2 inches (4 centimeters) in diameter, taking care not to squash the mixture too much and making sure that the meatballs are all the same size to ensure they cook evenly. Arrange the meatballs on the baking sheet.

5. Roast in the preheated oven for 12 to 18 minutes, until the meatballs are cooked through. Serve immediately.
Tuxedo Variation
Cocktail Party Chorizo Meatballs
For chorizo meatballs that are daintier and easier for your guests to manage as they juggle a cocktail in one hand and a toothpick, napkin, and party nosh in the other, simply use half the amount of chorizo meatball mixture as directed in the recipe above when you shape the meatballs and bake a shorter amount of time, beginning to check on them after 8 minutes.

*Homemade Bread Crumbs Note

To make homemade bread crumbs, use 2- to 3-day-old stale bread and turn it into crumbs by pulsing it in a food processor. Choose from baguette or whole-grain bread. For softer crumbs, use bread that has been soaked in milk or water.
Recipe Testers Reviews
Chorizo Meatballs Recipe © 2014 Cafe Moderne. Photo © 2014 Virginie Garnier. All rights reserved. All materials used with permission.
If you make this recipe, snap a photo and hashtag it #LeitesCulinaria. We'd love to see your creations on Instagram, Facebook, and Twitter.