This grilled hanger steak recipe with raita is gonna transform your notion of just how simple yet spectacular grilled steak can be. Swear.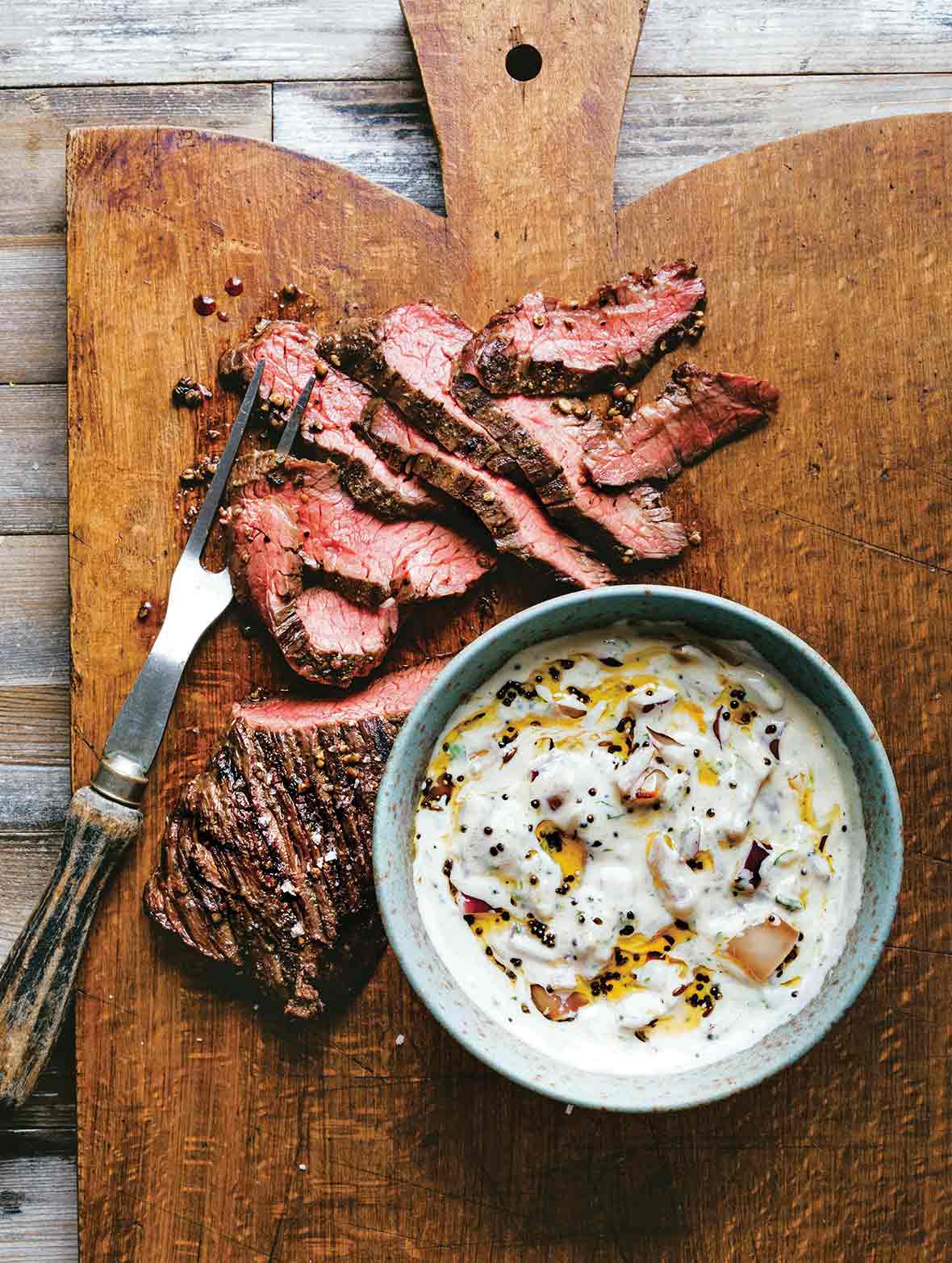 Grilled hanger steak, unadorned, is nothing shabby. But grilled hanger steak with a dollop of this smoky, slightly sweet, incredibly versatile red onion raita? Prepare to collect accolades. The raita goes with countless things beyond steak, including pita bread, lamb burgers, chicken thighs… Care to let us know how you dished up your raita? Let us know in a comment below. Originally published August 3, 2016.–Renee Schettler Rossi
What Is Hanger Steak?
Hanger steak is one of the most underrated cuts on the steer. It has a rich, beefy flavor that will reward you for dealing with the tough membrane running down the center. You can leave this membrane in place, trimming it away as you eat the steak, or you can remove it before grilling. To remove it, use a sharp knife to slice carefully on either side of it and lift it out cleanly, with little or no meat attached. You will be left with 2 disconnected strips of hanger steak. Rearrange the strips side by side and tie them in several places with butcher's twine to recreate a single steak.
Grilled Hanger Steak
Quick Glance
45 M
5 H, 45 M

Serves 4
Special Equipment: Skewers (if using bamboo, soak in water for at least 30 minutes)
Print Recipe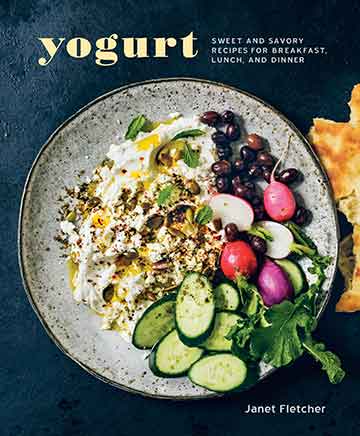 Ingredients
For the grilled hanger steak

1 1 ⁄ 3 to 1 1 ⁄ 2 pounds (600 to 680 grams) hanger steak* (or substitute skirt steak or sirloin flap steak)

1 teaspoon kosher or sea salt

1 teaspoon coarsely crushed black or mixed peppercorns (white, black, green, pink)

For the raita

1 large red onion (10 to 12 ounces/283 to 340 grams)

Vegetable oil

Kosher or sea salt and freshly ground black pepper

1 cup (227 grams) plain whole-milk yogurt

1 clove garlic, grated or finely minced

1 tablespoon finely chopped cilantro or 1 1 ⁄ 2 teaspoons finely chopped fresh mint or a combination

1 ⁄ 4 teaspoon toasted and ground cumin seeds

1 ⁄ 2 teaspoon (1 gram) mustard seeds
Directions
Rub the hanger steak

1. Combine the salt and crushed pepper. Season the meat all over with the mixture. Place a wire rack on a rimmed baking sheet and place the meat on the rack so the air circulates underneath. Refrigerate, uncovered, for at least 4 hours and up to 1 day. Remove from the refrigerator 1 hour before grilling.

Grill the hanger steak and the onion for the raita
2. If using a charcoal grill, prepare a moderate charcoal fire in the center of your grill, leaving the outer rim devoid of coals for indirect grilling. If using a gas grill, preheat it to medium, leaving one burner unlit for indirect grilling.

3. Peel the onion and slice it neatly into rounds about 1/2 inch (1 cm) thick. Carefully thread a skewer through each round to hold the rings together. Brush the slices with oil and season with salt and pepper. Grill over indirect heat—not directly over the coals or gas flame—turning once, until the onions are soft and slightly charred, 25 to 40 minutes. Do not rush the onions or they will blacken before they are fully cooked and they'll lack that smoky campfire aroma. Transfer to a cutting board and pull out the skewers. If the outer ring of the onion slices is dry and papery, discard it. Chop as much of the onion as you wish to use in the raita—somewhere between 3/4 and 1 cup ought to do the trick

4. Meanwhile, grill the hanger steak directly over the coals or gas flame, turning once, until the meat is done to your taste, about 10 minutes for medium-rare. (Hanger steak is best if not cooked beyond medium-rare.) Let rest for at least 5 minutes. If you tied the steak, remove and discard the string.

Put the finishing touches on the hanger steak and raita

5. While the steak rests, whisk together the yogurt, garlic, cilantro or mint, and cumin in a small bowl. In a skillet over medium heat, warm 2 teaspoons (10 ml) vegetable oil. Have the skillet lid handy. When the oil is hot, add the mustard seeds. Protecting your face with the lid, cook until the mustard seeds pop and become fragrant, 1 minute or less. Pour the hot oil and mustard seeds over the yogurt and stir in. Fold in the grilled onion. Season the raita with salt.

6. Thinly slice the steak against the grain. Serve immediately with the red onion raita.
Grilled Hanger Steak Recipe © 2015 Janet Fletcher. Photo © 2015 Eva Kolenko. All rights reserved. All recipes and photos used with permission of the publisher.
If you make this recipe, snap a photo and hashtag it #LeitesCulinaria. We'd love to see your creations on Instagram, Facebook, and Twitter.