This apricot daiquiri is made with apricots, lime, sugar, and rum. It's a cocktail that's similar to peach, strawberry or mango daiquiri. We guarantee this frozen drink is gonna radically up your summer entertaining game.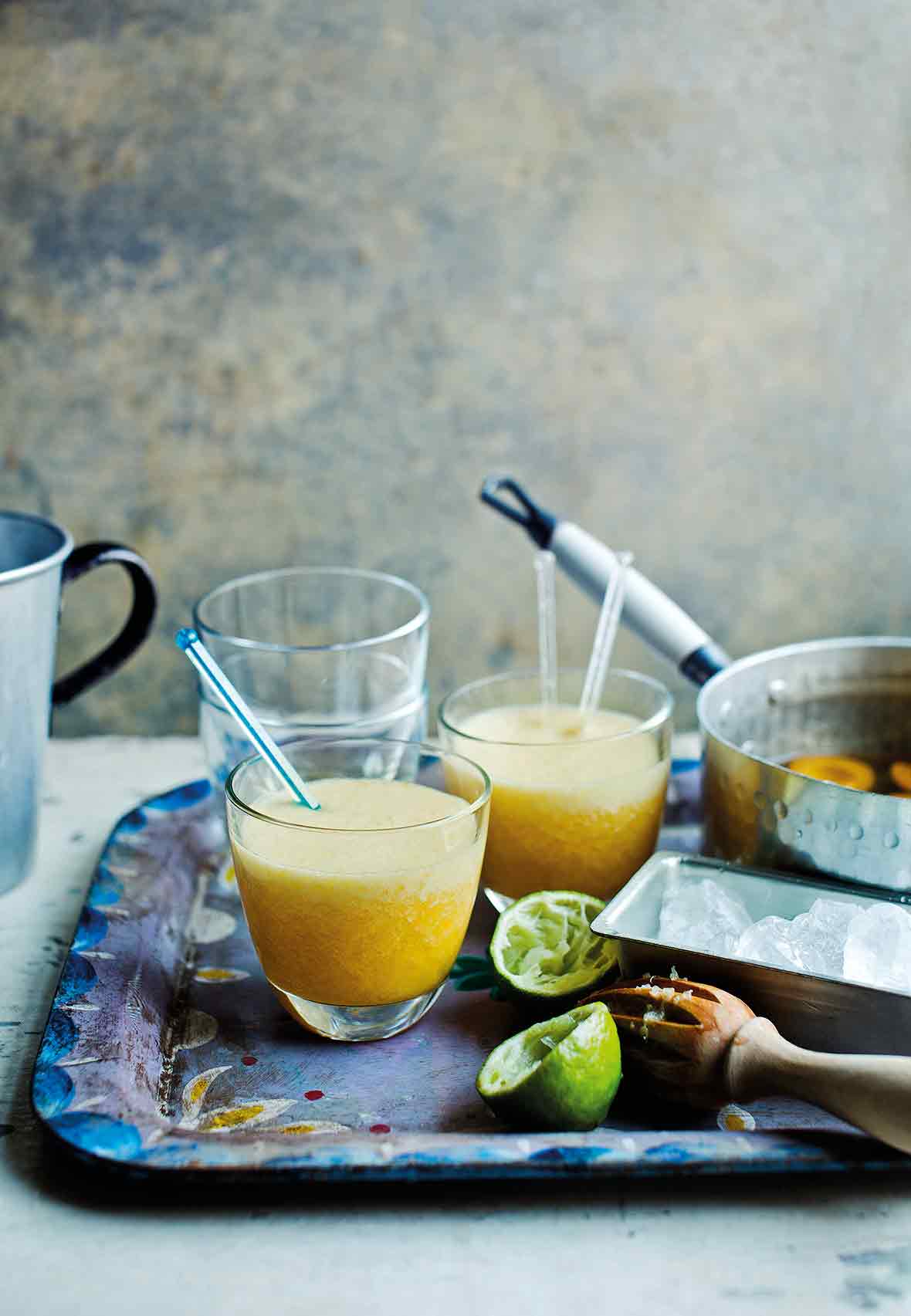 This apricot daiquiri is gonna erase your outdated notion of the daiquiri as a cloying girlie blender drink. Well, actually, this is made in a blender. And it's slightly sweet. But you can easily adjust it to be as tart or as you like thanks to a simple squeeze of lime. Regardless, we guarantee this frozen cocktail is gonna radically up your summer entertaining game. Originally published August 10, 2016.–Renee Schettler Rossi
What To Do With Leftover Poached Apricots
In the event you decide to make just half a batch of this recipe and end up with leftover poached apricots, or perhaps you fancy the poached apricots so much you find that you can't stop making batch after batch after batch, here's what we've been doing with the little lovelies…
Spoon the warm apricots and their syrup over ice cream or yogurt for dessert or, if you dare, for breakfast.
Sprinkle the apricots with fresh herbs and serve as dessert. [Editor's Note: This is especially lovely when you use wine in place of some or all of the water when poaching.]
Harness the leftover poaching syrup in other cocktails or topped off with sparkling wine or seltzer.
Apricot Daiquiri
Quick Glance
15 M
2 H, 30 M

Makes 6
Print Recipe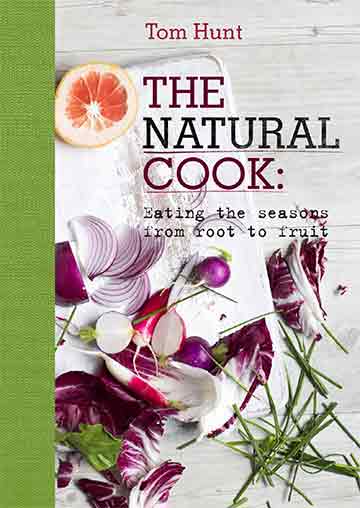 Ingredients
Email Grocery List
For the poached apricots

14 ounces apricots (5 to 6 medium)

3/4 cup plus 2 tablespoons cold water

1 cup raw or demerera or turbinado sugar (or substitute granulated sugar)

For the apricot daiquiri

7 tablespoons apricot poaching liquor, or to taste

1 1/4 cups white rum

Juice of 2 limes (about 3 tablespoons), or to taste

1 1/3 pounds ice, or to taste
Directions
Make the poached apricots

1. Grab a sharp knife and cut each apricot in half. Twist each half in a different direction to pull it apart. Remove and discard the pits.

2. In a small saucepan, bring the water and sugar to a boil, stirring until the sugar has dissolved. Reduce the heat to a simmer, add the apricots, and put the lid on. Simmer just until the apricots soften, 5 to 10 minutes, depending on the size. Remove from the heat and let the apricots cool to room temperature. The fruit will continue to soften and the skin will continue to wrinkle as the apricots cool. (The poached apricots will keep 5 days in a sealed container in the refrigerator. Or you can freeze the apricots and use them instead of ice in the daiquiri, adding a splash of water.)

Make the apricot daiquiri

3. Put the poached apricots, poaching liquor, rum, lime juice and ice in a blender, working in batches if necessary (the blender should never be more than halfway full). Blend until you have a smooth but not quite slushy mixture, about 1 minute. Taste and add more apricot poaching syrup to sweeten the drink or more lime juice to sour the drink. If a thicker consistency is desired, add a little more ice and blend again. Serve right away.
Recipe Testers Reviews
Now THIS is a sophisticated summer cocktail. Its texture is soft and it packs a hefty rum punch. This apricot daiquiri will definitely be served at my next deck party. Next time, in addition to using the frozen apricots, I will also use ice rather than one or the other. Without ice, the blended daiquiris were not slushy or thick, and the rum was quite strong. I think the ice would dilute the alcohol a bit (which I see as a positive), stretch the recipe to serve more, and provide the desired slushy consistency.
According to the recipe suggestion, I made the poached apricots ahead of time and froze them in lieu of using ice for the daiquiri recipe. The entire mixture easily fit in my Vitamix. After about 30 seconds on medium speed, the daiquiris were done. To brighten or sour the flavor just a bit, I added another 1 tablespoon lime juice at the end and blended again for another 5 seconds. Delicious!
My grandmother preserved 150 pounds of apricots every summer. There were jams and chutney and marmalade, but my favorite was always the apricot halves canned in light syrup. The flavor of the apricots shone so beautifully in this daiquiri that I was transported back to my childhood, eating her canned apricots straight from the jar. The rum gave it a wonderful grown-up edge and the lime offset the sweetness of the syrup. A perfect end to a hot summer day.
This apricot daiquiri is a delicious way to capture the flavor of apricots at the height of their season. While I'm usually snarfing fresh apricots out of hand at this time of year, the extra step of poaching the fruit is a great flavor intensifier.
That 5-minute poach is brilliant. The brief poaching is not just elegant and simple, it comes close to distilling the fresh taste. This is a pretty drink with great fruit intensity. I could see this drink also working with peaches. The fruit poaches in just a few moments, and they can cool down while you prepare everything else for your guests.
For two of us, we divided the poached apricots into 3 versions of the drink over a few days, starting with the proportions suggested, then adjusting. I used a white rum from Nicaragua, Flor de Caña. Once the poached fruit had completely cooled, I measured the liquid ingredients first (making 2 drinks a batch since there were just the two of us). We carefully drained the excess syrup from the apricots though of course some clings to the fruit. This was very drinkable though maybe a bit sweet for our taste. The second batch we reduced the poaching syrup to 20ml and increased the lime juice to 30ml and the ice to 250g. This brightened the drink and really was right for us. The increased ice gave a colder, more "frozen" daiquiri. The third batch we used 20 ml poaching liquid, 40ml lime juice, and 250 g ice. This was lovely, bright, and as tart as you would want it. The leftover syrup will be used for other drinks or over vanilla ice cream.
I then poached a batch of peaches. They all were marked simply as organic yellow peaches, one was freestone the other two were clings. This made a very pleasant daiquiri, though not as intense as the apricot. I reduced the sugar a bit in the syrup to lighten up the sweetness. The resulting drink was delicate in flavor. This will vary with variety and the particular point in the season, so I would suggest that if the peaches are on the delicate side in terms of flavor, you can bump that up a little with a couple of dashes of peach bitters per drink. Ideally, I would make these with some intensely flavored peaches like the Frog Hollow's Crimson Lady, O'Henry, or Cal Red. Alas, today's peaches were less spectacular but still very nice in a gentle way. A perfectly good alternative if apricots disappear. Bottom line—peaches work. If you have intensely flavored ones, all the better. White peaches would go in the more delicate direction.
Apricot Daiquiri Recipe © 2016 Tom Hunt. Photo © 2016 Laura Edwards . All rights reserved. All materials used with permission.
If you make this recipe, snap a photo and hashtag it #LeitesCulinaria. We'd love to see your creations on Instagram, Facebook, and Twitter.