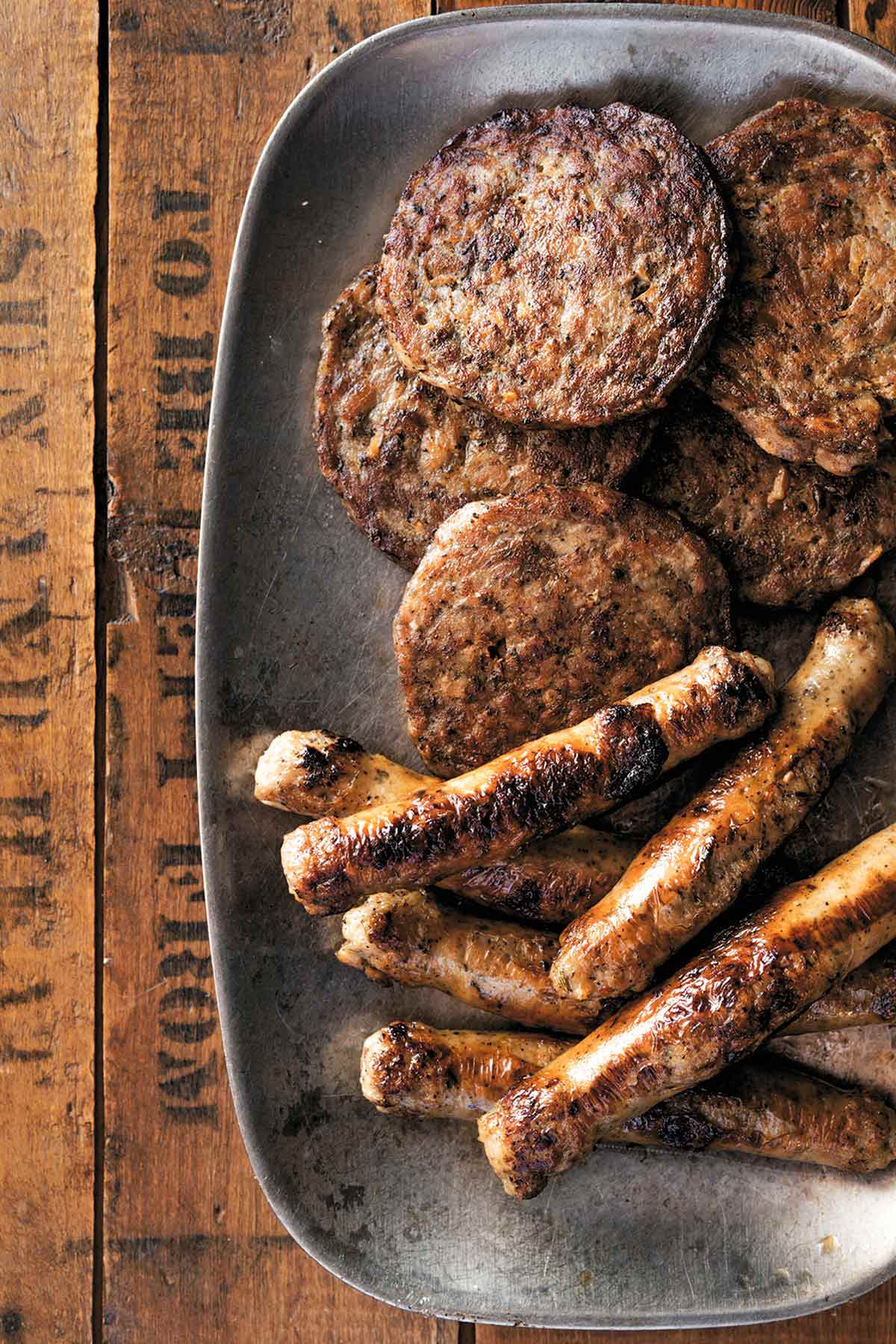 If you've already glanced at the ingredient list, you know this makes a BIG batch of homemade breakfast sausage. We're quite okay with that as we're partial to having a stash of sausage at the ready in the freezer. But we understand if the thought of making 5 pounds of homemade breakfast sausage seems a little (or, let's face it, a lot) overwhelming. Don't worry. The recipe can easily be scaled down to suit smaller households.
You can halve the recipe or, if you want to make even less, you can scale it down even more and make just a single pound of sausage. Because yes, it's so easy to make your own homemade breakfast sausage that you could just mix some up on a Saturday morning and sizzle it up in a skillet. And because we know you don't have the time to crunch numbers, we did the math for you. Just check out the smaller batch variation following the recipe.–Angie Zoobkoff
HOW DO I MAKE BREAKFAST SAUSAGE WITHOUT A MEAT GRINDER?
This recipe calls for a meat grinder, but if you don't have one, no problem. Simply ask your friendly local butcher to grind some fatty pork for you. When you get home, all you have to do is mix it with the remaining ingredients by hand. (Do NOT toss everything in a food processor or you'll end up emulsifying the fat and meat proteins, which is a scientific way of saying you'll end up with a very strangely textured sausage.)
Homemade Breakfast Sausage
Homemade breakfast sausage is the ultimate indulgence. Made with pork shoulder, pork fat, dark brown sugar, fresh garlic, and a handful of spices, it's easier than you might think and even more delicious.
Equipment
Meat grinder (optional; if you don't have a meat grinder, see the variation following the recipe)
Ingredients
5

pounds

boneless pork shoulder

,

cut into 1 1/2-inch (4-cm) cubes, including all the fat

8

ounces

pork fat (or substitute fatty bacon)

,

cut into 1 1/2-inch (4-cm) cubes

7

tablespoons

rubbed sage (do not substitute ground sage)

6

tablespoons

dark brown sugar

5

tablespoons

minced fresh garlic

2 to 4

tablespoons

kosher salt

3

tablespoons

black pepper

1 to 2

tablespoons

red pepper flakes

1 1/2

tablespoons

fennel seeds

,

toasted until fragrant and crushed

1 to 2

teaspoons

cayenne pepper
Instructions
Toss all the ingredients in a stainless steel bowl until well combined. Cover and refrigerate for 2 hours.

Put your meat grinder parts or attachment in the freezer to chill at the same time you put the ingredients in the refrigerator. Set up your meat grinder with the smallest die according to the manufacturer's directions. Working in batches, feed the meat mixture into the grinding tube and grind the sausage mixture into a separate bowl.

Measure about 2 ounces (57 grams or about 1/4 cup) sausage and gently press it between your palms into a 2-inch (5 cm) patty that's about 1/2 inch (12 mm) thick. Repeat until all the sausage has been used. [Editor's Note: We prefer sausage patties for their ease of making and cooking. If you prefer sausage links and have the know-how, by all means, go ahead and put the sausage mixture in casings.] Place the sausage patties in a resealable plastic bag, separated by squares of wax or parchment paper, and stash in the fridge for up to 4 days or in the freezer for up to 6 months. (If freezing the sausage, be sure to safely thaw the meat prior to cooking.)

To cook the sausage patties, warm a cast-iron skillet or a sauté pan over medium heat for 1 minute. Add a few patties, being careful not to crowd the pan, and cook, turning every couple of minutes until browned on both sides and cooked through in the center, about 10 minutes. The pork should register at least 145°F on an instant-read thermometer. Serve immediately.
Notes
A few helpful hints
What kind of pork fat should I use in breakfast sausage?
If you're uncertain what sort of pork fat to use, you can substitute an equal amount of fatty bacon in its place and it will work wonderfully. You can instead opt for salted pork fat (such as salted fatback), although you'll want to cut the salt in the recipe in half. And if you have a particularly fatty cut of pork or are otherwise reticent to add chunks of pork fat to your sausage, you can omit it. But why would you want to do such a thing?! The final product won't be as rich or as flavorful. Besides, haven't you heard the latest research that fat is good for you?
How do I make a smaller batch of breakfast sausage?
The numbers below are the amounts of ingredients you'll need should you wish to make a smaller batch of homemade breakfast sausage:
1 pound pork shoulder, cut into 1 1/2-inch (4-cm) cubes, including all the fat
1 1/2 tablespoons rubbed sage
1 rounded tablespoon dark brown sugar
1 tablespoon minced fresh garlic
1 1/2 teaspoons kosher salt
Generous 1/2 tablespoon black pepper
Just shy of 1/2 tablespoon red pepper flakes
1 teaspoon fennel seeds
1/3 teaspoon cayenne pepper
Nutrition
Serving:
1
patty
Calories:
114
kcal
Carbohydrates:
3
g
Protein:
11
g
Fat:
6
g
Saturated Fat:
2
g
Polyunsaturated Fat:
1
g
Monounsaturated Fat:
3
g
Trans Fat:
0.01
g
Cholesterol:
33
mg
Sodium:
327
mg
Potassium:
202
mg
Fiber:
0.4
g
Sugar:
1
g
Vitamin A:
86
IU
Vitamin C:
1
mg
Calcium:
17
mg
Iron:
1
mg
Nutrition information is automatically calculated, so should only be used as an approximation.
Recipe © 2016 John Currence. Photo © 2016 Ed Anderson. All rights reserved.
---
Recipe Testers' Reviews
This homemade breakfast sausage recipe yields a sinfully decadent sausage with a great combination of sweet, spicy, savory, and juicy—the perfect flavor profile for my taste preference. My butcher did all the hard work—he ground the pork shoulder for me and said I didn't need to add extra fat because the cut he was using already had plenty of fat.
After I came home from the grocery store, I mixed the spices in a small bowl and then mixed them into the ground pork using food-safe gloved hands. I formed the patties into 2-ounce round shapes as I would for sliders. The patties browned and caramelized beautifully in my preheated cast iron skillet and they cooked up in just 10 minutes. (Even though they were nicely browned, I tested them at the 10-minute mark and they were just over 145°F.)
These would be fabulous at any meal, in my opinion, but the next thought I have is to make some cheddar biscuits and serve up a biscuit and egg sandwich with one of these decadent patties nestled right in. Yum! This recipe is so incredibly and almost sinfully good. I almost felt naughty when tasting these before my family got home, I kept nibbling it was SO good. I used a lesser amount of salt and it was the perfect amount.
Note: I scaled this down to a 1-pound quantity, which was the perfect amount for 8 patties which made 4 to 6 servings. I did a little math and converted measurements to scale down for a pound of meat.
There is a saying, "Laws are like sausages, it is better not to see them being made." That's why I like making my own sausage when I can. Then I can control what goes into it. This homemade breakfast sausage recipe is a nice addition to my sausage file. It produces a flavorful, spicy breakfast sausage.
I made half a recipe as 5 pounds of pork shoulder is just too much for 2 people. Even though I cut the recipe in half, I ended up with 24 2-ounce patties. I did end up making 4-ounce packages to freeze because 2 ounces just wasn't enough. Even that will keep us in breakfast sausage for a while, which is a good thing because there is so much that can be done with this.
So far, I have made a wonderful sandwich with a sausage patty and a cooked egg with a runny yolk; a sandwich with mayonnaise, a sausage patty, hard-boiled egg slices, and heirloom tomato slices; sausage crumbled up with soft scrambled eggs; and sausage and spicy tomato sauce with eggs poached in indentations in that mixture. There are many more meals on the horizon.
This delightful, simple breakfast sausage is quick to throw together and has the perfect texture and flavor. Armed with a recipe like this, you'll never again need to purchase mediocre sausage at the grocery store.
After removing the bone from my pork shoulder, I was left with just over 4 pounds of pork and an additional 8 ounces of pork fat. I did my prep, cubing the pork, adding the ingredients, covering, and storing in the refrigerator in no more than fifteen minutes. After chilling everything, it took me just over a half-hour to set up my hand grinder and run the ingredients through, rewarding me with fine, aromatic ground sausage. If you use an old-fashioned, zinc-plated meat grinder, as I do, gather all the pieces, place them in a metal bowl, and pop them in your freezer the evening prior to grinding your sausage. Sausage grinding is infinitely easier if EVERYTHING (including your grinder) is cold.
This sausage is the perfect candidate for stuffing into sausage casings but, alas, laziness ruled the day so I simply dropped 3 patties, separated by squares of waxed paper, into resealable sandwich bags and then filled gallon-size resealable bags with them and tossed them in the freezer. I now have a corner of my freezer filled with wonderful breakfast patties. If you find yourself lacking the requisite pork fat, a half-pound of some inexpensive fatty bacon is a FINE substitute.