This southern sticky toffee pudding is inspired by traditional English pudding but with cornmeal, sorghum syrup, apple butter, and–gasp!–lard. In keeping with the Southern theme, it'd probably be nice to sip some bourbon on the side.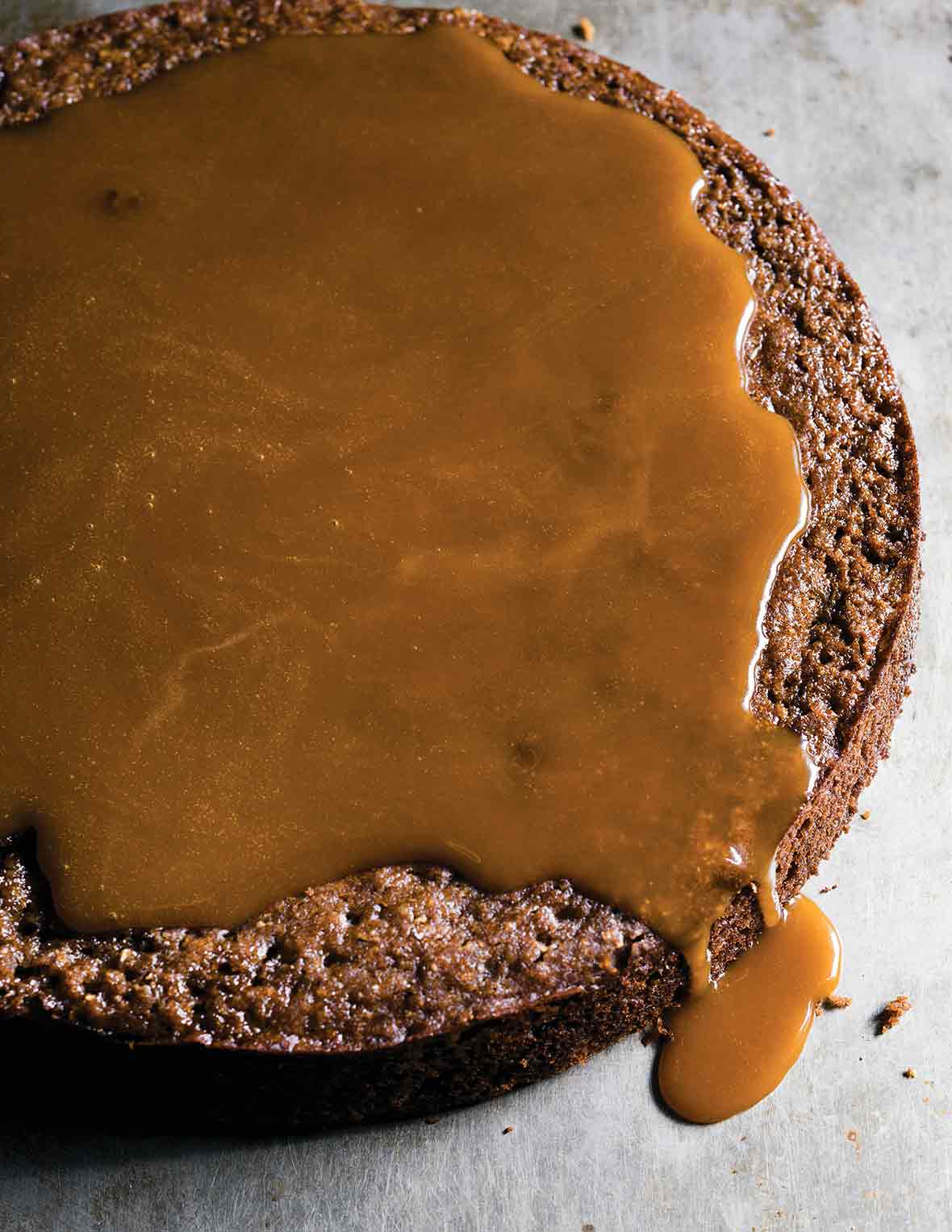 This sticky pudding recipe is not your traditional English sticky pudding recipe. It's infinitely more nuanced, more revelatory, more…Southern. Yes, Southern. The British dessert has taken on a distinct drawl thanks to the inspired addition of cornmeal and sorghum syrup, which result in something that's spectacularly more complex. [Editor's Note: For those unfamiliar with sticky pudding, it's a cake that's redolent with spice, not unlike gingerbread, and smothered while still warm with a caramel-y, butterscotch-y sauce that suffuses the cake with sticky goodness.] Originally published December 11, 2016.–Renee Schettler Rossi
What Is Sorghum Syrup?
Sorghum syrup is a sweetener made by extracting the natural juice from sorghum grass. It can be found predominantly in the southeastern United States, mostly in Kentucky and Tennessee. Sorghum syrup has a distinct flavor profile that's similar to but slightly sweeter than molasses. It's typically poured over biscuits, pancakes, grits, hot cereals or used in place of molasses in baked beans, barbecue sauce, and gingerbread. Sorghum syrup is seeing a resurgence in recent years and countless recipes calling specifically for sorghum's unique sweetness can be found online and in cookbooks. It's sometimes labeled "sorghum syrup," which is a misnomer given that the production methods between sorghum syrup and molasses are quite different.
Sticky Toffee Pudding
Quick Glance
30 M
1 H, 30 M

Serves 10 to 12
Special Equipment: A 9- or 10-inch (23- or 25-cm) round cake pan with sides at least 2 inches deep
Print Recipe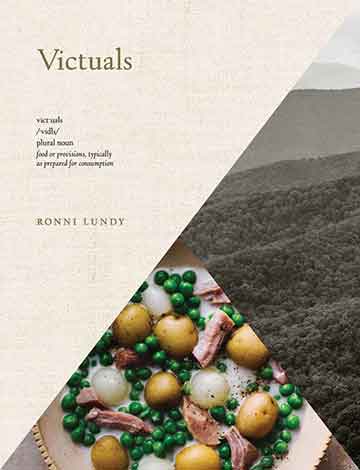 Ingredients
Email Grocery List
For the cake

1/4 pound leaf lard or unsalted butter, cut into pieces, at room temperature, plus more for the pan

1 cup packed light brown sugar

3/4 cup plus 2 tablespoons all-purpose flour

3/4 cup plus 1 tablespoon stone-ground white cornmeal

1 teaspoon baking powder

1 teaspoon baking soda

1 teaspoon salt

1 1/2 tablespoons ground ginger

1 1/2 teaspoons ground cinnamon

1/2 teaspoon freshly grated nutmeg

1/8 teaspoon ground cloves

1 cup store-bought or homemade apple butter

1 cup whole buttermilk

2 tablespoons bourbon

2 large eggs

1 large egg yolk

For the caramel

1 cup sorghum syrup*

1/2 cup heavy cream
Directions
Make the cake

1. Preheat the oven to 350°F (177°C). Butter a 9- or 10-inch (23- or 25-cm) round cake pan with sides at least 2 inches deep.

2. Place the lard and brown sugar in the bowl of a stand mixer fitted with the paddle attachment. Mix on low speed until combine and then increase the speed to high and mix, scraping down the sides of the bowl as needed, until the mixture becomes smooth and a very light brown, which will take about 20 minutes.

3. Meanwhile, whisk together the flour, cornmeal, baking powder, baking soda, salt, ginger, cinnamon, nutmeg, and cloves in a large bowl. In a separate large bowl, whisk together the apple butter, buttermilk, and bourbon.

4. Once the lard and sugar mixture is ready, reduce the speed to medium and add the eggs and egg yolk, 1 at a time, until incorporated. Add the flour mixture in three additions, alternating with the apple butter mixture, mixing just until the batter is smooth and no more after each addition.

5. Pour the batter into the prepared cake pan and bake for 40 to 45 minutes, until a toothpick inserted in the center comes out dry. Turn out of pan onto a rack to cool while you make the syrup.

Make the caramel

6. Combine the sorghum and cream in a heavy-bottomed saucepan and bring to a boil. Then reduce the heat to low and gently simmer for 10 minutes. Whisk until well blended.

Assemble the sticky toffee pudding

7. Transfer the cake to a cake stand or serving plate. Use a fork or a metal skewer to poke holes across the surface of the cake and slowly pour about half the caramel all over the cake. Then wait until it's been absorbed. If a sweeter cake is desired, repeat with some or all of the remaining caramel. [Editor's Note: The cake will appear as it does in the photo above immediately after you smother it with the caramel, which will soak into the cake and change its appearance.]

8. Serve the sticky toffee pudding slightly warm.
Recipe Testers Reviews

This cake is way up there—perhaps at the very top—of my list of best cakes I've ever made or best cakes I've ever tasted. I have to admit that I have a funny relationship with cakes, and the standard fluffy cake with fluffy frosting holds little appeal for me. This sticky pudding cake is no overdecorated confection. It's all about flavor and texture, time and place. The cornmeal in the batter gives a toothy bite. The spices combined with the apple butter put you firmly in autumn, and the balance of these flavors is exquisite. Apple butter, cornmeal, sorghum—you are in Appalachia. If you were fortunate enough to have a grandma who made a cake like this, you would be willing to devote a lifetime to replicating it. The recipe worked beautifully, and was forgiving of some substitutions I made to accommodate dietary restrictions. Substituting tapioca and brown rice flour for the wheat flour worked perfectly. Many, like me, will not want to use leaf lard (or even be able to buy it if you did) and don't let that stop you from making this cake. Butter, shortening, or margarine will work well—just avoid low-calorie blends, which have a higher water content and can throw off a recipe. Coconut oil might work as well but I can't say for certain as I haven't tried it. The recipe also did well in a 9-inch pan baked at the longer end of the time specified. My one caveat about the recipe is that unless you have a hellacious sweet tooth, you won't want to use the full amount of sorghum caramel.The caramel soaks into the cake and transforms it from cake to sticky pudding. It's essential, but 1/2 to 3/4 of the caramel recipe, depending upon your taste, will be plenty. The image is accurate for the cake, and this is what it looks like when you just pour the caramel over. But the caramel soaks in quite a bit (you've poked holes for this purpose), so this is not what it looks like when you serve it.
Sticky Toffee Pudding Recipe © 2016 Ronni Lundy. Photo © 2016 Johnny Autry. All rights reserved. All materials used with permission.
If you make this recipe, snap a photo and hashtag it #LeitesCulinaria. We'd love to see your creations on Instagram, Facebook, and Twitter.