These grilled portobello mushrooms are topped with butter, garlic, rosemary, and soy sauce for an incredible and indescribable umami richness.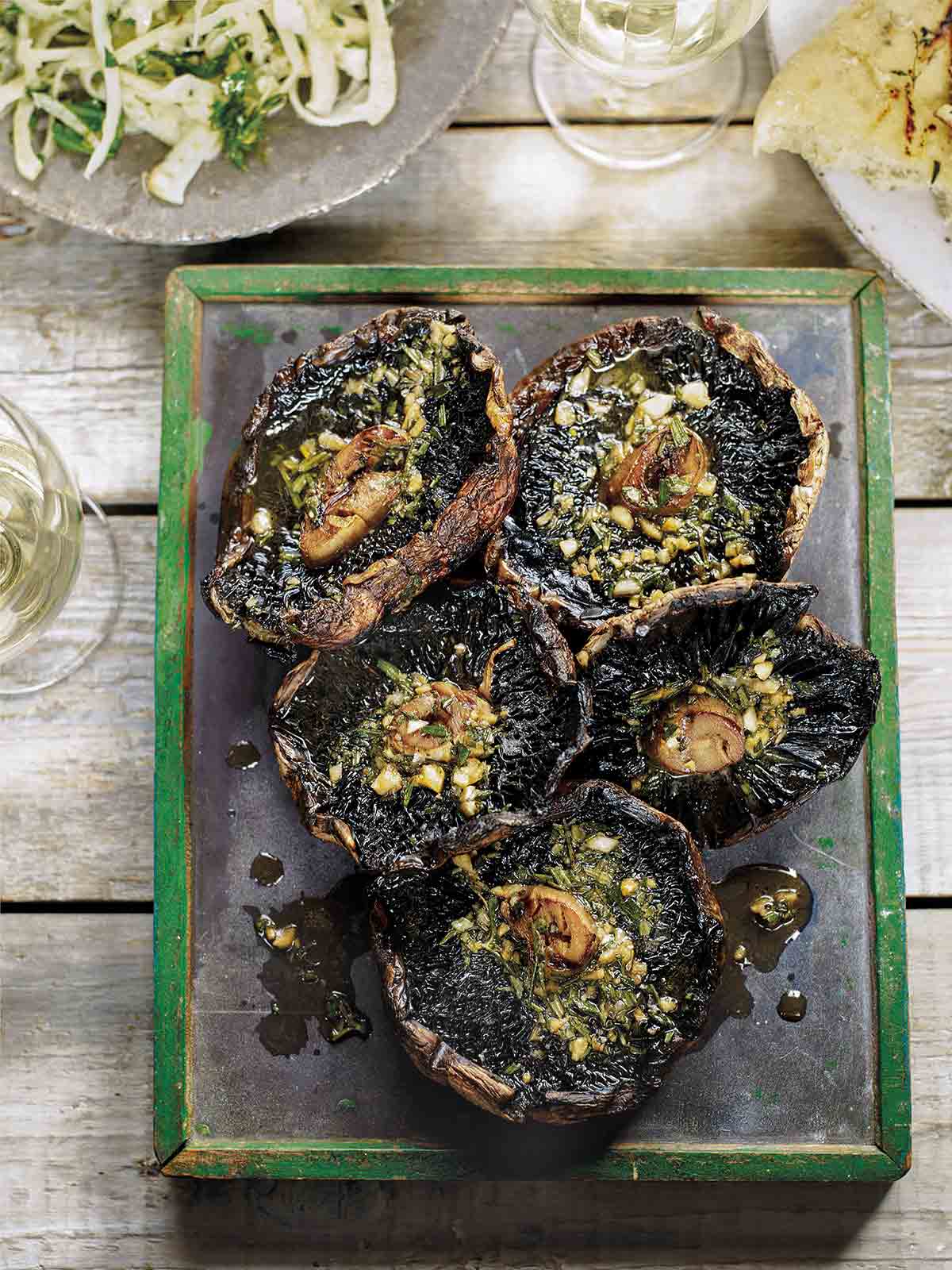 These grilled portobello mushrooms are grilled under perfectly tender and dripping with a savory blend of butter, rosemary, garlic, and a sorta unexpected secret ingredient. While the grill is preheating, simply combine the butter ingredients and your work is done. The 'shrooms play nicely alongside anything else you toss on the grill or stand in as a laudable vegetarian or vegan burger. We suspect they'll be what everyone's talking about at the table.–Angie Zoobkoff
Grilled Portobello Mushrooms
Quick Glance
15 M
30 M

Serves 8 to 12
Ingredients
Email Grocery List
1 stick unsalted butter (4 oz), softened

2 garlic cloves, finely chopped

1 to 2 rosemary sprigs, leaves chopped, stalks reserved (1 to 2 tablespoons)

2 teaspoons dark soy sauce or tamari

8 to 12 portobello or firm, meaty, flat-cap mushrooms (2 to 3 lbs), stalks intact

Olive oil

Sea salt and freshly ground black pepper
Directions
1. Set up your grill for direct and indirect cooking over medium heat and preheat it to 400°F (200°C).

2. In a small bowl, stir together the butter, garlic, chopped rosemary leaves, and soy sauce, then season with pepper. Set aside at room temperature.

3. Wipe the mushrooms with damp paper towels to clean, if necessary, and trim the ends of the stalks. Place the mushrooms on a rimmed baking sheet, drizzle with a little oil, season with salt and pepper, and toss to coat.

4. Turn the mushroom caps gill-side up on the baking sheet. Using a spoon, draw a line in the butter divvying it in half. Spoon half the butter on the mushrooms, dividing it evenly among them.

5. If desired, dampen the rosemary stalks with a little water and throw them directly on the charcoal or place them across the grate of your gas grill over direct heat. Place the mushrooms, gill-side up, on the grill over direct heat and close the lid. Grill the mushrooms until softened and the tip of a sharp knife can easily be inserted into the thickest part, 5 to 7 minutes.

6. Transfer the cooked mushrooms to the perimeter of the indirect heat zone. Divide the remaining butter evenly among them and wait for a minute or two to let the butter melt before serving.
Recipe Testers Reviews
This method for grilled portobello mushrooms is simply fantastic and I'll be making it again and again with all the different compound butters in my repertoire.
The method is perfect—as the mushrooms grill, their juices release into the center of the mushroom and mingle with the butter, resulting in super flavorful, tender mushrooms. I'm not sure if the rosemary sprigs added anything or not—the rosemary flavor was already very pronounced from the butter.
I made these grilled portobello mushrooms for dinner on a Sunday evening after a day filled with yard work. It was a lovely spring day and making something on the grill made it feel like summer was nearly here. The mushrooms were perfect for a busy day because they required very little effort from start to finish and yet they were full of garlicky flavor and satisfying. They would be a great vegetarian option to add to the barbecue for any summer gathering.
The garlic and soy were the most prominent flavors and while we enjoyed them, in the future I would increase the amount of rosemary (I used about 1 tablespoon) so it would also come through.
Grill temperature when we started cooking was 350°F (177°C). It went down to 300°F (149°C) while I divided the butter between the first batch of mushrooms on the grill. By the time the 2nd batch went on the grill, the temperature was back up to 350° and this time the exterior of the mushrooms looked soft and darker brown and the gills were shiny dark brown. I
I served the mushrooms as a main with asparagus and roasted potatoes on the side. We also enjoyed these mushrooms sliced as a topping for pizza with feta and bacon.
These grilled portobello mushrooms are simply fantastic. Grill them up at your next cookout and your vegetarian guests will think you're a rock star. If adding soy sauce to a typically European combo of butter and rosemary sounds odd, don't worry. There's not a pronounced taste from the soy sauce, it just adds umami and makes for a richer tasting mushroom.
I made these on a Big Green Egg, so I had to work a bit with the instructions, as it's not really set up for zoned cooking. I did the initial grilling at 450°F (232°C). For the "indirect" phase, I just put the mushrooms on a rack over a pan, and closed the vents a bit to bring the temperature down to about 350°F (177°C).
I used 3 tablespoons rosemary. Depending upon the size of the mushrooms, I would allow 1 to 2 portobello caps per serving.
Grilled Portobello Mushrooms Recipe © 2017 Ben Tish. Photo © 2017 Kris Kirkham. All rights reserved. All materials used with permission.
If you make this recipe, snap a photo and hashtag it #LeitesCulinaria. We'd love to see your creations on Instagram, Facebook, and Twitter.