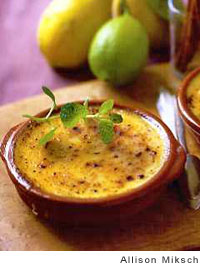 In Spain, this is called crema catalana (Catalonian cream) or crema cremada, "burnt cream." The Catalans claim to have invented the custard, though its roots are traced to a seventeenth-century English recipe. Sometimes, Spanish restaurants serve it without the caramelized sugar topping. If your herb garden boasts lemon balm, garnish each dish with a sprig to exude a citrus aroma.–Lou Seibert Pappas
Catalan Cinnamon Crème Brûlée
Quick Glance
20 M
3 H

6 servings
Print Recipe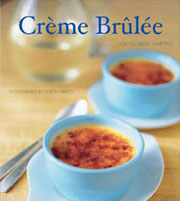 Ingredients
1 1/2 cups heavy cream

1/2 cup half-and-half

1 cinnamon stick

1/4 teaspoon freshly grated nutmeg

2 tablespoons grated lemon zest

6 large egg yolks

1/3 cup sugar, plus 6 tablespoons for topping

Lemon wedges, for garnish

Lemon balm or mint sprigs, for garnish (optional)
Directions
1. Preheat the oven to 275°F (135°C). In a medium saucepan, combine the cream, half-and-half, cinnamon stick, nutmeg, and lemon zest. Place over medium heat until small bubbles form around the edges of the pan. Remove from the heat and let cool to room temperature. Remove the cinnamon stick.

2. In a medium bowl, whisk the egg yolks until pale in color, then whisk in the 1/3 cup sugar until dissolved. Whisk in the cream mixture.

3. Place six standard-size flan dishes in a baking pan. Divide the custard mixture among the dishes. Pour warm water into the pan to come halfway up the sides of the dishes. Bake in the oven for 35 to 40 minutes, or until the center of each custard still jiggles slightly. Remove from the oven and lift the dishes from the hot water. Let cool briefly, then refrigerate for at least 2 hours or up to 2 days.

4. When ready to serve, place the dishes on a baking sheet and evenly sprinkle 1 tablespoon sugar over each custard. Using a hand-held blowtorch, caramelize the sugar (see Note). Garnish each dish with a lemon wedge and a sprig of lemon balm or mint, if desired.
Note
Use caution and follow the manufacturer's instructions when using a blowtorch. Searing one dish at a time, hold the blowtorch about 4 inches from the top of the dish, moving the torch constantly so that the sugar (or cheese) browns evenly. Be especially careful if the custard contains alcohol, as it can cause the sugar to sputter. When using a broiler to caramelize, place the dishes about 4 inches from the heat source. Watch carefully and turn the baking sheet holding the dishes if necessary to brown the custards evenly. Wear oven mitts when broiling and handling the baking sheet in the oven.
Catalan Cinnamon Crème Brûlée Recipe © 2009 Lou Seibert Pappas. Photo © 2009 Alison Miksch. All rights reserved. All recipes and photos used with permission of the publisher.
If you make this recipe, snap a photo and hashtag it #LeitesCulinaria. We'd love to see your creations on Instagram, Facebook, and Twitter.