For this rosemary-onion pizza, fresh pizza dough is smeared with ricotta cheese, and topped with caramelized onions, garlic, Parmesan cheese, and rosemary then baked until bubbly and golden brown.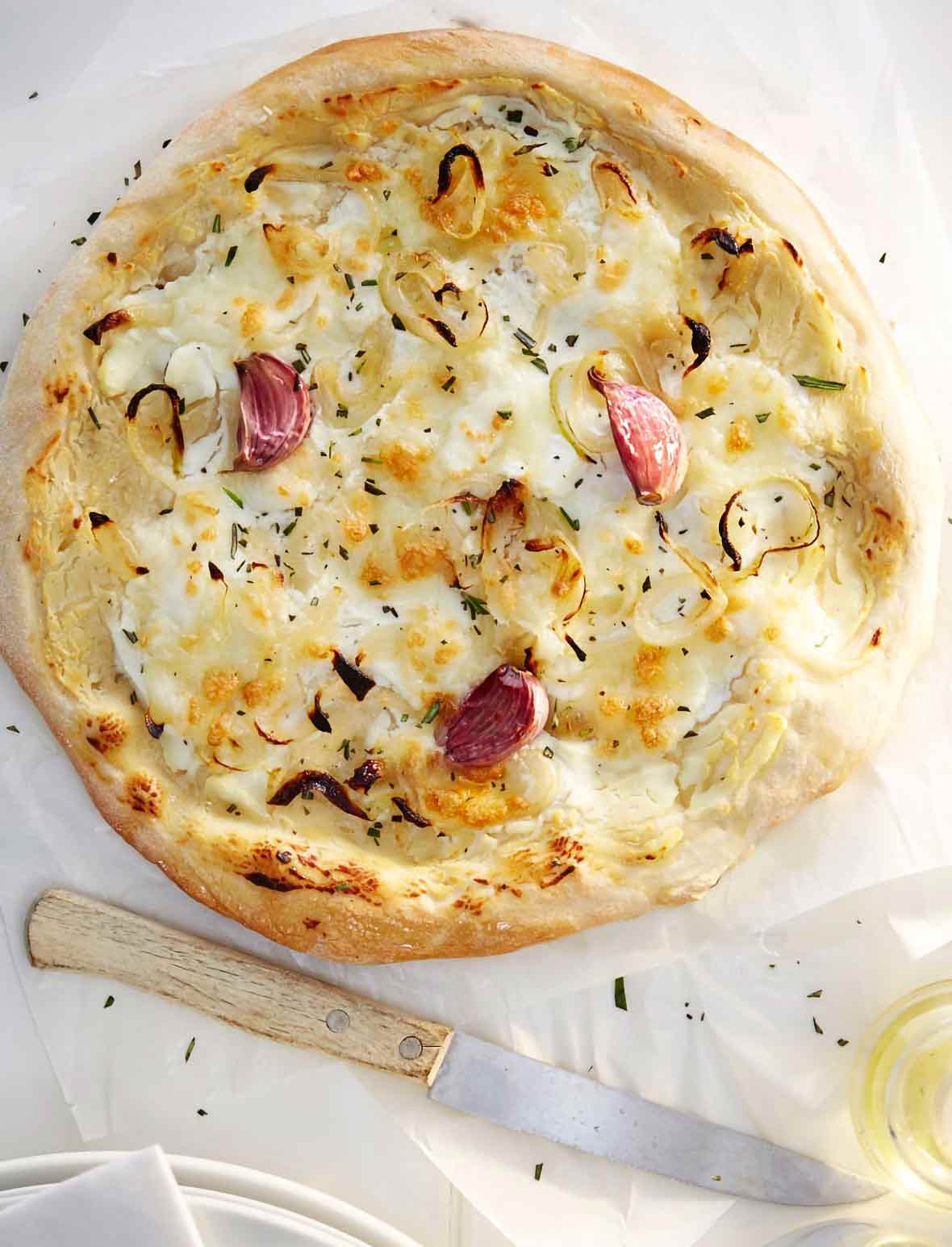 Since his career began in the eighties, Art Smith has been the chef on yachts and luxury trains, for a governor (Bob Graham, now a U.S. senator), for Martha Stewart Living, and for the most powerful woman in America: Oprah Winfrey. "I always enjoyed jobs that were not your cooking jobs," Smith says. "My whole career has been serving as a personal chef, and the ability to create wonderful pizza and breads like these in a moment's notice is what separates the fine chefs from the average. This great simple pizza becomes a wonderful part of a beautiful antipasto arrangement, or on a kitchen buffet. I have served this and time again to many famous people, including my beloved boss, Oprah. Just remember something as wonderful as this simple pizza made with your hands says, 'I love you!' Here's to sharing the love with homemade pizza!" Originally published Jul 18, 2005.–Penny Pollack and Jeff Ruby
LC Simple Pleasures Note
When your pizza crust is as good as this one, you can afford to be veeeery selective with what you strew atop it. Unlike some crusts, which are little more than a vehicle for transporting mountains of cheap, rubbery mozzarella and sweet tomato sauce from plate to face, this dough bakes into a flat bread that's good enough to eat on its own. A smattering of olive oil, a sprinkling of rosemary, and some beautifully browned onions [or fill in the blank with your pleasure] are all it takes to make a proper, and memorable, meal.
Rosemary-Onion Pizza
Quick Glance
40 M
2 H

Makes one large pizza
Print Recipe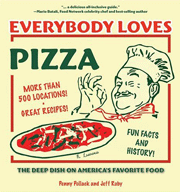 Ingredients
For the pizza dough

1 cup 105°F (41°C) warm water

2 tablespoons honey

1 package quick-rise yeast

1/4 cup extra-virgin olive oil, more for greasing the bowl

1 1/2 teaspoons sea salt

2 tablespoons chopped rosemary leaves

3 cups bread flour, as needed

For the topping and shaping

3 tablespoons extra-virgin olive oil

3 medium onions (red or yellow), sliced in 1/4-inch (6 mm) thick rounds

Sea salt and fresh ground pepper, to taste

Coarse cornmeal, just enough to sprinkle on a baking sheet

1 1/2 cups ricotta cheese

Unpeeled garlic cloves, optional

1 tablespoon coarsely chopped rosemary leaves

1/2 cup grated Parmesan
Directions
Make the pizza dough

1. Pour 1/4 cup water into the bowl of a heavy-duty mixer and stir in the honey. Sprinkle the yeast on top and let the mixture stand until the yeast softens, about 5 minutes, then stir to make sure the yeast is dissolved. Mix in the remaining 3/4 cup of water and the oil.

2. Using a dough hook, start mixing on low. Add the salt, rosemary, and 1 cup of flour at a time and mix until it's completely incorporated. Then add the next cup, continuing cup by cup. You'll note, as the flour is incorporated, a dough ball will start to form and come away from the bowl. Gradually add the last amount of flour, and then turn up the speed of the mixer and mix for 1 minute. Turn the dough out onto a floured work surface. Knead until smooth.

3. Place dough in an oiled bowl and cover it with a cloth; allow it to rise and double in bulk, about 45 minutes.

Make the topping

4. Meanwhile, heat a large skillet over medium heat, add 1 tablespoon of the oil, and toss in the onions. Cook until golden brown, about 7 to 10 minutes. Season with salt and pepper, and allow to cool.

Assemble and bake the pizza

5. Preheat oven to 400°F (200°C). Punch down the dough after it doubles in bulk.

6. Sprinkle coarse cornmeal on a baking sheet or pan, place the dough on top, and, using your fingers, make indentations in the dough and spread to the pan size.

7. Spread the ricotta to within a half inch of the edge.

8. Distribute the cooked onions evenly over the dough, then top with the chopped rosemary, garlic cloves, and Parmesan cheese and drizzle with the remaining olive oil. Optional: Sprinkle with additional fresh ground pepper.

9. Bake the pizza for 30 minutes, until the crust is golden and crisp. Remove from the oven and serve immediately, or allow the pizza to cool on a rack and then serve at room temperature with antipasto.
Rosemary-Onion Pizza Recipe © 2005 Penny Pollack and Jeff Ruby. Photo © 2018 Tesco. All rights reserved. All recipes and photos used with permission of the publisher.
If you make this recipe, snap a photo and hashtag it #LeitesCulinaria. We'd love to see your creations on Instagram, Facebook, and Twitter.