I love the interplay between sweet and savory that fruit can add to salads. Here, fresh pears are poached in red wine to give them a gorgeous color and deeper flavor that's delicious with the assertive blue cheese and toasty hazelnuts. This is definitely a company-worthy dish, although if you make the components ahead you can enjoy it even on a busy weeknight. Store any leftover vinaigrette in an airtight container in the fridge and use a couple of weeks.–Lisa Schroeder
LC Editor's note
You'll make four poached pears by following this recipe but only two are required for four salads. You can easily convert the extra pears to an impromptu dessert with a dollop of mascarpone whipped with a bit of heavy cream and powdered sugar. Toss on a few candied nuts for a finishing touch.
Poached Pear, Blue Cheese, and Hazelnut Salad
Quick Glance
25 M
40 M

Serves 4
Print Recipe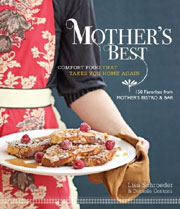 Ingredients
For the poached pears

1 1/2 cups inexpensive dry red wine

1 1/2 cups water

One 2-inch strip of lemon zest, removed with a vegetable peeler

2 tablespoons lemon juice (about 1 lemon)

1 cup granulated sugar

4 whole cloves

1 cinnamon stick

4 firm, ripe Bartlett or d'Anjou pears, peeled with stems intact

For the salad

1/4 cup red-wine vinegar

1 teaspoon Dijon mustard

1/3 cup hazelnut oil

1/3 cup canola oil (or 2/3 cup if not using hazelnut oil)

1/2 teaspoon kosher salt

1/4 teaspoon freshly ground black pepper

6 cups mesclun greens, washed and dried

2 poached pears

2 1/2 ounces Rogue Creamery® Oregon Blue, or other blue cheese crumbled (about 1 cup)

1/2 cup hazelnuts, lightly toasted, skins removed, and chopped
Directions
Make the poached pears

1. Combine the red wine, water, lemon zest, lemon juice, sugar, cloves, and cinnamon stick in a narrow, deep saucepan that holds at least 3 quarts. Set the pot over medium-high heat and bring to a boil, whisking occasionally to dissolve the sugar. Reduce the heat and simmer for about 5 minutes.

2. Stand the pears up in the liquid or lay them down so they are covered by the poaching liquid. Place a small heatproof plate on top to keep them submerged.

3. Cover the pot and gently simmer the pears over low heat, turning them occasionally with tongs, until fork-tender, 10 to 15 minutes.

4. Remove the pot from the heat and allow the pears to cool in the liquid. Remove the spices and lemon zest. Refrigerate the pears in the poaching liquid for up to 3 days. Ideally, let the pears come to room temperature before serving.

Make the salad

5. In a small bowl, whisk together the vinegar and mustard. Add the oils in a slow, steady stream while whisking vigorously. Continue whisking until all of the oil is incorporated and the dressing is thickened. Add the salt and pepper.

6. In a large bowl, toss the mesclun with 2 1/2 tablespoons of the dressing and taste. Add more dressing, if needed. Divide the greens among four plates.

7. Halve and core the poached pears. Cut lengthwise into 1/4-inch slices and evenly distribute on the greens. They also look nice sliced but held together by the upper part of the pear (called "fanning"). Sprinkle with cheese and hazelnuts, drizzle with reduced syrup if desired and serve.
Love Notes
Nut oils
Nut oils are a wonderful way to add depth to salads and tie the dressing into the rest of the ingredients. Hazelnut oil is available in the gourmet section of most grocery stores and through online gourmet retailers.

Nut oils go rancid rather quickly, so buy them in small quantities and store in the refrigerator. The oil will solidify when chilled, so set the bottle out 10 minutes before using so it has a chance to liquefy again. Sniff your oil before using to ensure it hasn't gone bad. If it smells soapy or acrid, or like linseed oil, throw it out.
Toasting and peeling hazelnuts
To toast the hazelnuts, heat the oven to 275°F (135°C). Spread the shelled hazelnuts in a single layer on a baking sheet. Toast for 20 to 30 minutes, or until the skins crack and the nuts turn light golden brown and smell fragrant. You can also roast them at 350°F (175°C) for 10 to 15 minutes, but check them periodically to be sure they don't burn. Remove the nuts from oven and set aside to cool.
Toasting hazelnuts loosens their skins considerably. To remove the skins from toasted hazelnuts, place them in a colander with large holes. Put the colander in the sink and use a clean dishtowel to rub the nuts so the skins peel off. Shake the colander occasionally to encourage the skins to fall into the sink.
Another way to remove the skins is to put the warm nuts onto a clean dishtowel and gather it closed. Let the nuts steam for 4 to 5 minutes, then rub vigorously for 1 to 3 minutes. Rub longer to remove even more skin.
For recipes, like a cake, that require all the skins to be removed, blanch the nuts for 1 minute in boiling water spiked with baking soda (1 tablespoon per cup of water). Then plunge the nuts into cold water; the skins will slip right off. In this case, you would roast them after they were peeled, at the lower temperature.
Poached Pear, Blue Cheese, and Hazelnut Salad Recipe © 2009 Lisa Schroeder. Photo © 2009 Ellen Silverman. All rights reserved. All recipes and photos used with permission of the publisher.
If you make this recipe, snap a photo and hashtag it #LeitesCulinaria. We'd love to see your creations on Instagram, Facebook, and Twitter.