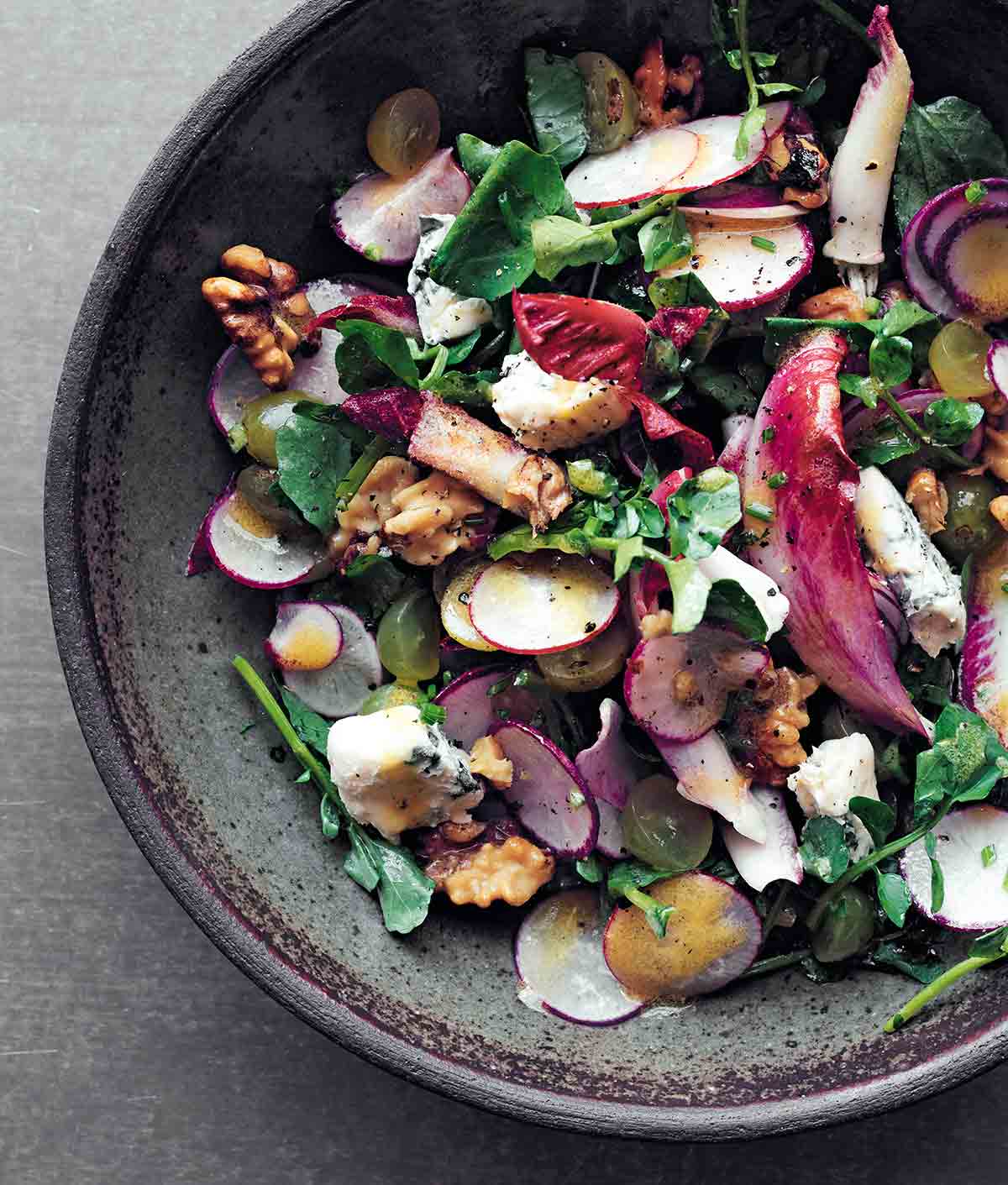 Blue cheese and salad have been served together for a long, long time; the iceberg wedge and blue cheese dressing is a very popular appetizer in restaurants all over the world, for example. This recipe works on the same principle that salad and blue cheese go together well, especially with a sweet element like grapes or pear. Roquefort is very high in umami, as are walnuts. Hold on to your seat and let this super-quick but rather chic salad transport you to a place of fruity, savory deliciousness.–Laura Santtini
Endive Roquefort Salad FAQs
Is Roquefort the same as blue cheese?
Roquefort is one of the world's best-known blue cheeses, and only those cheeses aged in the natural Combalou caves of Roquefort-sur-Soulzon, France, can be called Roquefort. It has no rind and the slightly salty exterior can be eaten. Inside, the cheese is white, tangy, crumbly, and slightly moist, with distinctive veins of blue mold. It has a characteristic fragrance and flavor like most other blue cheeses. You can substitute another sheep's milk blue cheese from Southern France for Roquefort if needed.
How do I know when my candied walnuts are ready?
Our tester Linda Pacchiano helpfully included this in her review–"You'll know when the nuts are done because the sugar turns dark, and you'll smell it and see a little smoke. You need to quickly remove the nuts to a parchment-lined baking sheet or a Silpat to stop the cooking and let them cool." Don't turn your back on the nuts, they can go from underdone to burned in the blink of an eye.
What is endive? What else will work in its place?
Endive is a delicate lettuce in the chicory family, with a just slightly bitter flavor. Yellow endive is more often found but this recipe uses the sweeter red variety, so snap it up if you find it. Because it's related to curly endive, escarole, frisée, and radicchio, any of those would make a suitable substitute.
Endive Roquefort Salad
This endive Roquefort salad is simple, satiating, and sophisticated, thanks to its balance of tastes and textures from endive, blue cheese, caramelized walnuts, grapes, radishes, and Dijon.
Ingredients
For the candied walnuts
Scant 1/2

cup

walnut halves

,

snapped in half

3

tablespoons

brown sugar

1/2

teaspoon

salt

Pinch

cayenne

1 1/2

teaspoons

walnut oil
For the endive salad
3

Belgian endives

,

(red or yellow)

1 2/3

cups

green or red grapes

,

halved (or substitute chopped apples)

20

radishes

,

thinly sliced (from about 3 bunches)

1

cup plus 1 tablespoon

Roquefort

,

cut into cubes the size of a postage stamp

4

handfuls

watercress from 1 bunch watercress

,

(or substitute mixed salad greens)
For the vinaigrette
6

tablespoons

extra virgin olive oil

2

tablespoons

white wine vinegar

2

teaspoons

Dijon mustard

Sea salt and freshly ground black pepper

,

to taste

2

tablespoons

chives

,

snipped

Fresh lemon juice

Runny honey

,

(optional)
Instructions
Nutrition
Serving:
1
portion
Calories:
604
kcal
Carbohydrates:
26
g
Protein:
16
g
Fat:
50
g
Saturated Fat:
15
g
Polyunsaturated Fat:
11
g
Monounsaturated Fat:
22
g
Cholesterol:
53
mg
Sodium:
1402
mg
Potassium:
396
mg
Fiber:
3
g
Sugar:
19
g
Vitamin A:
776
IU
Vitamin C:
8
mg
Calcium:
437
mg
Iron:
1
mg
Nutrition information is automatically calculated, so should only be used as an approximation.
Recipe © 2015 Laura Santtini. Photo © 2015 Con Poulos. All rights reserved.
---
Recipe Testers' Reviews
This endive Roquefort salad is very satisfying and can be served as a starter or lunch entrée. The components complement each other perfectly to create a nice combination of sweet, salty, crunchy, and creamy. I only wanted to serve half the recipe as a lunch for two, so I combined and dressed half the ingredients and kept the rest in the refrigerator for the following day.
My salad didn't look exactly like the photo because I used all yellow Belgian endive. Also, I used mixed salad greens instead of watercress. The walnuts can be made and eaten as a snack whether or not you're making the complete salad.
You can use more than a pinch of cayenne if you like things spicier. You'll know when the nuts are done because the sugar turns dark, and you'll smell it and see a little smoke. You need to quickly remove the nuts to a parchment-lined baking sheet or a Silpat to stop the cooking and let them cool. The amount of vinaigrette was correct in proportion to the salad ingredients.
The best way I can think to sum up this endive Roquefort salad is "A Vineyard Tour in a Salad." Between the bitterness of the endive, sweetness of the candied walnuts, freshness of the grapes, and richness of the cheese, this is so wonderfully balanced and makes for a fantastic appetizer or even light lunch alongside a nice citrusy Sauvignon Blanc.
The dressing was just right as a vinaigrette—flavorful enough to add a little kick but not so overbearing that it masked any of the main event. I used mixed greens instead of watercress. The amount of vinaigrette was just right for four decently-sized (but not meal-sized) salads.
I adore this elegant endive Roquefort salad because, to me, it has all the elements of a perfect salad. It starts with a mixture of greens that add a nice variety of taste and texture: peppery, tender watercress, and sliced rounds of crisp endive. Next, you have a bit of crunch from the candied walnuts. (I loved the slight heat that the cayenne gave the toasted nuts, and the amount of brown sugar was perfect; they became a bit caramelized in the pan which was a delight.) Next comes a bit of sweetness from the red grapes, which were a lovely pairing with the creamy Roquefort cheese. And more crunch from sliced radishes, yum!
This is a lovely base recipe for a mustardy-honey vinaigrette which really brings the whole salad together. So a lot of flavor here, plus nutrition, and it was very pretty! (And yippee for me, all of these elements happen to be some of my favorite ingredients and flavors as well!)
I did use the honey, as I thought the sweetness would go well with the blue cheese. In terms of caramelizing the walnuts, it only took about 3 minutes over medium-high heat, but I watched them very carefully so that the sugar didn't burn and stirred very often. I poured them onto a piece of parchment to cool and harden. I served this elegant salad as a main course salad with a side of seared scallops.