This bacon and Cheddar macaroni and cheese is proof that bacon makes everything better…though the creamy Cheddar sauce that smothers the fusili pasta is pretty special, too.
What's the best cheese combination for macaroni and cheese?
While we're not at all averse to combining cheeses, even as many as four cheeses in a macaroni and cheese, most nights we actually prefer the straightforwardness of the resounding flavor of nothing but Cheddar cheese. Call us purists.
Bacon and Cheddar Macaroni and Cheese
Quick Glance

(1)

25 M
30 M
Serves

4

to 6
Print Recipe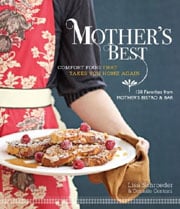 Ingredients
Directions
Bring a large pot of water to a boil. Salt it generously so it tastes like the sea. Add the pasta and cook according to the package directions. 
Drain the pasta and return it to the empty pot, but do not rinse it as you want to keep the surface starches to help thicken the cheese sauce.
Meanwhile, place a large sauté pan over medium-high heat. When hot, add the bacon and sauté until browned and crisp, lowering the heat to medium if necessary to prevent scorching. This should take about 5 minutes total. Remove the pan from the heat and, using a slotted spoon or spatula, transfer the bacon to paper towels or a brown paper bag to drain.
Carefully pour the bacon drippings from the pan into a metal can or heatproof cup (not down the drain). Return the pan, with a surface just barely slicked with bacon drippings, to medium-high heat. Add the heavy cream and bring to a boil, scraping up any browned bacon bits from the bottom of the pan. Lower the heat to medium and continue to simmer until the cream is reduced slightly, about 3 minutes.
Add the Cheddar cheese and bacon, stir well, and cook over medium-high heat, stirring now and then, until the cheese has melted and the mixture thickens, about 3 minutes. Season with the salt and pepper. Remove from the heat.
Dump the sauce onto the cooked, drained pasta in the pot and toss to coat. Place over medium heat and simmer for 1 to 2 minutes, stirring now and then, to allow the sauce to thicken and the pasta to absorb the flavors.
Scoop the mac and cheese into individual bowls and, if desired, top with a dollop of sour cream and a sprinkle of sliced scallions.
Print Recipe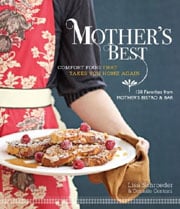 Lorraine Mac & Cheese Variation
You can easily change up this recipe by using the classic flavors of a quiche Lorraine for inspiration. Just add caramelized onions and substitute Swiss cheese for the Cheddar.

Here's how I make mine: Pour off all but 2 tablespoons grease from the cooked bacon. Add 2 cups of finely sliced yellow onions and sauté over medium heat until soft, brown, and caramelized, about 20 minutes. Pour in the 3 cups of cream and continue with the recipe (step 3), substituting firmly packed shredded Gruyère or Swiss cheese for the Cheddar.

If you have cooked, crumbled bacon and caramelized onions on hand, the recipe is even easier. When stirring the cheese into the reduced cream, just add 1 cup bacon crumbles and 1/2 cup caramelized onions, too. Then proceed with the recipe.
Recipe Testers' Reviews
This macaroni and cheese recipe came together quickly and easily, with ingredients that were already on hand. In fact, it took longer to cook the pasta then it did to make the sauce. This dish is so rich, that small portions are more than filling. The bacon adds a nice meaty, smoky touch. Forget the stuff in the blue box!
This was probably the best macaroni and cheese I've ever made. Who knew such few ingredients and uncomplicated techniques would render something truly memorable?
I kept this simple and went with the original bacon and Cheddar macaroni and cheese version with no variations. I figured that aside from myself, the next best person to taste this recipe would be my mother. We kids grew up on my mother's macaroni and cheese, so with a nervous phone call I invited her to join me for dinner. Upon first bite her eyebrows raised as she turned and looked to me, my heart raced. "This is some really good mac 'n cheese." Whew, I got mother's stamp of approval while I was already reveling in the rich creaminess and the bacon goodness. With ease, this will most certainly be my go-to mac 'n cheese recipe from now on! Can't wait to try this with a buttered crumb crust, just like mom's.
Bacon and Cheddar Macaroni and Cheese Recipe © 2009 Lisa Schroeder with Danielle Centoni. Photo © 2009
Ellen Silverman
. All rights reserved. All materials used with permission.