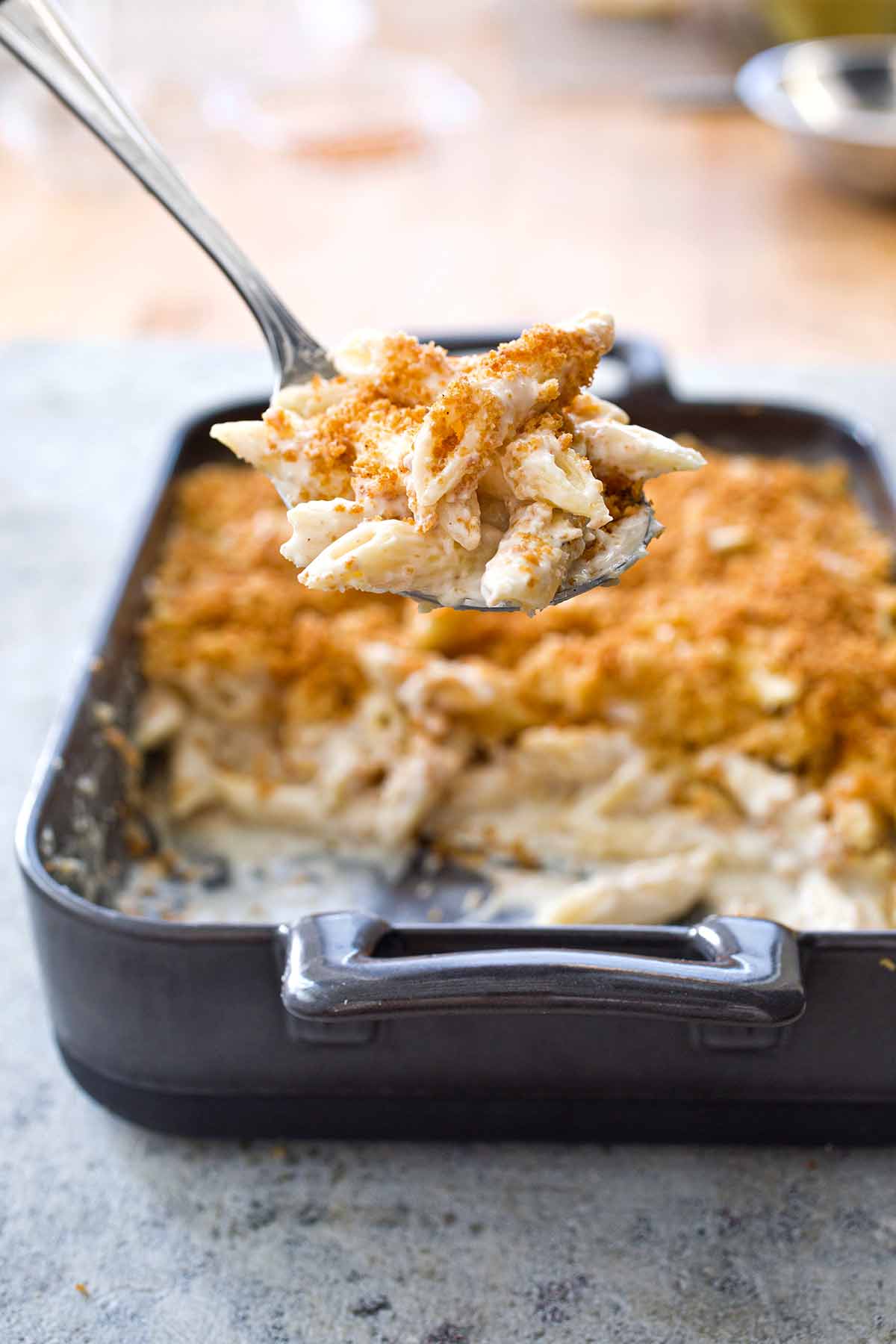 This four cheese macaroni and cheese makes us think of that quote about how too much of a good thing can be wonderful. Indeed. But, as the authors of this recipe explain, "sometimes we want a more adult version. Enter the classic Italian iteration of macaroni and cheese, pasta ai quattro formaggi, or four cheese macaroni and cheese." It's a simple yet luxuriant cream sauce, properly cooked pasta, and a crisp bread-crumb topping. Satiating yet not overly rich.–Renee Schettler Rossi
Four Cheese Macaroni and Cheese
This four cheese macaroni and cheese is made with a creamy béchamel sauce, penne pasta, fontina, Gorgonzola, pecorino Romano, and Parmesan cheeses, and finished with a crispy panko topping.
Ingredients
For the topping
1

cup

panko bread crumbs

2

tablespoons (1 oz)

unsalted butter

,

melted

Salt and freshly ground pepper,,

to taste

1/4

cup

Parmesan cheese

,

grated
For the macaroni and cheese
1

pound

penne pasta

4

tablespoons (2 oz)

unsalted butter

,

plus more for the aluminum foil

2

tablespoons

all-purpose flour

Two

(12-oz) cans

evaporated milk

1

cup

heavy cream

1 1/2

cups

fontina cheese

,

shredded

1

cup

Gorgonzola cheese

,

crumbled

3/4

cup

pecorino Romano cheese

,

grated

1/2

cup

Parmesan cheese

,

grated
Instructions
Make the topping
Adjust the oven rack to the middle position and preheat the oven to 350°F (177°C).

Toss the panko with the melted butter and season with salt and pepper. Spread the mixture on a rimmed baking sheet, slide it in the oven, and bake, stirring every 2 to 3 minutes, until golden brown, 8 to 10 minutes total. Transfer the panko mixture to a plate and let cool to room temperature.

Combine the cooled panko mixture and 1/4 cup Parmesan and transfer to a resealable storage container.
Make the macaroni and cheese
While the panko mixture cools, bring at least 4 quarts water to a boil in a large pot. Add the pasta and 1 tablespoon salt and cook, stirring often, until just beginning to soften, about 5 minutes. Reserve 1 1/2 cups cooking water and then drain the pasta. Rinse with cold water and drain again, leaving the pasta slightly wet in the colander.

Dry the now-empty pot used to cook the pasta. Add the 4 tablespoons butter and melt over medium-low heat. Sprinkle with the flour and cook, stirring constantly, until golden, anywhere from 1 to 4 minutes.

Slowly whisk in the evaporated milk, cream, 1/4 teaspoon salt, and 1/4 teaspoon pepper and bring to barely a simmer, whisking often. Pull the pot off the heat and gradually whisk in the fontina, Gorgonzola, pecorino, and the 1/2 cup Parmesan until melted and smooth. Let cool to room temperature, about 30 minutes.

Preheat the oven to 300°F (149°C). Stir the reserved cooking water and pasta into the cooled sauce. Dump everything into a 13-by-9-inch baking dish. (You can wrap the dish tightly with plastic wrap and then refrigerate the pasta and panko mixtures separately for at least 8 hours or up to 24 hours. If you refrigerated the pasta mixture, stir it thoroughly to recombine before baking it.)

Cover the dish tightly with buttered aluminum foil and bake, stirring thoroughly every 10 to 15 minutes, until the mac and cheese is warmed through, 30 to 45 minutes.

Remove the foil and stir the pasta once more. Sprinkle it with the panko mixture and bake, uncovered, until the topping is heated through, about 3 minutes. Let it rest at room temperature for about 10 minutes and then serve.
Nutrition
Serving:
1
portion
Calories:
768
kcal
Carbohydrates:
60
g
Protein:
31
g
Fat:
45
g
Saturated Fat:
27
g
Polyunsaturated Fat:
2
g
Monounsaturated Fat:
12
g
Trans Fat:
1
g
Cholesterol:
146
mg
Sodium:
822
mg
Potassium:
505
mg
Fiber:
2
g
Sugar:
12
g
Vitamin A:
1372
IU
Vitamin C:
2
mg
Calcium:
700
mg
Iron:
2
mg
Nutrition information is automatically calculated, so should only be used as an approximation.
Recipe © 2014 America's Test Kitchen. Photo © 2014 Carl Tremblay. All rights reserved.
---
Recipe Testers' Reviews
Finally, a mac and cheese recipe that worked for me. I've not had much success making macaroni and cheese and I've tried so many times. It either curdles or it's too soupy or it has no taste or there has always been something…until now! Wow! This is a great recipe!
I melted the butter in the oven and added the panko crumbs. I baked it at 350°F for about 3 minutes and then stirred it. I baked it another 3 minutes, stirred again, and the panko was just beginning to brown. After 8 minutes, the crumbs were nice and crisp and beautifully browned. The pasta cooked until it was just under al dente. The butter melted in the warm pasta pot, and I added the flour and cooked the roux for about 4 minutes until it finally browned to a golden color. It's important to add the evaporated milk slowly as it will spit and sputter at you. In went the cream, salt, and pepper. The combination of cheeses was added off the heat and it became a lovely, silky, smooth sauce.
It cooled for 30 minutes, and then I added the pasta and half the pasta water and mixed it thoroughly. I didn't add all the water at once as I wanted to see how soupy it was going to be. It was liquidy, but I added the rest of the pasta water since it was going to be refrigerated for the next 6 hours or so. The pasta absorbed some of the liquid while in the fridge, but it was still loose. It sat out for about an hour before I put it in the 300°F oven. Dang, it was rich and creamy and gooey and full of down right tasty goodness. The cheeses had great flavor. I was a little concerned about the Gorgonzola being too strong, but it wasn't at all.
The blend of flavors was perfect. I think the star ingredient— besides the cheeses, of course—was the evaporated milk. I've never seen it used in other mac and cheese recipes, so it must have been the secret to my success! I'm a believer. This four cheese macaroni and cheese serves a lot! Four of us ate and ate as much as we could. It wasn't the only food on the plate, but still, it could easily feed 8 or more people. I sent a quart container home with my guests, and there was still a lot left over. I ate it for 2 days then decided to put it in the freezer. It was too good to toss. And it kept getting better and better! It's a definite keeper and a great make-ahead meal.
As the description states, who doesn't like mac and cheese, right? I have to say, I have made baked mac and cheese before, but never with this combination of cheeses or the use of evaporated milk. All I have to say is it is great. This four cheese macaroni and cheese would be a conversation stopper at any potluck party. I followed the recipe as directed and did not have to change anything. I used the microwave to melt the butter, mixed it with the bread crumbs on the baking sheet, and put them in the oven until toasted and golden. I let it cool while I continued with the rest of the recipe.
I went ahead and used that last remaining bit of butter to grease the dish. So far so good. Then a panic attack—the pasta is cooked and drained and waiting as the cheese sauce is being put together. It looked like I had made pasta soup. I proceeded with the recipe, thinking there needs to be more flour to thicken it, but once it was in the baking dish, I thought, oh well. I found that it had thickened after 30 minutes. All looked good. I topped it with the bread-crumb mixture and baked it an additional 10 minutes. After the initial "oh no," it turned out great. I made the whole recipe for just the 2 of us but we took the rest to work to share, and everyone said it was great.
Gonna have a bit more tonight. I made this using Barilla gluten-free pasta to meet others' needs and could not tell the difference. Have a go at this one with the specified blend of cheese—its a definite winner. The cheeses blend together perfectly, and the fact that the macaroni and cheese can be prepared over the course of 2 days makes it a special weeknight treat. Bon appétit.