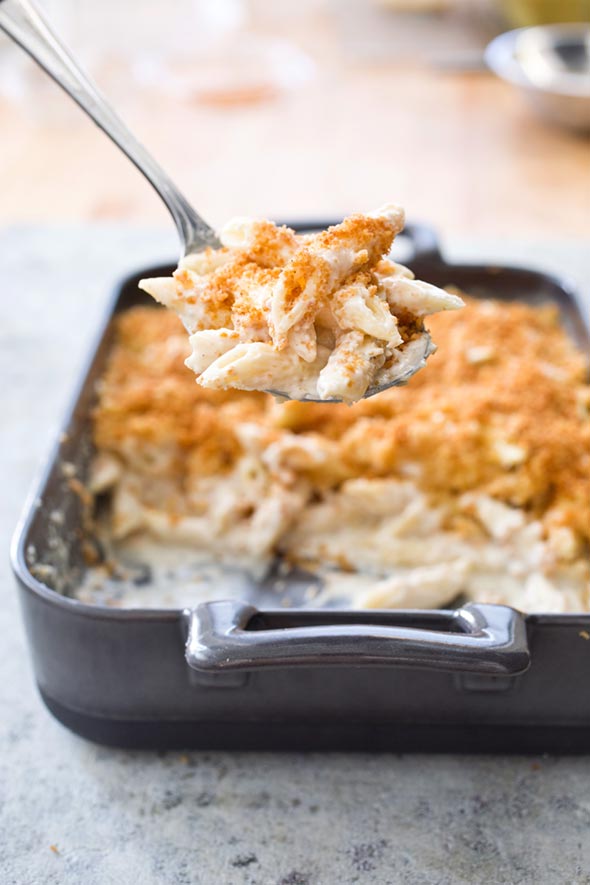 We love macaroni and cheese (who doesn't?), but sometimes we want a more adult version. Enter the classic Italian iteration of macaroni and cheese, pasta ai quattro formaggi, or four cheese macaroni and cheese. We wanted a make-ahead version of this dish that still delivered creamy sauce, properly cooked pasta, and a crisp bread-crumb topping. For the best cheese flavor and texture, we used Italian fontina, Gorgonzola, pecorino Romano, and Parmesan cheeses. We started with a classic roux-based béchamel—cooking butter with flour and then adding heavy cream—but the amount of cream needed to keep the sauce creamy for reheating left the dish too rich and dense for our tasters. Instead, we swapped out most of the cream for evaporated milk, which delivered a silky texture without being too heavy. To preserve the flavors of the cheeses, we stirred them in off the heat, then cooled the sauce to room temperature before combining it with the pasta. Knowing the pasta would rest in the sauce and then bake in the oven, we cooked it just shy of al dente, then rinsed it with cold water to stop the cooking. This allowed it to turn perfectly tender as it baked in the sauce. To keep the sauce from turning gloppy or separating during reheating, we kept the oven temperature low and gave the mixture a thorough stir a few times during baking. Topped with toasted panko bread crumbs and a little more Parmesan, our pasta dinner was silky smooth and rich but not heavy.–America's Test Kitchen
LC Too Much Of A Good Thing Note
This four cheese macaroni and cheese recipe makes us think of that quote about how too much of a good thing can be wonderful. Indeed.
Four Cheese Macaroni and Cheese
Quick Glance
40 M
1 H, 30 M

Serves 8 to 12
Print Recipe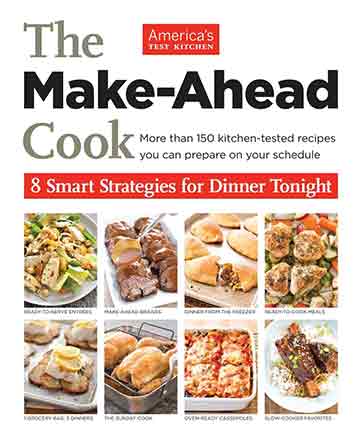 Ingredients
For the topping

1 cup panko bread crumbs

2 tablespoons (1 ounce) unsalted butter, melted

Salt and freshly ground pepper, to taste

1/4 cup (1/2 ounce) Parmesan cheese, grated

For the macaroni and cheese

1 pound penne pasta

4 tablespoons (2 ounces) unsalted butter, plus more for the aluminum foil

2 tablespoons all-purpose flour

2 (12-ounce) cans evaporated milk

1 cup heavy cream

1 1/2 cups (6 ounces) fontina cheese, shredded

1 cup (4 ounces) Gorgonzola cheese, crumbled

3/4 cup (1 1/2 ounces) pecorino Romano cheese, grated

1/2 cup (1 ounce) Parmesan cheese, grated
Directions
Make the topping

1. Adjust the oven rack to the middle position and preheat the oven to 350°F (177°C).

2. Toss the panko with the melted butter and season with salt and pepper. Spread the mixture on a rimmed baking sheet, slide it in the oven, and bake, stirring every 2 to 3 minutes, until golden brown, 8 to 10 minutes total. Transfer the panko mixture to a plate and let cool to room temperature.

3. Combine the cooled panko mixture and 1/4 cup Parmesan and transfer to a resealable storage container.

Make the macaroni and cheese

4. While the panko mixture cools, bring at least 4 quarts water to a boil in a large pot. Add the pasta and 1 tablespoon salt and cook, stirring often, until just beginning to soften, about 5 minutes. Reserve 1 1/2 cups cooking water and then drain the pasta. Rinse with cold water and drain again, leaving the pasta slightly wet in the colander.

5. Dry the now-empty pot used to cook the pasta. Add the 4 tablespoons butter and melt over medium-low heat. Sprinkle with the flour and cook, stirring constantly, until golden, anywhere from 1 to 4 minutes. Slowly whisk in the evaporated milk, cream, 1/4 teaspoon salt, and 1/4 teaspoon pepper and bring to barely a simmer, whisking often. Pull the pot off the heat and gradually whisk in the fontina, Gorgonzola, pecorino, and the 1/2 cup Parmesan until melted and smooth. Let cool to room temperature, about 30 minutes.

6. Preheat the oven to 300°F (149°C). Stir the reserved cooking water and pasta into the cooled sauce. Dump everything into a 13-by-9-inch baking dish. (You can wrap the dish tightly with plastic wrap and then refrigerate the pasta and panko mixtures separately for at least 8 hours or up to 24 hours. If you refrigerated the pasta mixture, stir it thoroughly to recombine before baking it.)

7. Cover the dish tightly with buttered aluminum foil and bake, stirring thoroughly every 10 to 15 minutes, until the mac and cheese is warmed through, 30 to 45 minutes. Remove the foil and stir the pasta once more. Sprinkle it with the panko mixture and bake, uncovered, until the topping is heated through, about 3 minutes. Let it rest at room temperature for about 10 minutes and then serve immediately.
Four Cheese Macaroni and Cheese Recipe © 2014 America's Test Kitchen. Photo © 2014 Carl Tremblay. All rights reserved. All recipes and photos used with permission of the publisher.
If you make this recipe, snap a photo and hashtag it #LeitesCulinaria. We'd love to see your creations on Instagram, Facebook, and Twitter.