About a million years ago when I was kid, I remember it wasn't the end of the Thanksgiving parade or Black Friday that ushered in the Christmas season. It was Christmas cookies.
Back then cookie swaps weren't the search-and-destroy competition they are today. A neighbor or family friend would just appear on your doorstep with a tin in hand. Invariably, the tin was from Royal Dansk butter cookies or Walker's shortbread.
While my mother and father would stiffly entertain the visitor, I'd sneak off to the kitchen with the tin. Inside was a batch of different cookies wrapped in waxed paper. Always waxed paper.
Depending upon the person, there were biscotti, snowflake cookies, meringue kisses, Pillsbury slice-and-bake something or other, or rum balls (which I was utterly forbidden to eat). If the baker was particularly talented there might be Italian flag cookies AKA rainbow cookies.
Then there was always Mrs. Miranda from next door who pushed candied fruit cookies or date bars on us. Come New Year's they were still there. Too damn healthy. (Sorry, Miranda clan.)
There was one cookie over which I negotiated with the candle of Jesus with the exploding heart in my room. If it were in the towers of tins we got every December, I'd do whatever my parents told me for the whole of the following year. The glorious, tremendously fabulous Hershey's kiss cookies, which always goes by the name peanut butter blossom cookies.
I'd do a face plant into the tin, and eat them all before my mother–an inveterate peanut-butter cookie fan–could even smell them.
Did I obey my parents for the whole year? That's why they invented confession.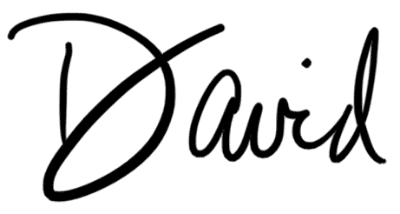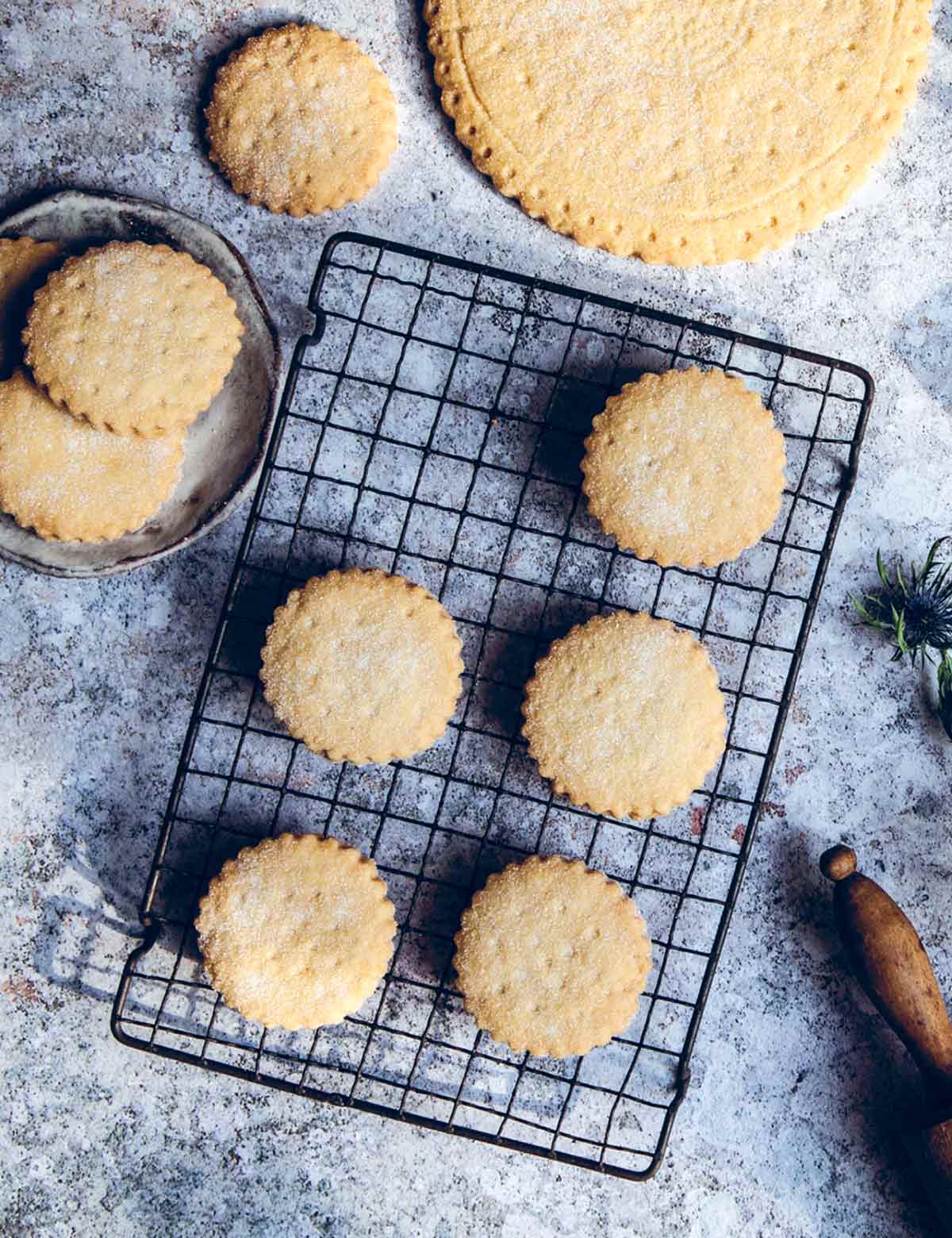 Easy Shortbread Cookies
Textbook shortbread is one part sugar for two parts butter and three parts flour. My version contains slightly less sugar and a little more butter. Some of the flour is also replaced by rice flour, cornstarch, or semolina to make the biscuits even more brittle and short. I was looking for the taste and texture of my favorite shortbread fingers, and this recipe is very close.
Recipe
Biscochitos
These biscochitos are a New Mexican Christmas cookie classic. Their trademark flaky texture and flavor comes from using lard in the dough, along with cinnamon, sugar, anise, and brandy.
Recipe
These are so addictive, and so good alongside a cup of hot tea. Bizcochitos have been a must-have in my holiday cookie selection ever since a friend gave me her family recipe (very similar to this one) years ago.

renee
Molasses Spice Cookies
These molasses spice cookies aren't your ordinary cookies. Sure, they're made with flour, butter, sugar, allspice, cinnamon, and molasses, but they get a nice savoriness from black pepper. Bet you can't stop at just one.
Recipe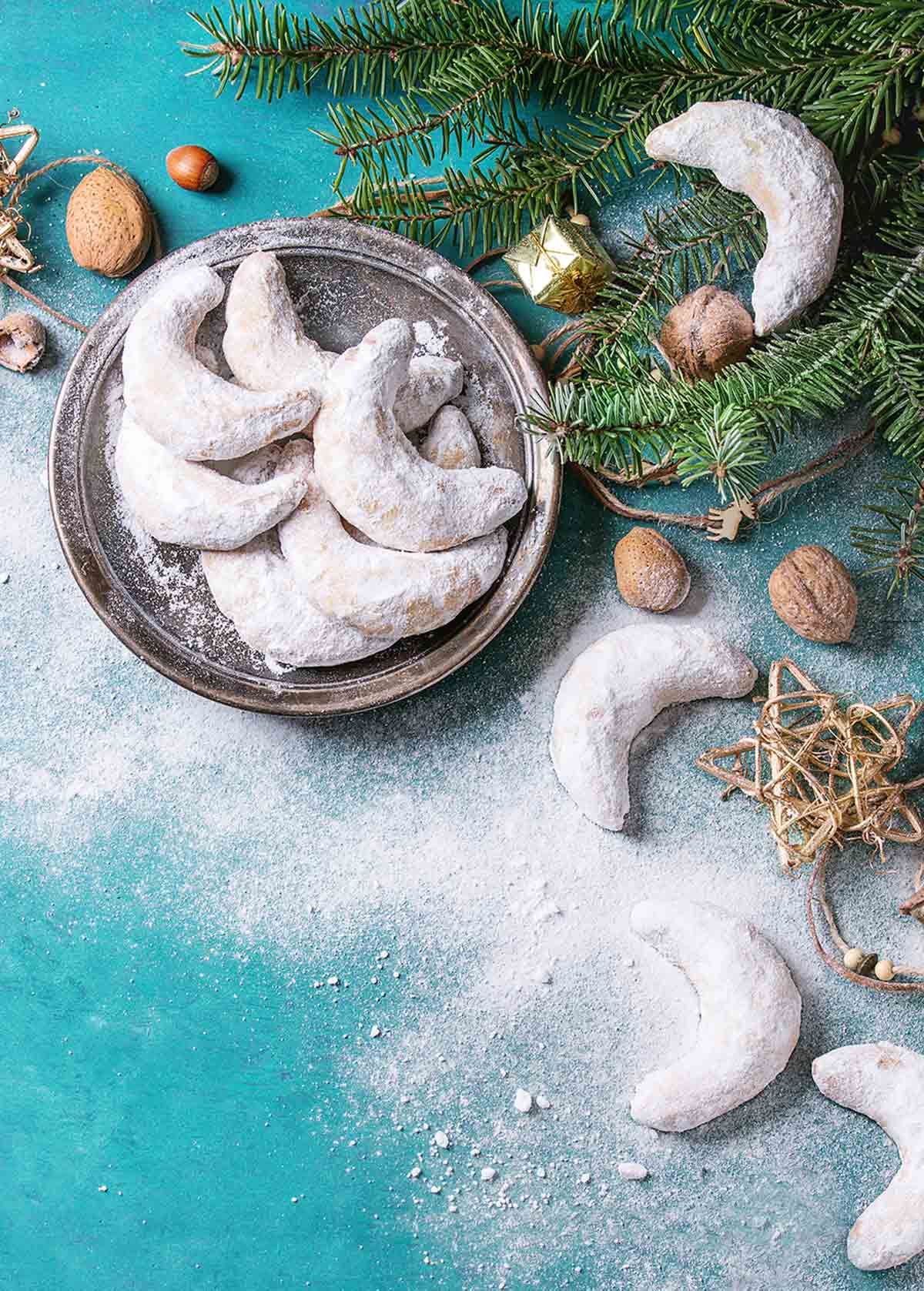 Viennese Crescent Cookies
Viennese crescent cookies are a tradition in Austria. They're made with hazelnuts, shaped like a half-moon, and dusted with confectioners' sugar. One nibble and we think you'll understand why they're a classic.
Recipe
These cookies were delicious! Perfect for Christmas.

natalie
Christmas Sugar Cookies
This Christmas cookie recipe has evolved over the years. These days, I prefer to roll out a softer, 1/4-inch (6.5 mm) thick cookie compared to when I was younger and desired a thinner, crispier cookie.
Recipe
Lebkuchen
Lebkuchen are traditional German Christmas cookies that are subtly reminiscent of gingerbread. Although actually we prefer to refer to them as "moments of perfectly spiced cut-out cookie deliciousness."
Recipe
This is a lovely lebkuchen recipe……the flavours of the spices, the citrus and even the chocolate in the glaze all come together in a most appealing way!

karen h.
Gingerbread Men Cookies
Gingerbread men cookies are that are simple to make and subtle in taste. Our kinda Christmas cookie.
Recipe
Windowpane Cookie
These windowpane cookies give the illusion of being made of stained glass thanks to melted Jolly Ranchers. The appearance of cathedral windows only adds to their appropriateness at Christmas.
Recipe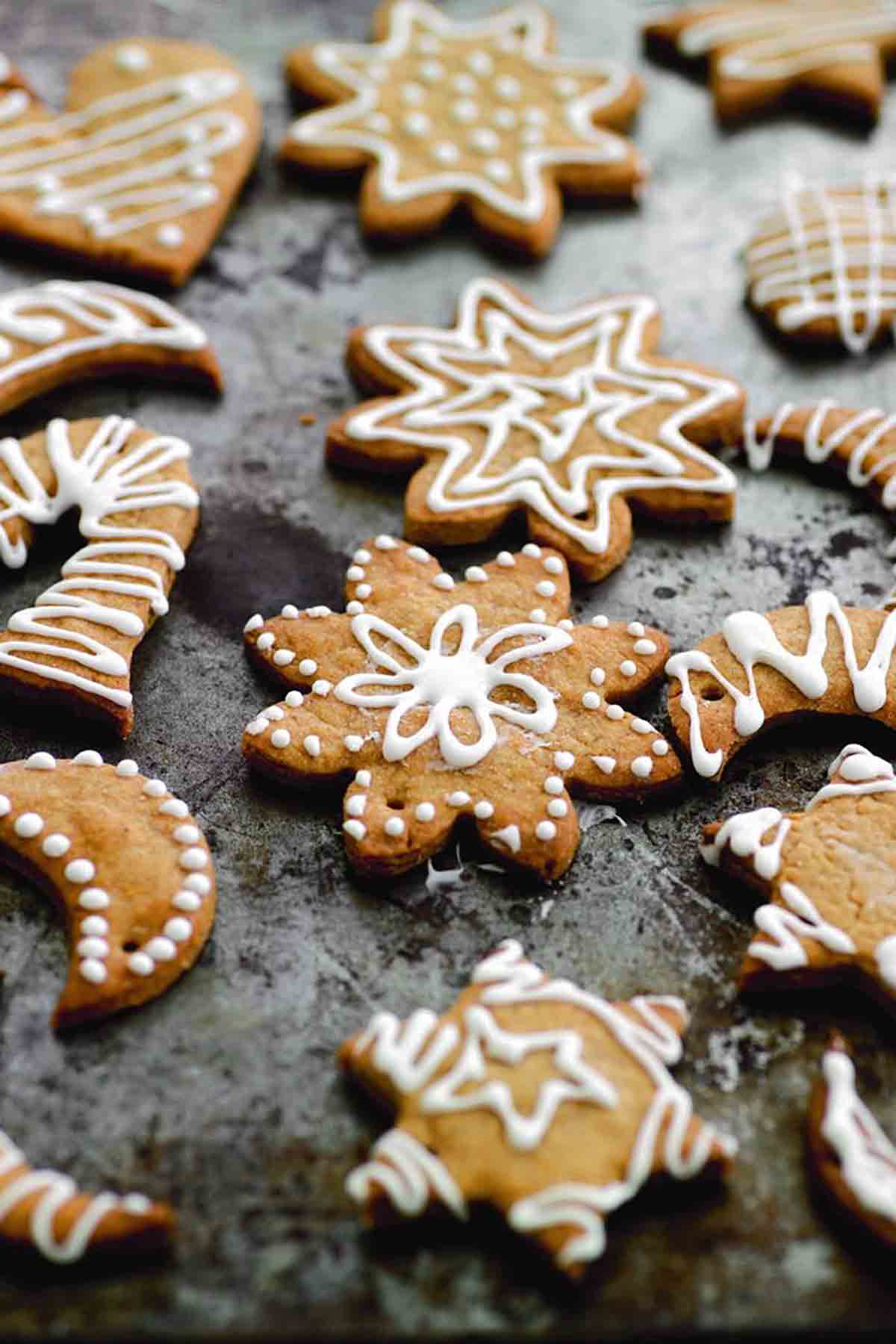 Sugar Christmas Snow Cookies
What can you expect from these sugar Christmas snow cookies? They're thin. They're delicate. They're tender. They're browned ever so slightly at the edges. And they're imbued with the sweet, sweet loveliness of butter. Think of them as shortbread all gussied up in the guise of a sugar cookie.
Recipe
Delightful! While the sugar Christmas snow cookies themselves are so simple and tender (confectioners' sugar–who knew!), they're elevated by a slight drizzle of the lemon glaze and a touch of vanilla. We embellished them with some pearly confections and are thrilled to have quite an elegant take–in both taste and appearance–on the humble Christmas sugar cookie.

ashley a.
Chocolate-Dipped Molasses Cookie
These chocolate-dipped molasses cookies have the best of everything: molasses, ginger, cloves, cinnamon, and, natch, chocolate. Bake, dip, and wrap to make a delightful gift.
Recipe
Chocolate Ginger Crinkle Cookies
These chocolate ginger crinkle cookies are a pleasing riff on a familiar (and easy!) Christmas standby. Chunks of crystallized ginger and dark chocolate make for a rather grown-up experience of a childhood classic.
Recipe
An excellent crinkle cookie. I got raves from everyone who tasted them for me. A very different cookie and very well received. This will become a standard in our Christmas cookie collection.

theodore w.
Christmas Tree of Cookies
This Christmas tree of cookies is what your holidays have been missing. So stunning to behold. So surprisingly simple to assemble. Sugar cookies and royal icing. Done.
Recipe
Christmas Cookie FAQs
How long do cookies keep?
When stored in an airtight container at room temperature, most cookies will stay fresh for up to 1 week.
Do Christmas cookies freeze well?
Generally, yes. Most shortbread, sugar cookies, gingerbread, and any type of roll-out cookie will freeze well for up to 3 months. You can freeze the unbaked dough or baked, undecorated cookies in an airtight container between layers of parchment or wax paper.
If your holiday treat preference leans more towards the confection or candy variety, we've got you covered. From rum balls to Nutella truffles to homemade caramels, there's something for every sweet tooth out there. Happy baking!