Boozy, lusciously chocolate rum balls. They're all we need to prove the existence of a Dessert God. Rich, chocolatey, nutty, and hard to stop at just one.
Although these are a tiny bit rum-y, there's no stopping you from tossing in an extra splash. Sin never tasted so good. We certainly won't tell.–The Chew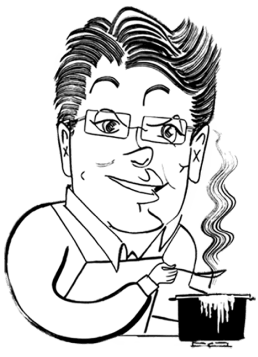 Why Our Testers Loved This
It's difficult not to be smitten with orbs of boozy chocolate, but our testers especially loved that these can be made ahead, were "very quick to put together," and make an excellent hostess or holiday food gift.
Notes on Ingredients
Dark rum–The flavor of the rum is quite strong in these classic rum balls, so choose a rum that you enjoy drinking. Spiced rum or bourbon would also make great substitutes.
Semisweet chocolate–Our testers found that using very dark chocolate made the flavor a bit too intense, so stick with chocolate with a cacao content of around 60%.
Walnuts–Pecans will also work well in this recipe. Use whatever one you prefer.
Toppings–Get creative with the toppings. Chocolate sprinkles, shredded coconut, confectioners' sugar, toasted crushed nuts, and cocoa powder are all great choices.
How to Make This Recipe
Reduce the rum. Simmer until reduced by half. Remove from the heat.

Make the rum ball mixture. Melt the chocolate and butter in a bowl set over a pan of simmering water, then stir in the nuts, rum, confectioners' sugar, and salt. Let cool to room temperature.

Shape the balls. Use your hands to roll the mixture into balls, then coat with your desired topping. Store in the refrigerator.
Recipe FAQs
Can I add mix-ins?
Certainly. Feel free to change up the type of nuts, or mix in some crumbled brownie bits or shredded coconut. Alternatively, you can skip the nuts altogether, and just enjoy the irresistible combination of chocolate and rum.
Can I make these in advance?
Yes! We actually recommend that you make them at least a couple of days before you plan to serve them as they do improve with time. They will keep in the refrigerator for up to 2 weeks.
Can you freeze rum balls?
Yes, these can be frozen for up to 2 months. Freeze them on a parchment-lined rimmed baking sheet, then transfer them to a resealable container and store them between layers of wax paper. Thaw overnight in the refrigerator before serving.
Helpful Tips
If you find that your chocolate mixture is too sticky to roll into balls, try refrigerating it for 30 minutes to firm it up. If it's too dry and crumbly, let it sit at room temperature for 10 minutes to soften. The warmth from your hands will also soften the mixture as you roll.
Coat your hands with cooking spray for easier (and less messy!) rolling.
This recipe is suitable for a gluten-free diet.
Write a Review
If you make this recipe, or any dish on LC, consider leaving a review, a star rating, and your best photo in the comments below. I love hearing from you.–David
Rum Balls
These gorgeous rum balls, made with walnuts, chocolate, confectioners' sugar, and butter, are a Southern classic. A lovely homemade Christmas gift.
Ingredients
1/4

cup

dark rum

6

ounces

semisweet chocolate

,

chopped

4

tablespoons

unsalted butter

1/4

cup

walnuts

,

toasted and finely chopped (or pecans)

1 1/2

cups

confectioners' sugar

Generous pinch

fine sea salt

Sprinkles, shredded coconut, or more toasted and finely chopped nuts

,

for decorating (optional)
Instructions
Heat the rum in a small saucepan over medium heat until the booze is reduced by half. Watch it carefully, as it evaporates quickly.

Set a heatproof bowl over but not touching a pot of gently simmering water. Add the chocolate and butter to the bowl and wait, stirring occasionally, until they're both completely melted.

Remove the bowl from the heat (careful, it will be hot!) and stir in the walnuts, rum, confectioners' sugar, and salt. Let cool to room temperature. (You can cover and refrigerate the cooled rum balls mixture for a few hours or even up to a few days, although you'll need to let it warm to room temperature before you proceed.)

Portion the mixture into 1-inch balls. (If it's too sticky to easily roll into balls, cover and refrigerate for about 30 minutes. If it's a little crumbly, try to roll it into balls anyways and if that doesn't work, let the mixture rest at room temperature for about 30 minutes and try again.)

Roll the rum balls in sprinkles of some sort, if desired. Place the rum balls in a parchment-lined container with a lid.

Cover and refrigerate until ready to serve. The taste of the rum will be subtle at first yet will deepen with time. We found the taste after exerting patience for a few days to be perfect.
Notes
Make-ahead–The rum balls can be made up to 2 weeks before serving. Store in the refrigerator.
Freezing–The rum balls can be frozen for up to 2 months. Thaw overnight in the refrigerator.
Dietary–This recipe is suitable for a gluten-free diet.
Substitutions–Use spiced rum or bourbon instead of dark rum.
Rolling tips–Coat your hands with cooking spray before rolling the balls. The warmth of your hands will soften the chocolate mixture, so start with a mixture that is a little chilly.
Nutrition
Serving:
1
ball
Calories:
101
kcal
Carbohydrates:
11
g
Protein:
1
g
Fat:
5
g
Saturated Fat:
3
g
Polyunsaturated Fat:
1
g
Monounsaturated Fat:
1
g
Trans Fat:
0.1
g
Cholesterol:
5
mg
Sodium:
1
mg
Potassium:
46
mg
Fiber:
1
g
Sugar:
10
g
Vitamin A:
62
IU
Vitamin C:
0.02
mg
Calcium:
6
mg
Iron:
0.5
mg
Nutrition information is automatically calculated, so should only be used as an approximation.
Recipe © 2014 The Chew. Photo © 2014 Andrew Scrivani. All rights reserved.
---
Recipe Testers' Reviews
Bite-size desserts are just the ticket when you need something to take to your office potluck. Think about it. Someone might not be willing to commit to a slice of your amazing pecan pie, but a teeny little rum ball? Everyone will go for that.
These are different from other rum balls I've had—more truffle-like than cookie-like. I used a 70% Scharffen Berger chocolate, which was very intense. Next time I would dial it back and use a milder chocolate to let the nuts and rum shine through.
Not having any sprinkles on hand, I rolled some of the balls in chopped walnuts and some in shredded coconut. Both good options.
The trickiest part of the recipe was getting the temperature of the chocolate mixture right to roll out. After letting them cool to room temperature, I found that they were still a bit too soft. It was going to be a messy job.
So I chilled them in the fridge for a couple hours, but then they were too firm to divide into balls. I let them warm up just a bit, and they were perfect.
Your hands will warm up and soften the balls as you form them, so you probably want the "dough" to be a bit colder and stiffer than you would think.
Keep in mind when you make these that the rum will not be apparent at first, but the flavor will increase the longer they sit. So try to make them a few days ahead of time to allow them to "age" a bit and reach their full potential. Your friends will thank you for your foresight!
I must say that I had high hopes for this classic rum balls recipe from the get-go. It promised to be very quick to put together and required ingredients that I already had in my pantry. Add the name RUM Balls, and I mean, how bad could they really be?
They turned out to be quite delicious. They were wonderfully chocolatey with a great texture from the combination of ground pecans and sugar.
When it came to forming the balls though, the consistency of the mixture was not what I expected, and I thought I'd screwed something up. I didn't have the time to let the mixture cool and form the balls on the same day, so I wrapped the mixture and put it in the fridge overnight to set.
The next day, I removed the bowl from the fridge and let it sit on the counter for about 40 minutes to warm up some. When I went to scoop the mix into ball-sized portions, I found it to be quite dry and crumbly, a bit like modeling clay that had been left out too long. I thought perhaps that it was still too cold to work with, so I let it sit until it came fully to room temperature.
That helped a bit, but it was still not very easy to scoop. Nevertheless, I worked chunks of the mix with my fingers and by rolling them between my palms, and they pretty quickly formed into nice, shiny rum balls. While they were still warm from my hands, I dropped them into a bowl of finely shredded, unsweetened coconut to coat and then into a Tupperware for storage.
I would prefer mine with a little more pronounced rum flavor (don't judge me!), so I may add a little more next time I make them. But even without the extra booze, they're a totally satisfying treat. Next time I'll also make sure I have the time to roll the balls the day I make the mixture and see if it's any easier to do without having them fully set in the fridge.