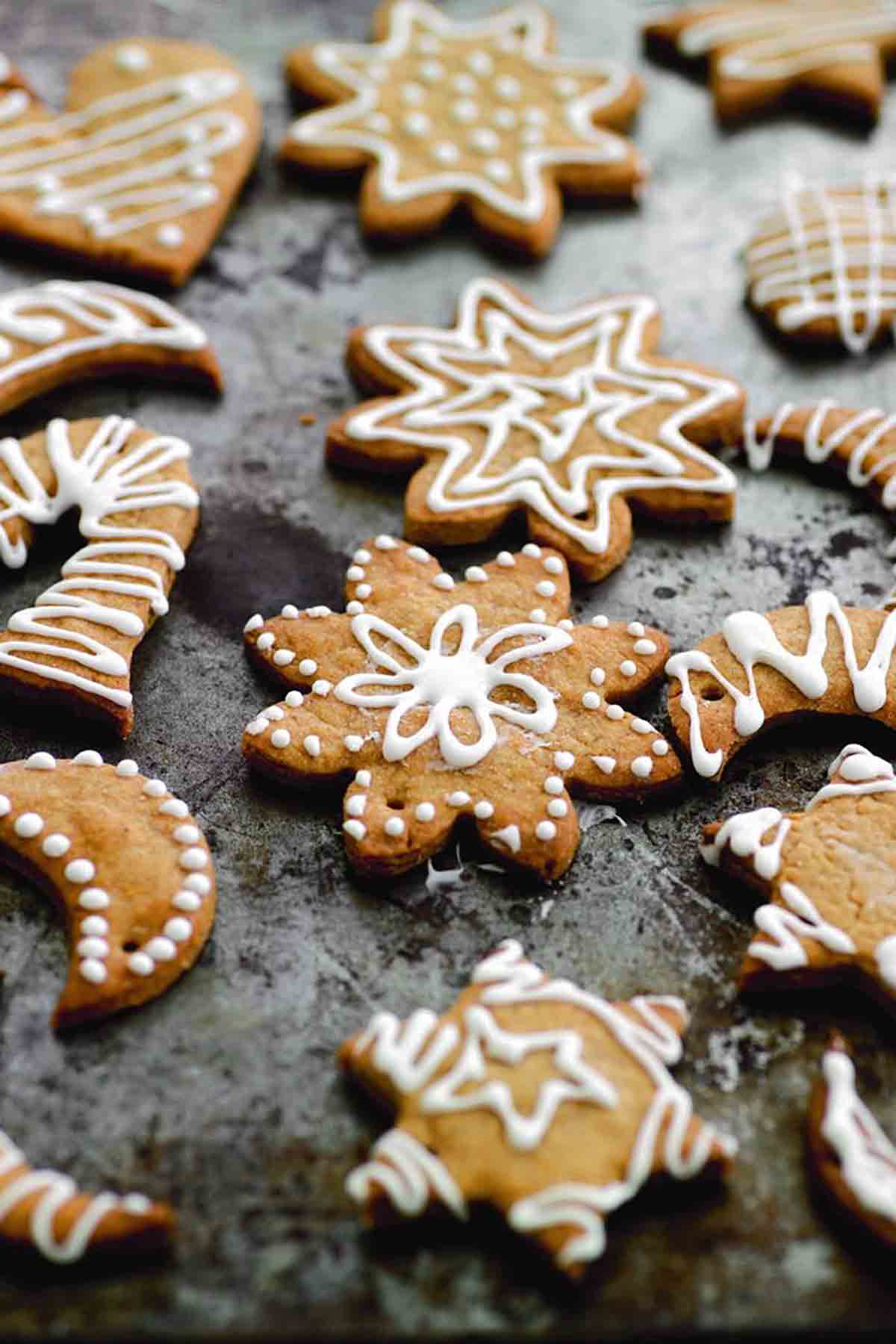 All cold-weather countries revel in the baking that goes with Christmas and New Year festivities. I have Swedish friends who start preparing for Christmas right at the beginning of December; I suppose it is a way of getting through the darkness. Here are sugar Christmas cookies from the plethora baked every year.–Diana Henry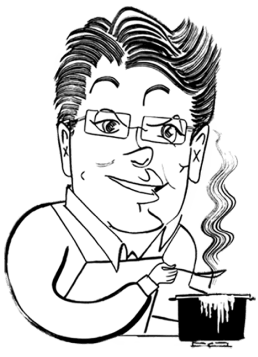 Why Our Testers Loved This
Our testers are describing these cookies as "delightfully tender" and "a delicate cookie with buttery richness." All of our testers were delighted by how easy it was to make these cookies and roll out the dough.
Notes on Ingredients
Butter–For sugar cookies, it is critical that the butter is at room temperature. It should be cool to the touch and yield slightly when poked with a finger. It should not be oily or greasy or cave when pressed.
Confectioners' sugar–This will give the cookies their delicate, crisp texture. For best results, sift your sugar before using.
Egg yolk–Ideally, you want your egg yolk to be at room temperature also as it will incorporate into the dough more easily.
All-purpose flour–To avoid dry crumbly dough, be sure to measure your flour carefully. For best results, weigh your flour.
How to Make This Recipe
Beat butter, sugar, and salt together. Beat in the egg yolk and vanilla, if using. With the mixer on low speed, add the flour and mix until the dough comes together.

Knead the dough until smooth. Flatten into a disc, wrap in plastic, and chill overnight.

Preheat the oven to 350°F. Let the dough stand at room temperature while the oven preheats.

Roll the dough to 1/8-inch thick. Use a cookie cutter dipped in flour to cut shapes. Re-roll scraps and continue to cut shapes until all the dough is used.

Bake the cookies until golden brown. Cool completely on wire racks before glazing.

Make the glaze. Combine the sugar, vodka or water, and enough lemon juice to reach a drizzling consistency. Drizzle or pipe over cookies.
Recipe FAQs
How do I keep the dough from sticking to my cookie cutters?
After rolling out the dough, it will have warmed up a little bit and you might find that it sticks to your cookie cutters. Instead of wrestling with it, dip your cookie cutter into flour before using it. You should find that it helps release the dough.
How do I keep my sugar cookies from spreading in the oven?
Warm dough will spread, much more so than cold. If your kitchen is really warm, you can always pop the cutout cookies into the fridge to chill before baking. Another thing you can do is to let your cookie sheets cool between each batch.
My dough is too soft and sticky. Help!
If your dough is very sticky, you may have used butter that was too soft. Use room temperature butter that is soft but cool to the touch and not oily. To fix sticky dough, chill it for longer, or use extra flour on your work surface and rolling pin.
Helpful Tips
When cutting your cookies, dip the cookie cutter in flour before each cut.
Cut out your cookie shapes as close together as possible to limit the number of times you have to re-roll the scraps.
If you prefer, you can decorate the cookies with royal icing.
For a more pronounced lemon flavor in the cookie glaze, add 1 teaspoon of finely grated lemon zest to the glaze and let it rest for 5 to 10 minutes before using.
This cookie dough works well for making stained glass window cookies or a Christmas cookie tree.
Unbaked cookie dough can be frozen for up to 3 months in an airtight container or resealable bag. Defrost in the fridge overnight before baking.
Baked cookies can be stored in an airtight container between layers of parchment for up to 1 week or frozen for up to 3 months.
Write a Review
If you make this recipe, or any dish on LC, consider leaving a review, a star rating, and your best photo in the comments below. I love hearing from you.–David
Sugar Christmas Snow Cookies
What can you expect from these sugar Christmas snow cookies? They're thin. They're delicate. They're tender. They're browned ever so slightly at the edges. And they're imbued with the sweet, sweet loveliness of butter. Think of them as shortbread all gussied up in the guise of a sugar cookie.
Ingredients
For the sugar cookies
1

stick

unsalted butter

,

at room temperature

1/2

cup

confectioners' sugar

1/4

teaspoon

salt

1

egg yolk

1/2

teaspoon

vanilla extract,

(optional)

1 1/2

cups

bleached all-purpose flour

,

plus more for the work surface
For the icing
1

cup

confectioners' sugar

,

sifted

Vodka or water

Freshly squeezed lemon juice
Instructions
Make the sugar cookies
Using an or a stand mixer fitted with the paddle attachment, beat together the butter, sugar, and salt on medium-low until very well combined, about 2 minutes. Beat in the egg yolk and vanilla, if using, until thoroughly combined.

Reduce the mixer to the lowest speed, add the flour, and mix until the dough holds together. Turn the dough out on a lightly, lightly floured work surface, knead it gently a few times until the dough takes on an even, smooth consistency.

Flatten the dough into a disk, wrap it in plastic wrap, and refrigerate it overnight. (The overnight chilling is a crucial step, ensuring the dough remains moist and, in turn, doesn't crumble when you roll it out.)

Preheat the oven to 350°F (176°C).

Remove the dough from the refrigerator and let stand at room temperature to soften slightly so it's malleable but is still cool to the touch. Depending on the temperature of your kitchen and the dough, this could take as much as 20 minutes, give or take a few.

Lightly flour the work surface and a rolling pin and carefully roll the dough to a 1/8-inch thickness. If the dough starts to crack, let it sit a few minutes more. If it's too soft, slide it back in the fridge until firmer.

Stamp out cookies with a variety of cookie cutters (we're partial to stars, dandy candy canes, and bells) and place them on a baking sheet. (A thin metal spatula helps if the dough proves stubborn and sticks to the work surface.)

Bake until golden and edged in brown, about 8 minutes. Cool the cookies on a wire rack.
Make the icing
Meanwhile, dump the confectioners' sugar into a bowl and add enough vodka or water and lemon juice to make an icing that you can drizzle. It's the right consistency when you can scoop some up on the tines of a fork and it drops in a slow but steady stream. For a fancy-schmancy look, you can use a classic piping bag or a zip-top bag with a bit of the corner cut off in order to make designs, such as swirls, zigzags, and star-bursts.
Notes
Freezing–

The dough can be frozen in an airtight container or bag for up to 3 months. Thaw in the refrigerator.

Storage–Baked cookies can be stored in an airtight container between layers of parchment paper for up to 1 week or frozen for up to 3 months.
Cutting cookies–Cut your cookie shapes as close together as possible to minimize the number of times you need to re-roll the dough. Dip the cookie cutter in flour to keep it from sticking to the dough.
Nutrition
Serving:
1
serving
Calories:
94
kcal
Carbohydrates:
13
g
Protein:
1
g
Fat:
4
g
Saturated Fat:
3
g
Polyunsaturated Fat:
1
g
Monounsaturated Fat:
1
g
Trans Fat:
1
g
Cholesterol:
18
mg
Sodium:
25
mg
Potassium:
11
mg
Fiber:
1
g
Sugar:
7
g
Vitamin A:
129
IU
Calcium:
3
mg
Iron:
1
mg
Nutrition information is automatically calculated, so should only be used as an approximation.
Recipe © 2009 Diana Henry. Photo © 2009 Jason Lowe. All rights reserved.
---
Recipe Testers' Reviews
The sugar Christmas snow cookies were a delightfully tender little shortbread cookie. We couldn't describe the taste of the vodka in the glaze, but it paired beautifully with the lemon juice. The glaze was tangy and delicious.
After the glaze set-up, the cookies could be stacked (perfect for gift giving or shipping). The cookies were melt-in-your-mouth good! I will definitely keep this recipe around for Christmas and all year long baking!
Prepare for your new favorite tea cookie. A thin, delicate little cookie with a buttery richness and bright lemon glaze, these cookies are almost as easy to make as they are to eat.
My boyfriend and I fought over the final cookie in the tin last night. I won, but only after promising to make another batch.
I didn't have vodka and used water for the glaze instead. It worked great. I added lemon zest to the icing for a little color and additional lemon flavor. I would do so again. I found that letting the glaze sit for five minutes after making made the powdered-sugar sweetness mellow a bit and let the lemon shine through.
It may be considered sacrilege in Sweden, but I think these cookies are endlessly adaptable. I have my sights set on adding a bit of chopped chocolate to the dough next time and a small drizzle of strong coffee to the icing. I'll be adding these to my holiday baking to-do list for sure!
I knew by reading the recipe that these would be fantastic, so I doubled the recipe. I wasn't wrong. This dough is extremely easy to put together and was extremely easy to roll out. I find that shaping the dough into a disk rather than a ball makes it easier to roll out (bring it out from the fridge and let it sit at room temperature for about 10 minutes before rolling).
The star shape is a good one, as you can squeeze lots of cookies from each bit of dough. The scraps came together easily and I rolled them out again—no discernible difference in the baked texture.
The drizzle of frosting is a nice touch—maybe would use some food coloring next time. Would definitely make these again. Perfect!