I've been making these easy Christmas sugar cookies for as long as I can remember. My mother made them with me, and I made them with my daughter. And now, I almost always freeze one-third of my dough so I can make these cookies anytime.—Carroll Pellegrinelli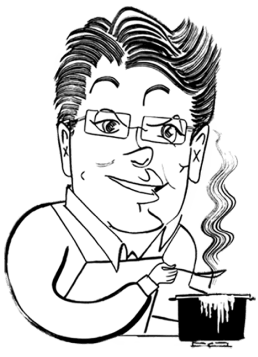 Why Our Testers Loved This
Our testers have never met a sugar cookie they don't love, and these are no exception. They're singing the praises of these cut-out cookies for being easy to make, holding their shape, and their crispy, buttery texture.
Notes on Ingredients
All-purpose flour–To avoid dry crumbly dough, be sure to measure your flour carefully. For best results, weigh your flour.
Butter–For sugar cookies, it is critical that the butter is at room temperature. It should be cool to the touch and yield slightly when poked with a finger. It should not be oily or greasy or cave when pressed.
Eggs–Ideally, you want your eggs to be at room temperature also as they will incorporate into the dough more easily.
Corn syrup, cream, or beaten egg white–This is used to help the sprinkles or decorating sugar stick to the cookies.
How to Make This Recipe
Whisk the dry ingredients together. Beat the butter and sugar, then add the eggs one at a time, followed by the milk and extract. Mix in the dry ingredients until thoroughly combined.

Divide the dough into 3 pieces. Wrap in plastic and chill for at least 2 hours. Preheat the oven to 400°F and coat 2 rimmed baking sheets with cooking spray."

Roll the dough to 1/4-inch thick. Use a cookie cutter dipped in flour to cut shapes. Re-roll scraps and continue to cut shapes until all the dough is used.

Decorate the cookies. If decorating, brush each cookie with corn syrup, cream, or beaten egg white, and then sprinkle with sprinkles or colored sugar.

Bake the cookies. Cook in batches until the cookies are golden around the edges. Cool on sheets for 3 minutes, then transfer to a wire rack to cool completely before frosting or decorating with icing.
Recipe FAQs
Can I bake more than one sheet of Christmas cookies at a time?
Whether you bake one or two sheets of cookies at a time is a matter of choice. If you bake two, halfway through, turn the baking sheets 180 degrees and switch the racks they're on. Don't open that door until the timer goes off or you can smell the baked cookies.
Are these cookies easy for kids to decorate?
A sturdier cookie is needed for little hands. The author, Carroll Pellegrinelli, says that besides roll­ing the dough at least 1/4 inch thick, you can replace half of the butter with butter­-flavored vegetable shortening. No one will notice a difference in the taste but most importantly, the cookies won't fall apart during decorating.
How do I keep sugar cookies from spreading?
In order for your cookies to retain their Christmas shapes, you'll want them to stay cool and in place. Keep the dough cool, especially if you're working in a warm kitchen. Keep the extra dough in the fridge and if the ball you're working with starts to get too warm, pop it back into the fridge for a few minutes.

As well, make sure that you let your cookie sheet cool before starting another batch. Putting dough on a hot sheet before you even start baking means that it'll melt before they start to cook.
My dough is too soft and sticky. Help!
If your dough is very sticky, you may have used butter that was too soft. Use room temperature butter that is soft but cool to the touch and not oily. To fix sticky dough, chill it for longer, or use extra flour on your work surface and rolling pin.
Helpful Tips
When cutting your cookies, dip the cookie cutter in flour before each cut.
Cut out your cookie shapes as close together as possible to limit the number of times you have to re-roll the scraps.
If you prefer, you can decorate the cookies with royal icing.
Save a batch of the cookie dough and use it to make stained glass window cookies.
Unbaked cookie dough can be frozen for up to 3 months in an airtight container or resealable bag. Defrost in the fridge overnight before baking.
Baked cookies can be stored in an airtight container between layers of parchment for up to 1 week or frozen for up to 3 months.
Write a Review
If you make this recipe, or any dish on LC, consider leaving a review, a star rating, and your best photo in the comments below. I love hearing from you.–David
Christmas Sugar Cookies
This Christmas cookie recipe has evolved over the years. These days, I prefer to roll out a softer, 1/4-inch (6.5 mm) thick cookie compared to when I was younger and desired a thinner, crispier cookie.
Ingredients
For the cookies
3 3/4

cups

all-purpose flour

,

divided

2 1/2

teaspoons

baking powder

1/2

teaspoon

table salt

11

tablespoons (5 1/2 oz)

salted butter

,

at room temperature

1 1/2

cups

granulated sugar

2

large

eggs

2

tablespoons

whole milk

1

teaspoon

vanilla extract or almond extract

Cooking spray
For cookie decorations (optional)
Corn syrup

,

heavy cream, or 1 egg white mixed with 1 tablespoon water (optional)

Colored sugar or sprinkles (optional)

Colored icing (optional)
Instructions
Make the cookies
In a medium bowl, use a whisk to combine 3 1/4 cups (440 g) of flour, baking powder, and salt.

In the bowl of a fitted with the paddle attachment or in a large bowl using a hand mixer, beat the butter and sugar together. Add the eggs one at a time and mix. Add the milk and extract. Stir in the dry ingredients and mix completely.

Divvy the dough into 3 balls. Flatten the balls into ovals and wrap each in plastic wrap. Chill the dough in the refrigerator for at least 2 hours or up to 24 hours.

When the dough is almost done chilling, put the remaining 1/2 cup (68 g) of flour in a small bowl and dust your work surface and rolling pin. Pull out your favorite Christmas cookie cutters.

Preheat the oven to 400°F (204°C). Lightly coat two rimmed baking sheets with cooking spray.

Remove 1 dough ball from the refrigerator. Roll it out to 1/4-inch (6.5 mm) thickness (any thinner and your cookies will be very crispy, which may make them difficult to decorate). Dip the cookie cutter into the bowl of flour before cutting out each cookie.

Use a metal spatula to move the cookies to a prepared baking sheet, leaving at least 1/2 inch (13 mm) between the cookies. Reroll the remaining dough to cut out more cookies.
Decorate the cookies
If decorating the cookies, paint each cookie with corn syrup, heavy cream, or beaten egg white, then dust the cookies with colored sugar or sprinkles. The corn syrup, heavy cream, or egg wash will help the sugar adhere to the cookies.

Working in batches, bake each sheet of cookies until browned around the edges, 8 to 12 minutes. Cool for 3 minutes on the baking sheet, then transfer the cookies to cooling racks. Repeat with the remaining 2 dough balls.

Once completely cooled, decorate with colored icing, if desired. After the icing is completely set, store the decorated cookies in an airtight container between layers of parchment paper at room temperature for up to 1 week.
Notes
Freezing–

The dough can be frozen in an airtight container or bag for up to 3 months. Thaw in the refrigerator.

Storage–Baked cookies can be stored in an airtight container between layers of parchment paper for up to 1 week or frozen for up to 3 months.
Cutting cookies–Cut your cookie shapes as close together as possible to minimize the number of times you need to re-roll the dough.
Nutrition
Serving:
1
cookie
Calories:
88
kcal
Carbohydrates:
14
g
Protein:
1
g
Fat:
3
g
Saturated Fat:
2
g
Polyunsaturated Fat:
1
g
Monounsaturated Fat:
1
g
Trans Fat:
1
g
Cholesterol:
15
mg
Sodium:
52
mg
Potassium:
36
mg
Fiber:
1
g
Sugar:
6
g
Vitamin A:
97
IU
Calcium:
13
mg
Iron:
1
mg
Nutrition information is automatically calculated, so should only be used as an approximation.
Recipe © 2020 Carroll Pellegrinelli. Photo © 2020 Hélène Dujardin. All rights reserved.
---
Recipe Testers' Reviews
If you're looking for a great Christmas sugar cookie recipe for the holidays, look no further than this one. The dough is very easy to handle and doesn't "spread" like other sugar cookie recipes which can lead to misshapen cut-outs after they are baked. So important if you are working with more intricate designs.

I usually chill my dough for a bit after making the cut-outs to prevent spreading but this was not at all necessary with this recipe. The cookie is crispy and buttery.
I decorated mine with royal icing and sprinkles which is what I had on hand in my Florida condo. Back in NJ which is where I have all of my decorating tools from 10 years of teaching Wilton classes, I would have done more elaborately shaped cookies and decorations.
But this cookie will work with any shape cutter and an array of decorations from the simplest to the most complex. They are even delicious without any decorations at all!
These Christmas sugar cookies are such a flexible recipe! Make the dough ahead and freeze or bake after 2 hours, bake small thin cookies or large chubby cookies, it's a choose your own adventure recipe. I leaned towards large 1/4-inch-thick cookies and enjoyed the soft, sweet chew of a classic sugar cookie.
I tried decorating with corn syrup and sprinkles both before and after baking. This was a new-to-me technique that removed the frustrations of pushing sprinkles and sugar into the cookie shapes before baking.
The baking times were spot on for this recipe, including the 3 minutes to sit on the cookie sheets to finish baking after removing from the oven. Any longer and you'll be scraping broken pieces off of the sheet which I quickly learned.
This is a very simple Christmas sugar cookie recipe. There are so many ways to make them look pretty. You can also just serve them as is.
They have a nice crispy bottom and soft interior. I made them thick as the recipe calls for, and made some thinner. I actually liked them both ways and felt the cookie was stable enough to decorate. I enjoyed them better thicker.

While not overly sweet, I might try them with a 1/4 cup less sugar, especially if I want to add edible decorations. Any more sugar would put them over the top.