During my last year in high school, we were given two weeks off from classes for senior projects. While my peers pursued scuba diving, rock climbing, sailing, and photography, I headed to Ma Maison, the culinary pinnacle of Los Angeles, circa 1984. Being a girl in a French restaurant, I was led straight to the pastry kitchen. When I arrived, my fear of being in the way was quickly put to rest; the pastry chef had just been fired, and the sous-chef, Aisha, was running the show all alone. In no time at all, she had me making doughs, whipping mousses, and filling tart shells. Thrilled with my new-found pastry skills, I rushed home every day after work to re-create those desserts for my family. One of the first things I learned to make that spring was a classic lemon tart with a pâte sucrée crust. The first time I tried it at home, my chocoholic sister begged me to add some chocolate. I refused and stuck to the classic French recipe. But one day, when her birthday rolled around, I gave in to her suggestion. I melted some bittersweet chocolate, spread it over the baked crust, and waited for it to solidify. Nervously, I poured the warm lemon curd over and waited to see if it would work. It was the first time I'd ever deviated from a pastry recipe, and I was terrified I might ruin it. To Jessica's delight (and mine, too), it was even better than the original. To this day, whenever this tart is on the Lucques menu, Jessica gloats, proud of our lemon-chocolate collaboration.–Suzanne Goin
How do you make lemon tart from scratch?
This tart should be served cold, so make it at least a few hours before serving. When you make the lemon curd, you need to stir it the entire time. For an ultra-smooth curd, I use both a whisk and a rubber spatula, alternating between the two as I stir. Start with the whisk, and as the mixture begins to get frothy, switch to the spatula (which helps get rid of the froth), scraping the bottom and sides continuously. Remove the curd from the heat and let it cool slightly before pouring it over the hardened chocolate layer. Don't cool the curd completely before pouring or it will lose its nice sheen. You can also make this tart with regular lemon juice.
Meyer Lemon Tart with a Layer of Chocolate
This Meyer lemon tart with a layer of chocolate combines sweet-tart lemon custard with bittersweet chocolate and nestles it all inside a pâte sucrée dough.
Ingredients
For the pâte sucrée (makes enough for two crusts)
1/4

cup

heavy cream

2

extra-large

egg yolks

2 3/4

cups plus 2 tablespoons

all-purpose flour

1/2

cup

granulated sugar

1/4

teaspoon

kosher salt

2

sticks (8 oz)

unsalted butter
For the tart
1

recipe

pâte sucrée (above)

2

ounces

bittersweet chocolate

4

extra-large

eggs

3

extra-large

egg yolks

1

cup

granulated sugar

1

cup

Meyer lemon juice

10

tablespoons (5 oz)

cold unsalted butter

,

cut into small pieces

A pinch of

kosher salt

1

cup

heavy cream
Instructions
Make the pâte sucrée
Whisk the cream and egg yolks together in a small bowl.

In a stand mixer fitted with the dough hook, combine the flour, sugar, salt, and butter on medium speed until you have a coarse meal. Gradually add the cream and yolks and mix until just combined. Do not overwork the dough.

Transfer the dough to a large work surface and bring it together with your hands to incorporate completely. Divide the dough in half, shape into 1-inch-thick discs, and wrap one of them to freeze and use later.

If the dough is too soft, put in the refrigerator for 5 to 10 minutes to firm up a little. If the dough is manageable, place it on a lightly floured work surface, sprinkle a little flour over the dough, and roll it out into a 1/4-inch-thick circle, flouring as necessary. Starting at one side, roll and wrap the dough around the rolling pin to pick it up. Unroll the dough over a 10-inch tart pan. Gently fit the dough loosely into the pan, lifting the edges and pressing the dough into the corners with your fingers. To remove the excess dough, roll the rolling pin lightly over the top of the tart pan for a nice clean edge, or work your way around the edge pinching off any excess dough with your fingers. Chill for 1 hour.
Make the tart
Preheat the oven to 375°F (190°C).

Take the tart pan with the pâte sucrée from the refrigerator. Prick the bottom with a fork and line it with a few opened and fanned-out coffee filters or a piece of parchment paper. Fill the lined tart shell with beans or pie weights and bake 15 minutes, until set. Take the tart out of the oven and carefully lift out the paper and beans. Return the tart to the oven and bake another 10 to 15 minutes, until the crust is an even golden brown. Set aside on a rack to cool completely.

Melt the chocolate in a double boiler over medium-low heat. Spread the chocolate evenly on the crust and chill in the refrigerator for at least 15 minutes, until the chocolate has solidified completely.

While the crust is chilling, make the curd. Whisk the eggs, yolks, sugar, and lemon juice together in a heavy-bottomed saucepan. Cook over medium heat, stirring continuously, alternating between a whisk and rubber spatula (see note above), until the lemon curd has thickened to the consistency of pastry cream and coats the back of the spatula.

Remove the lemon curd from the heat. Add the butter a little at a time, stirring to incorporate completely. Season with the salt. Let the curd cool about 8 minutes, and then strain it into the prepared tart shell. Chill the tart in the refrigerator.

Just before serving, whip the cream in a stand mixer fitted with the whisk attachment (or by hand) until it holds soft peaks. Cut the tart into six wedges, plate them, and serve with dollops of whipped cream. Originally published April 15, 2005.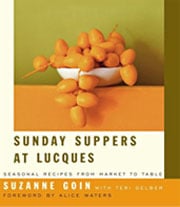 Nutrition
Serving:
1
portion
Calories:
856
kcal
Carbohydrates:
67
g
Protein:
11
g
Fat:
62
g
Saturated Fat:
37
g
Polyunsaturated Fat:
3
g
Monounsaturated Fat:
17
g
Trans Fat:
1
g
Cholesterol:
413
mg
Sodium:
175
mg
Potassium:
236
mg
Fiber:
1
g
Sugar:
48
g
Vitamin A:
2125
IU
Vitamin C:
16
mg
Calcium:
88
mg
Iron:
3
mg
Nutrition information is automatically calculated, so should only be used as an approximation.
Recipe © 2005 Suzanne Goin. Photo © 2005 Shimon | Tammar. All rights reserved.
---
Recipe Testers' Reviews
My guests loved this tart! It's perfect for any season whether it's a bright end to a winter meal or a refreshing dessert on a hot day. I love chocolate and orange together, but chocolate and lemon was something that I've never tried.
I thought this tart was easy to make, although you need to plan ahead to ensure time to chill the dough and the finished tart. A sweetened whipped cream is a lovely addition and you could even add a few raspberries or blackberries to garnish.
This tart is just so dreamy. Essentially it is the oh-so-French tarte au citron—a classic as well as one of my most favourite French desserts ever. And this recipe gives you the perfect combination of tart, sweet and just down-right lemony deliciousness. If you're a fan of the lemony French dessert, you'll be amazed how easily this tart comes together and how absolutely delicious it is. Totally crave-worthy.
The recipe may appear complex and long, but each step is straight forward and easy. Follow the recipe as is and you'll end up with very impressive results. I know that rolling out the dough would have worked, but I just dotted the pan with the dough and then pressed the dough to create an even crust in the pan. This worked well for me as I have done this many times before, but if you're a beginner, you may want to roll out the dough to ensure an even thickness.
To spread the melted chocolate onto the crust, I used a silicon pastry brush and this worked very well as I was able to get a nice even thin layer of chocolate. The filling came together very quickly. I did initially alternate between a whisk and spatula but found a whisk my preferred method for mixing, especially when adding the butter. The curd thickened in about 7 minutes. I used regular lemons rather than Meyer lemons. About 4 medium lemons produced the amount of juice required.
And though you may think you can skip the straining step because the curd looks so smooth, when you strain the curd you will probably notice little bits of cooked egg and removing these and straining the curd will ensure your curd is silky smooth.