Cooking is really the study of water. It takes water to grow everything, of course, and so the amount of water that remains in an ingredient after it is harvested or butchered dictates how it will heat through in the pan, whether it will soften, seize, crisp, or caramelize. You're adding water when you use stocks, vinegars, or alcohol. You're creating barriers to water with starches.
How you cut ingredients and the order in which you add them to the pan is about controlling how and when they release the water inside them. Even the shapes of cooking vessels are about releasing or retaining moisture. When cooking with a wok, changes to water happen so quickly that split-second timing is essential.–Brandon Jew & Teinlon Ho
Taiwanese-Style Eggplant
For this recipe, I prefer medium Chinese eggplants, the pale purple, slender ones that are ten to twelve inches long, over similar-looking but more bitter varieties. This calls for oil blanching and, because eggplant is basically a sponge, brining them for an hour first until they are saturated but not bloated. During frying, the water turns to steam and makes the eggplant creamy and not at all oily.
Equipment
Deep fry thermometer

Spider strainer
Ingredients
2

medium (1 lb)

Chinese eggplants

,

untrimmed

1

quart plus 1/4 cup

water

2

tablespoons

kosher salt

2

quarts

mild vegetable oil

3

tablespoons

oyster sauce

4

teaspoons

fish sauce

2 1/4

teaspoons

granulated sugar

2

garlic cloves

,

thinly sliced

3

garlic cloves

,

finely chopped

1

red Fresno chile

,

cut into thin rings

1/4

cup

packed fresh Thai or opal basil leaves

,

large leaves torn in half
Instructions
Trim and discard eggplant ends. Cut eggplant into 1-inch (25 mm) thick wedges, by first cutting crosswise into equal-length chunks, approximately 3-inch (8 cm) long. Then cut each chunk in half lengthwise, repeatedly, to achieve 1-inch thick wedges.

In a large bowl, combine 1 quart (950ml) water and salt. Whisk until salt is dissolved. Submerge eggplant in brine and let sit at room temperature for 1 hour.

About 20 minutes before brining is finished, fill a 5-quart or larger Dutch oven with oil and secure a deep-fry thermometer on the side. Set over medium-high heat and warm oil to 375°F (191°C).

While the oil is heating, in a small bowl, combine remaining 1/4 cup water, oyster sauce, fish sauce, and sugar. Stir until sugar is dissolved.

Drain eggplant and place on paper towels to thoroughly dry. Take care to remove all excess water. You don't want any water clinging to the eggplant when you add it to the hot oil. Trust us on this one.

Add sliced garlic to hot oil and fry until crisp and light golden brown, about 30 seconds. Use a spider to remove them, place on paper towel to drain.

When the oil temperature returns to 375°F (191°C), carefully slide the eggplant into the oil. Stir until eggplant has darkened and caramelized at the edges, 3 to 4 minutes.

While the eggplant is frying, place a dry wok or large skillet over high heat.

Use a spider to lift the eggplant from the Dutch oven, letting excess oil drain back into the Dutch oven.

Place eggplant in the screaming hot wok. Immediately add chopped garlic and most of the chile rings (reserve a few for garnish), toss to combine. Pour in sauce and continue to toss until the sauce thickens to a glaze and eggplants are browned at the edges, 2 to 3 minutes. Add most of the basil leaves and toss until wilted, about 20 seconds more.

Arrange contents of the wok on a serving platter. Crumble fried garlic and scatter over the eggplant with the rest of the basil and chile rings. Serve immediately.
Nutrition
Serving:
1
serving
Calories:
117
kcal
Carbohydrates:
6
g
Protein:
1
g
Fat:
10
g
Saturated Fat:
1
g
Polyunsaturated Fat:
3
g
Monounsaturated Fat:
6
g
Trans Fat:
1
g
Sodium:
4342
mg
Potassium:
82
mg
Fiber:
1
g
Sugar:
3
g
Vitamin A:
187
IU
Vitamin C:
18
mg
Calcium:
27
mg
Iron:
1
mg
Nutrition information is automatically calculated, so should only be used as an approximation.
Recipe © 2021 Brandon Jew | Tienlon Ho. Photo © 2021 Pete Lee. All rights reserved.
---
Recipe Testers' Reviews
Every summer I look forward to eggplant season, and I particularly love the Asian varieties grown locally. With relatively quick-cooking (after brining) this is a good dish to add to the repertoire of summer foods that won't heat the house up too much. This recipe for Taiwanese-style eggplant will give you a soft, creamy eggplant that still holds its shape for serving.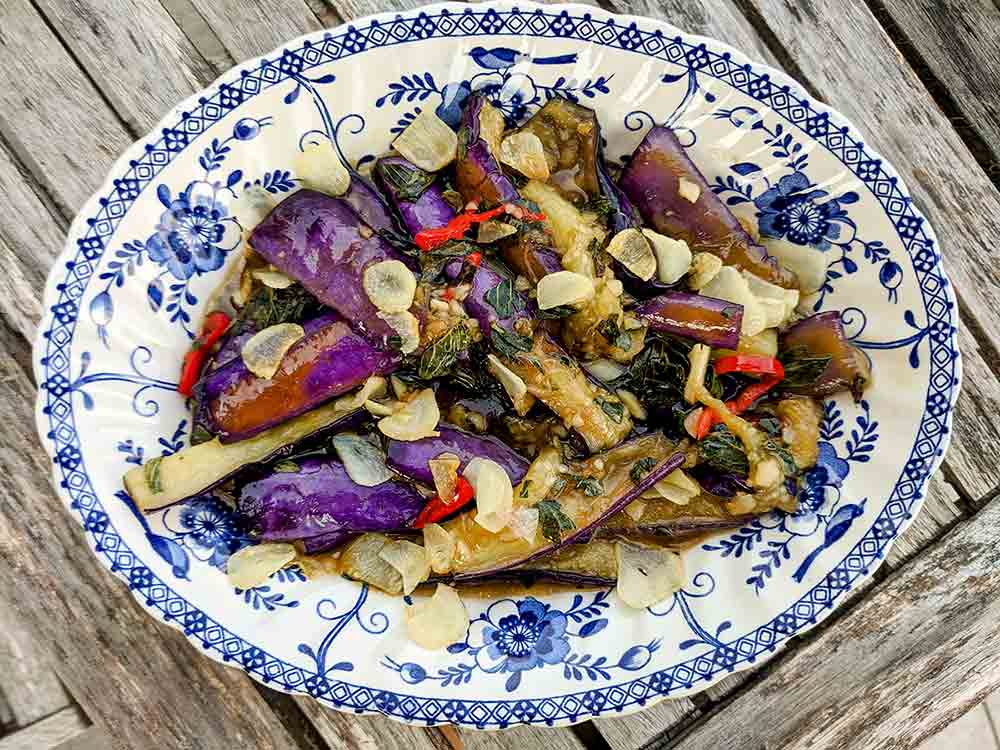 If you are able to find Thai basil, I highly recommend it–the sharper flavor and sturdier leaf will round this dish out nicely. It is important to note that this recipe will be complemented best if served with several other dishes (as opposed to being a stand-alone), and you should make sure to include something fresh and crunchy, like a sesame cucumber salad, to balance the weight of this dish.
Taiwanese-style eggplant is a nice preparation of eggplant, providing a nice contrast between the creaminess of the eggplant's interior and the crunch of the fried garlic, complemented by the complexity of the sauce and the freshness of the basil. I served this dish with steamed rice and edamame, which made a nice, light supper.
Select a Tester
We grow small Chinese-style eggplants in our garden and are always looking for new recipes for them. I love eggplant but my husband doesn't and he said he would definitely eat this again. It would be great with a nice scoop of jasmine rice or a full take-out style meal. This Taiwanese-style eggplant was spicy, salty, and sweet and the eggplant was super tender.
The only negative is the number of dishes involved for how simple the recipe is. If you are setting up the frying station you might want to take advantage of the hot oil and also fry something else. It is relatively easy, shows a great way to use a vegetable that isn't always loved by everyone and it had a lot of flavors with very few ingredients or prep.

We didn't serve the eggplant with anything because we were just having a light lunch, but thought it would be nice over jasmine rice, or as one of multiple dishes if doing a larger dinner. Beer would probably be my drink of choice. Maybe a Japanese Sapporo.