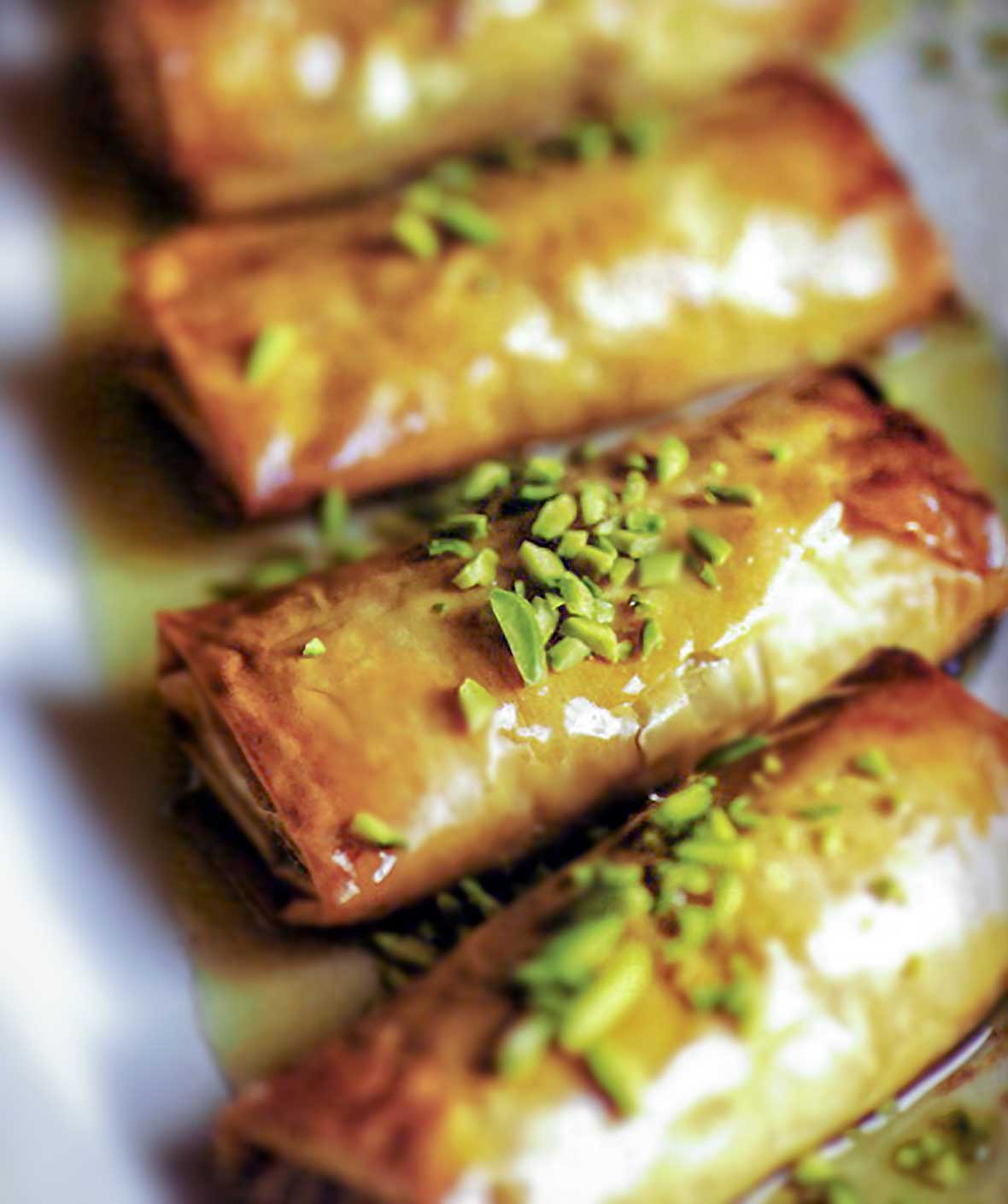 While some of us find these pastries' nickname "bride's finger," taken from medieval Arab manuscripts, to be quite endearing, others find it to be somewhat disconcerting. And a few of us are, quite simply, confused. But none of us are conflicted as to how we feel about the pastries themselves. Crisp phyllo, crunchy nuts, aromatic orange water, and sweet, sweet honey. Swoon.–David Leite
Phyllo Pastries with Nuts and Honey
For these phyllo pastries with nuts and honey, some almonds, pistachio, or walnuts (or a combination of all three) are ground and mixed with honey and orange blossom water and then rolled in phyllo dough and baked. The pastries are also known as bride's fingers.
Ingredients
1/2

pound

honey

1/2

cup

cold water

2

cups

ground almonds, pistachios, or walnuts

,

plus more for sprinkling, if desired

1/2 to 2/3

cup

superfine sugar

,

(or just blitz granulated sugar in a blender until finely ground but not powdery)

1

teaspoon

ground cinnamon,

(optional)

2

tablespoons

orange blossom water

14

sheets

phyllo dough

,

thawed if frozen

5

tablespoons (2 1/2 ounces)

unsalted butter

,

melted
Instructions
Bring the honey and water to a boil in a small saucepan and simmer for just half a minute. Remove from the heat and let the syrup cool. Pour the syrup into a shallow dish.

Meanwhile, in a bowl, mix the 2 cups ground almonds, pistachios, or walnuts with the sugar (you can start with 1/2 cup and add more to taste if desired), cinnamon (if using), and orange blossom water.

Preheat the oven to 300°F (150°C).

Wait to open the package of phyllo dough until you're ready to assemble the pastries. Place 1 sheet phyllo dough on the work surface and keep the remaining phyllo dough covered with a damp towel to prevent it from drying out. Place 2 to 2 1/2 tablespoons nut filling in a line 3/4 inch from one of the short ends of the phyllo dough rectangle. Extend the filling to within 3/4 inch of both of the long sides. Roll the sheet up loosely into a fat cigar shape by first turning the ends in about 1/3 of the way along to trap the filling for a turn or two, then continue to roll with the ends opened out. Repeat with the remaining phyllo sheets and filling. Keep the rolled pastries in a pile and, as you stack them, lightly brush the top pastries with melted butter so they do not dry out.

Place the phyllo dough pastries on a baking sheet, lightly brush the top of each with melted butter, and bake for 30 minutes, or until lightly golden and crisp. While the pastries are still warm, very quickly place each pastry in the syrup and turn it to coat. Arrange the pastries in a single layer on a serving plate. Let cool.

Serve the pastries with the remaining syrup poured over them and, if desired, sprinkled with additional ground almonds or pistachios.
Notes
Other Authentic Renditions
Sugar Syrup
Instead of the honey syrup, make a sugar syrup by simmering 1 cup water with 2 cups granulated sugar and 1 tablespoon lemon juice until it's thick enough to coat the back of a spoon, about 5 to 8 minutes. Add 1 tablespoon orange blossom water toward the end of the simmering.
Make-Ahead Dessert
Instead of rolling the pastries in the syrup, sprinkle them with confectioners' sugar. These keep very well for several days in an airtight cookie tin.
Dainty Bride's Fingers
Cut the phyllo dough into narrower strips, measuring 3 1/2 to 4 1/2 inches wide and about 12 inches long. Use 1 heaping tablespoon filling for each roll. This makes about 28 pastries.
Nutrition
Serving:
1
pastry
Calories:
262
kcal
Carbohydrates:
34
g
Protein:
5
g
Fat:
13
g
Saturated Fat:
4
g
Polyunsaturated Fat:
1
g
Monounsaturated Fat:
2
g
Trans Fat:
1
g
Cholesterol:
11
mg
Sodium:
94
mg
Potassium:
25
mg
Fiber:
2
g
Sugar:
21
g
Vitamin A:
132
IU
Vitamin C:
1
mg
Calcium:
40
mg
Iron:
1
mg
Nutrition information is automatically calculated, so should only be used as an approximation.
Recipe © 2006 Claudia Roden. Photo © 2006 Jason Lowe. All rights reserved.
---
Recipe Testers' Reviews
This recipe is definitely a TC! The pastries are so easy to make and the results are as professional as you'd find in an upscale bakery. I made the smaller variation by cutting my supermarket brand of phyllo into 3 long strips and on each I placed a tablespoon of filling. This resulted in nice two-bite pastries that could be eaten as finger food.
Great for any occasion—but it'll be hard to eat just one! Of course, the smaller variation took less time in the oven—15 to 20 minutes rather than the 30 minutes for the larger version. I tried freezing some of them before baking and then baked them right from the freezer. These turned out just as delicious as those that were baked immediately.
This is a delicious recipe—both the almond filling and the honey soaking sauce. It isn't an easy recipe, though. A note: Phyllo sheets come in many different sizes now. I'd look for the smaller sizes because otherwise, you'll have to cut and fill at the same time. It'd be easier to find sheets that are closest to the size specified in the headnote.
I think that 7-inch pastries might be too large for most people, so I opted for the smaller brides' fingers. If you're a beginner or just find phyllo difficult to work with, you can double the layers to make the pastry more sturdy before rolling. Brush butter between the layers and they'll stick together. Then roll as described in the instructions. (I actually found it easier to turn the edges in earlier—I tried it both ways—and brushed butter along the seams. This is similar to making triangles and sealing in the filling right in the beginning.)
I think that the pieces could take more filling than the 1 tablespoon, or thin line, specified in the recipe. Freezing these works well. I formed the rolls, wrapped each one individually in plastic wrap, and threw them into a freezer bag. To bake, preheat the oven, unwrap, and place the rolls directly from the freezer onto a baking sheet, and bake for 30 minutes or until golden.
If you have a craving for baklava, know that this, while similar in flavor, probably won't scratch the itch. These are less flaky and firmer in texture than their syrup-laden prima donna siblings. That said, they are faster to assemble, chockfull of nutty filling, and taste exactly like "brides' fingers" those you'd get at a bakery.
Plan for the very first one to be ugly or split and be a disfigured yet delicious sacrifice for the pastry gods, like that first slice of pie or the first waffle off the iron at breakfast. You'll gain confidence as you roll, and soon you'll have a platter full of deliciousness that you won't believe came from your hands.
I used the 1/2 cup of superfine sugar, and even with that, I think I would have wanted a pinch of salt to balance that out a little. I can also imagine adding some cardamom to the filling would be a nice touch. I made mine with the lemon sugar syrup variation.