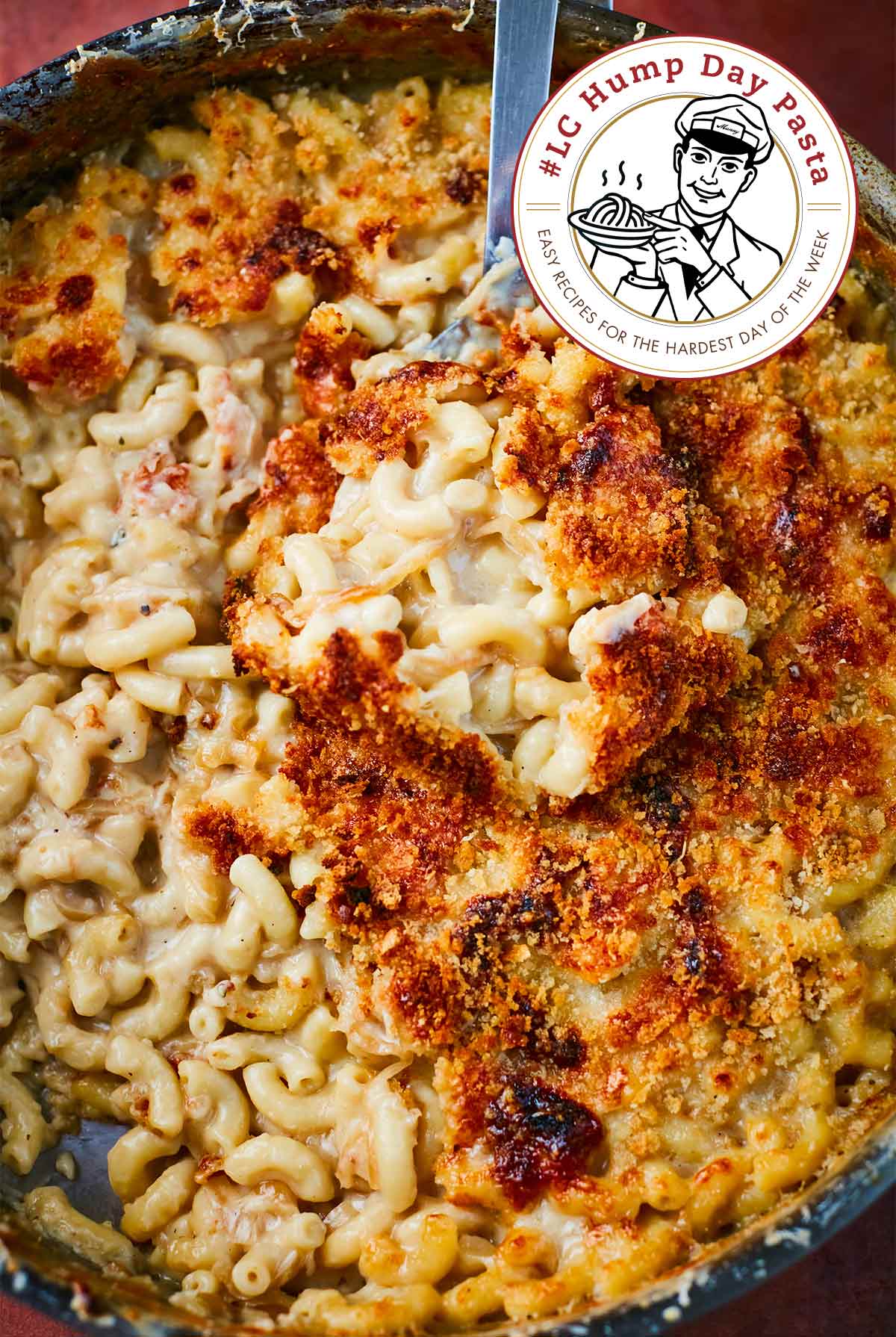 At MOB Kitchen, we're known for the kinds of dishes that'll fill you up and warm you to your core. But it isn't just about carbs and cheese, it's about redefining comfort food. We realize that comfort is often about texture, warmth, and–perhaps most importantly–about the way that food makes you feel. Because comfort food isn't just an arrangement of flavors or ingredients that have been scientifically calculated to make you feel a certain way. Comfort food is about coming home to the smell of your favorite meal after a bad day at work.–MOB Kitchen
WHAT IS LC HUMP DAY PASTA?
We're glad you asked. LC Hump Day Pasta (#LCHumpDayPasta) is a little something we cooked up to help you on the night of the week that you feel least like cooking. Wednesday was traditionally Prince Spaghetti Day (for those of you old enough to remember). We've revamped and updated that to Hump Day and included every type of pasta there is.
French Onion Mac and Cheese
What happens when an unstoppable force meets an immovable object? The same thing that happens when French onion soup meets mac & cheese: glorious mayhem. The crispy caramelized onion and Gruyère topping on this dish is absolutely ridiculous.
Ingredients
7

tablespoons (3 1/2 ounces)

unsalted butter

,

divided

3

large (1 1/4 lbs)

onions

,

thinly sliced

Salt

1

cup

dry white wine

Leaves

from a small bunch of thyme

1

pound

macaroni

1/4

cup

all-purpose flour

3 1/3

cups

whole milk

7

ounces

extra-mature Cheddar cheese

,

grated

7

ounces

Gruyère cheese*

,

grated

1

heaping teaspoon

Dijon mustard

3 1/2

ounces

breadcrumbs

Freshly ground black pepper
Instructions
Caramelize the onions
In a large skillet over medium heat, melt 2 1/2 tablespoons butter. Add the onions with a good pinch of salt. Sauté, stirring occasionally and reducing the heat if necessary, until the onions have completely softened and caramelized, 30 minutes.

Once the onions are cooked, pour in the wine and add most of the thyme leaves, reserving a handful for garnish. Simmer until the wine has reduced by half, 2 to 4 minutes. The onions can be prepared in advance and kept in the fridge.

In a large saucepan of boiling salted water, cook macaroni for 2 minutes less than the package instructions instruct, then drain in a .
Make the cheese sauce
In a large ovenproof skillet over medium heat, add remaining 4 1/2 tablespoons butter. Tip in the flour and whisk to combine. Whisking constantly, slowly pour the cold milk into the flour mixture, a little at a time, to get a smooth sauce. Simmer the sauce until thickened, about 5 minutes.

Stir in Cheddar cheese and half of the Gruyère cheese. Once the cheese has melted, take sauce off the heat, add Dijon mustard, and season with salt and black pepper.

Preheat broiler to high heat.

Tip the cooked macaroni and caramelized onions into the cheese sauce, reserving a tablespoon of the onions. Mix well, then top with remaining onions, Gruyère cheese, and the breadcrumbs. Scatter over a handful more thyme leaves.

Broil until golden brown, 2 to 4 minutes. Serve immediately.
Notes
*What can I substitute for Gruyère?
That all depends on why you're not using Gruyère. If you don't like the taste but still want a second cheese in your dinner, consider something milder. Emmental is close–it has the same lovely meltiness but a milder flavor.
MOB Kitchen themselves suggested that if you just don't want the expense of fancy cheeses, you can use all sharp Cheddar (so 14 ounces/400 grams in total). It won't be as French oniony but it will still be incredible.
Nutrition
Serving:
1
serving
Calories:
656
kcal
Carbohydrates:
60
g
Protein:
26
g
Fat:
32
g
Saturated Fat:
19
g
Polyunsaturated Fat:
2
g
Monounsaturated Fat:
9
g
Trans Fat:
1
g
Cholesterol:
91
mg
Sodium:
380
mg
Potassium:
359
mg
Fiber:
2
g
Sugar:
8
g
Vitamin A:
972
IU
Vitamin C:
1
mg
Calcium:
586
mg
Iron:
2
mg
Nutrition information is automatically calculated, so should only be used as an approximation.
Recipe © 2021 MOB Kitchen. Photo © 2021 David Loftus. All rights reserved.
---
Recipe Testers' Reviews
Two of the greatest comfort foods in the world joined together–what could be better? This was a creamy, tasty, indulgent treat! I loved the flavor of the caramelized onions mixed in with the mac & cheese. I used an ordinary store brand sharp Cheddar cheese along with Gruyère and it turned out fantastic.
The only thing that I'd do differently next time is I would bake it until the bread crumbs were brown and the pasta was bubbly rather than trying to broil. My topmost layer of bread crumbs started to burn pretty quickly before the pasta had a chance to get bubbly. I served this with fresh sliced garden tomatoes and a glass of Pinot Grigio (which was the same wine I used in the recipe).
Our family loves French onion soup and this French onion mac and cheese seemed like a fantastic crossover dish. The flavor was really good and it was good enough that other family members got up to serve themselves more. Note that it is an involved dish and might go faster if you do the onion the day before but it definitely seems like a good weekend bake or a great vegetarian option for Thanksgiving.
As promised, this marriage of mac and cheese and French onion soup is as sumptuous as it sounds. It's rich and cheesy like your classic mac and cheese baked pasta but with some sweeter notes from caramelized onions infused with white wine. Extra bonus is the Gruyère breadcrumb lid.
So good and so easy to prepare, giving much comfort and coziness. I'd encourage a generous seasoning of salt through all the stages. I also suggest some red pepper flakes for some subtle heat. Watch the broiling stage carefully. My dish crisped up quickly! Enjoy.