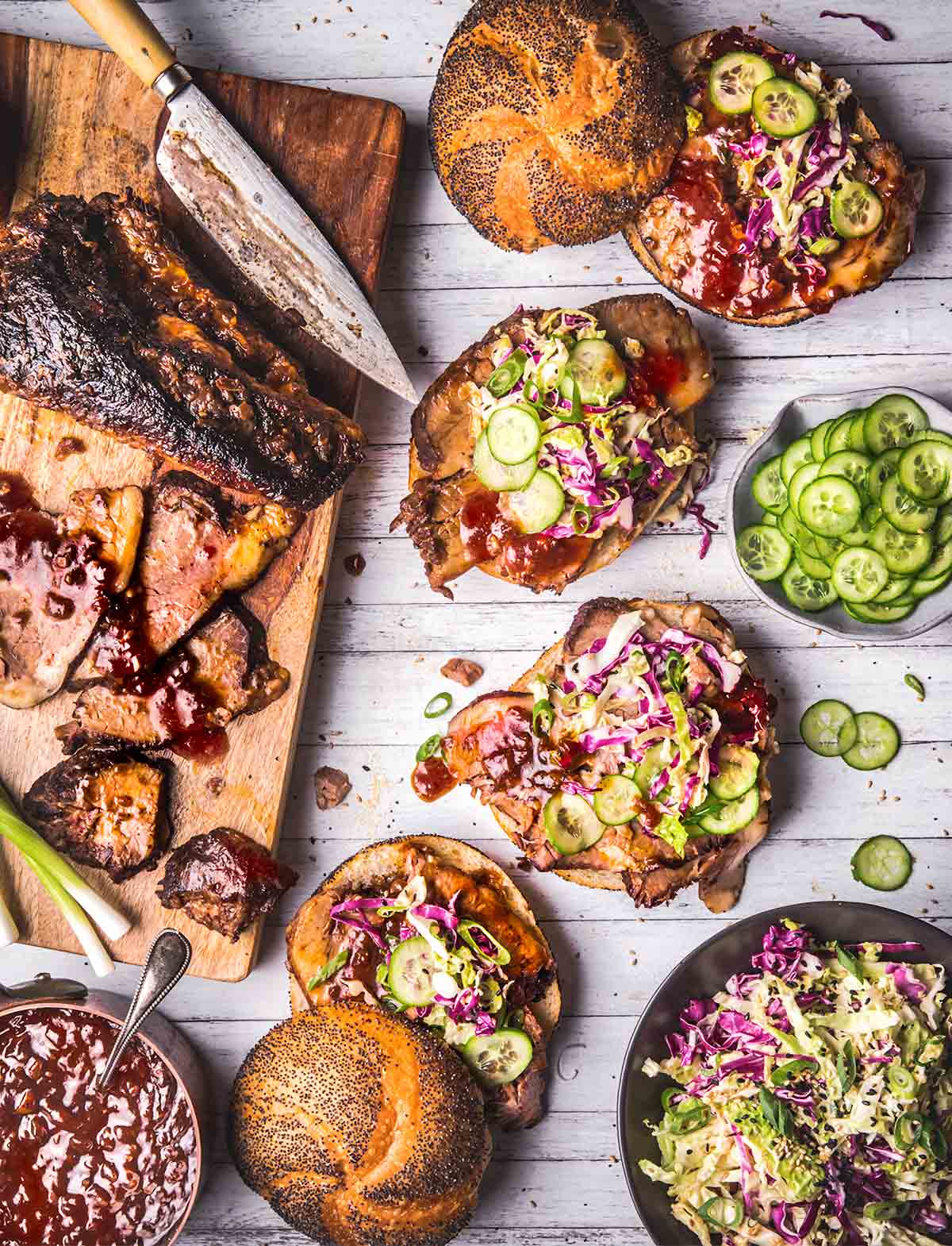 Emily's two culinary influences are Jewish and Korean, and this recipe combines the two. Brisket, a staple of Jewish cuisine, is often braised with onions and tomatoes. We like to switch things up and use gochujang (spicy Korean chili paste), along with gochugaru (the chili powder used to make kimchi). They both have a rich, spicy flavor, transforming the braising liquid into a really excellent barbeque sauce. We like to serve it in toasted potato buns topped with a heap of crunchy homemade coleslaw.—Emily & Matt Clifton
Korean-Inspired Brisket Sandwiches FAQs
What is second cut brisket?
The second cut, or deckle, is fattier and thus has more flavor (the first cut is lean and may dry out during cooking.) Trim any large, thick pieces of fat, but leave a fat cap, which will baste the meat as it braises.
I can't find gochugaru. What can I substitute?
The fabulous Korean chili powder is finally getting some love over here but if you can't find any yet, you can always substitute 1 tablespoon of hot paprika plus 1 tablespoon of mild paprika.
Korean-Inspired Brisket Sandwiches with Sesame Coleslaw
Brisket, a staple of Jewish cuisine, is often braised with onions and tomatoes. We like to switch things up and use gochujang (spicy Korean chili paste), along with gochugaru (the chili powder used to make kimchi). They both have a rich, spicy flavor, transforming the braising liquid into a really excellent barbeque sauce. We like to serve it in toasted potato buns topped with a heap of crunchy homemade coleslaw.
Ingredients
For the sauce
2

tablespoons

mild vegetable oil

,

plus more as needed

1

large (11oz)

Spanish onion

,

finely chopped

7

large

cloves garlic

,

minced or grated

2

tablespoons

grated fresh ginger

1

cup

dry red wine

3

cups

store-bought or homemade chicken stock,

plus more if needed

1/4

cup

store-bought or homemade gochujang (spicy Korean chili paste)

1/2

cup

ketchup

2

tablespoons

soy sauce

3

tablespoons

brown sugar

1

tablespoon

Worcestershire sauce

1

tablespoon

fish sauce

1

tablespoon

cornstarch (optional)
For the coleslaw
3

cups

finely shredded napa cabbage

2

cups

finely shredded red cabbage

1

teaspoon

kosher salt

1

tablespoon

toasted sesame oil

2

tablespoons

unseasoned rice vinegar

1/4

cup

mayonnaise (preferably Japanese-style)

3

scallions

,

finely sliced

2

tablespoons

toasted sesame seeds (preferably a mix of black and white)
For serving
Potato buns or sandwich rolls

3

small

Persian cucumbers

,

thinly sliced (optional)
Instructions
Make the brisket
If needed, cut the brisket into two or more pieces that will fit into your Dutch oven.

In a , mix together the salt, garlic powder, onion powder, and gochugaru. Place the brisket on a large plate and sprinkle the rub generously all over the meat, and press it in. You may not need all of it depending on the size of the brisket.

Leave the brisket at room temperature for 1 hour or cover it with plastic wrap and refrigerate for up to 24 hours.

Preheat the oven to 275°F (135°C) and place a rack in the lower middle slot.
Make the sauce
Heat the oil in a large Dutch oven over medium-high heat. Add the onion, garlic, and ginger and cook, stirring occasionally, until the onion turns soft and golden, 5 to 7 minutes.

Stir in the wine, stock, gochujang, ketchup, soy sauce, brown sugar, Worcestershire sauce, and fish sauce. Add the brisket to the Dutch oven. The liquid should be somewhere between one-half to three-quarters of the way up the meat. Add more stock or water, if needed. Bring the liquid to a boil.

Cover the Dutch oven and slide it into the oven. Cook, checking every hour and spooning braising liquid over the top, until the brisket is very tender, about 3 1/2 hours. Remove the lid for the last hour of cooking.

Transfer the beef to a plate or a rimmed cutting board and tent it with foil to keep it warm.

Place the Dutch oven over medium-low heat and simmer the sauce until it is reduced to about 3 cups (it will thicken more as it cools), about 20 minutes. If you like a thicker sauce, stir in a cornstarch slurry. In a small bowl, stir together the cornstarch with 2 tablespoons (30 ml) of cold water. While the sauce is simmering, stir in half of the slurry. If the sauce still needs thickening, add the other half of the slurry.

We like to make the brisket a full day (or up to 3 days) ahead. Place the unsliced brisket back in the Dutch oven and refrigerate overnight. Once it's cold, it's very easy to pull the solid fat off the top of the sauce. If you like thin, neat slices of brisket, take it out of the sauce and slice it, against the grain, while it's cold. To reheat it, place the slices back in the pot with sauce, bring it to a simmer over low and heat until it's warmed through. You can also reheat the sliced brisket in the Dutch oven in a 275°F (135°C) oven until hot, about 15 minutes.

If you're serving it the same day, let the brisket rest for at least 20 minutes before slicing. Make sure to use a sharp knife and cut against the grain. (If you look at the brisket, you'll see the muscle fibers running in one direction. Cutting across these fibers shortens them, which makes for a tender piece of meat. If you slice with the grain, the brisket will be stringy and difficult to chew, no matter how you've cooked it.) Use a fat separator or a spoon to skim the fat off the sauce.
Make the coleslaw
In a large bowl, combine the cabbages and toss them with salt.

In a small bowl, mix together the sesame oil, rice vinegar, and mayonnaise. Add the dressing to the cabbage along with the scallions and sesame seeds and toss to combine.

To serve, pile some brisket onto a bun, drizzle over some of the sauce and top it with coleslaw and some cucumbers, if desired. Have plenty of napkins handy.
Nutrition
Serving:
1
serving
Calories:
703
kcal
Carbohydrates:
45
g
Protein:
59
g
Fat:
30
g
Saturated Fat:
8
g
Polyunsaturated Fat:
7
g
Monounsaturated Fat:
11
g
Trans Fat:
1
g
Cholesterol:
144
mg
Sodium:
2528
mg
Potassium:
1157
mg
Fiber:
3
g
Sugar:
16
g
Vitamin A:
507
IU
Vitamin C:
25
mg
Calcium:
246
mg
Iron:
8
mg
Nutrition information is automatically calculated, so should only be used as an approximation.
Recipe © 2021 Matt | Emily Clifton. Photo © 2021 Emily & Matt Clifton. All rights reserved.
---
Recipe Testers' Reviews
These Korean-inspired brisket sandwiches with sesame coleslaw are a spicy and delicious meal that takes very little effort for the results! I love spicy and this recipe packed a decent punch. It could easily be dialed down if you prefer a more mild sandwich.
The brisket was cooked to perfection and the accompanying sauce and slaw were terrific. Absolutely loved the touch of sesame oil and the seeds. The cucumbers added a needed and delightful cool crunch. Purple/red cabbage was not available, so I used some grated carrots for color. If you don't want to add wine, simply substitute apple cider. I used a brisket that was under two pounds and it easily could have made four-six sandwiches on potato buns.
I've never made brisket before, and this "spicy" Korean-inspired version is not the one-note smoked brisket we get at our local shop. It isn't very spicy, but that's appealing in a family of people with varying spice tolerance. The gochugaru and gochujang, ingredients we use often, provide layers of flavor rather than heat in this recipe. The large amount of sauce kept even our first-cut brisket from being dry.
The slaw is very good, but could use a pinch more acid, and that part of the recipe doesn't make nearly enough to match the amount of beef—be prepared to make more as there are plenty of leftovers. Instead of plain cucumbers, I pickled four of them quickly with a small sliced red onion (1/4 c. rice vinegar, 1 tablespoon sugar, 1 teaspoon Maldon) and in an hour they were ready to top the slaw, providing more tang and even more color.