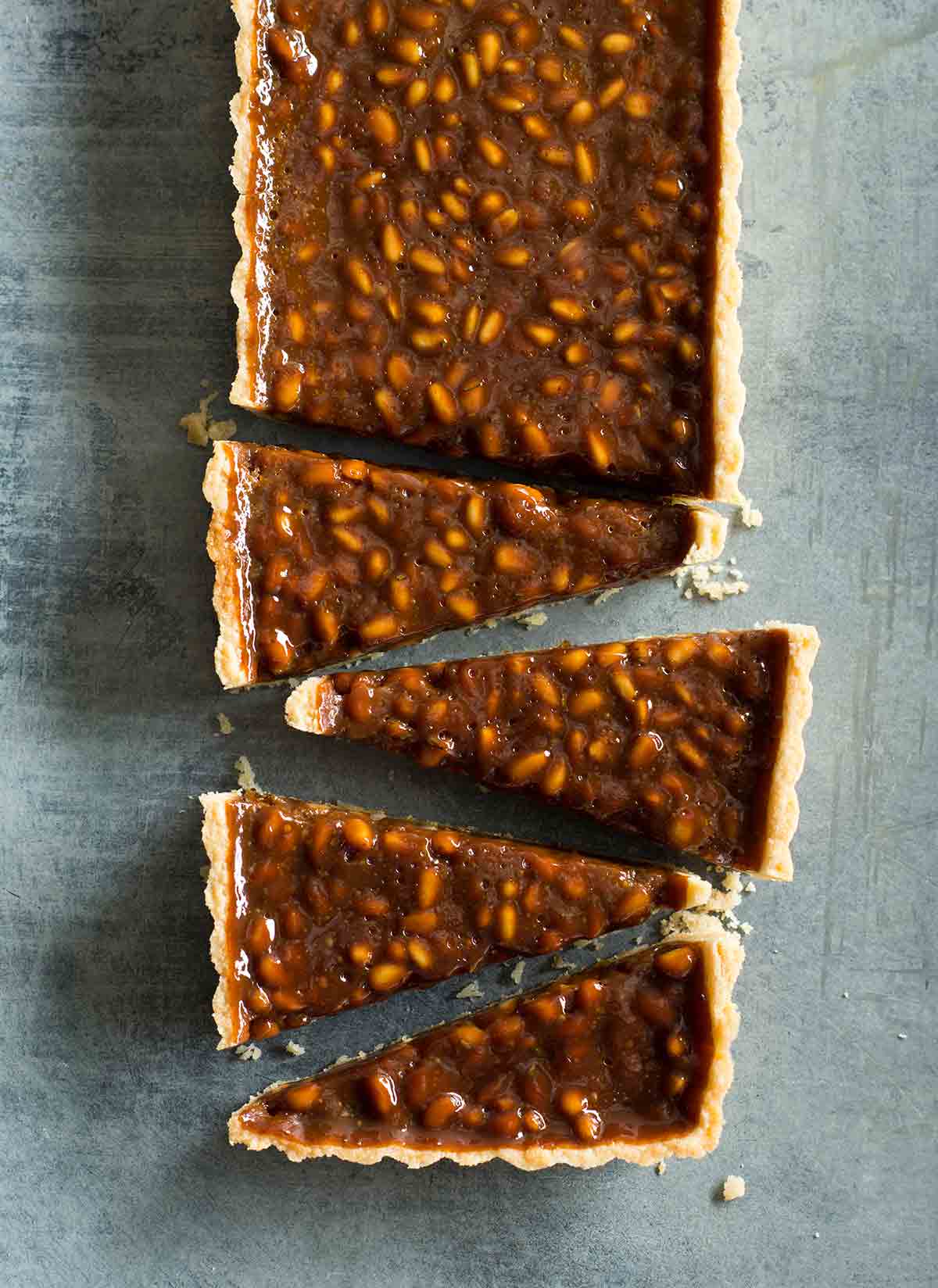 I don't know about you, but I'm nuts about nut tarts. I like almond tarts, cashew tarts, peanut tarts, and definitely pine nut tarts. You name it. Funny, though, for a guy who loves nut tarts, I don't have any others on this site. (Note to self: Get your ass in gear and post some!)
The toffee filling of the tart, which is really more of a caramel, gets a boost from honey and golden syrup, giving it a rounder, richer flavor. Even though we've listed the Orange-Scented Cream as optional, I think the combo of citrus and toffee is wonderful. Do yourself a favor and dollop it on. You're gonna thank me.—David Leite
Toffee Tart with Pine Nuts FAQs
How do I store pine nuts?
The best way to store pine nuts is tightly wrapped in the freezer, where they'll last up to nine months. Leaving them at room temperature for too long will cause them to go rancid.
What is golden syrup?
Golden syrup is an inverted sugar syrup that was invented in the U.K. The most popular—and most famous—brand is Lyle's Golden Syrup. It's thick like corn syrup and has a lovely amber color. It's distinct from other inverted sweeteners like honey and corn syrup due to its rich caramel and buttery notes.
How long will the tart last?
The tart will last several days carefully wrapped at room temperature. Avoid refrigerating the tart, as the toffee will become unpleasantly chewy.
Toffee Tart with Pine Nuts and Rosemary
The combination of slightly resinous pine nuts, sweet citrus, and savory rosemary suspended in a thick toffee filling is intense and addictive. It's darkly rich, gooey, and sweet, but somehow you can't stop at just one slice.
Ingredients
For the sweet almond pastry
1 1/4

cups

all-purpose flour

,

plus more for the work surface

1/4

cup

superfine sugar

,

(or blitz granulated sugar in the food processor until finely ground)

1/2

cup

ground almonds

1/4

teaspoon

fine sea salt

9

tablespoons (4 1/2 ounces)

unsalted butter

,

diced, plus more for the pan

1

large

egg

,

lightly whisked
For the pine nut toffee filling
3/4

cup

raw pine nuts

5 1/2

tablespoons (2 3/4 ounces)

unsalted butter

3/4

cup

superfine sugar

,

(or blitz granulated sugar in the food processor until finely ground)

2

tablespoons

mild honey

2

tablespoons

golden syrup or dark corn syrup

1

scant cup

heavy cream

2

teaspoons

finely chopped fresh rosemary plus 1 whole sprig fresh rosemary

1

teaspoon

grated orange zest

,

preferably organic

Pinch

sea salt
For the orange-scented cream (optional)
1/2

cup

heavy cream

2 3/4

ounces

mascarpone cheese

1

teaspoon

grated orange zest

,

preferably organic

1

tablespoon

orange marmalade

1

teaspoon

orange blossom water (optional)
For serving
Orange-scented cream

,

chilled crème fraîche or whipped cream
Instructions
Make the sweet almond pastry
In the bowl of a food processor, combine the flour, sugar, almonds, and salt and pulse a few times to blend. Add the butter and pulse a few more times, until the mixture looks like coarse crumbs. Don't worry if it seems a bit uneven.

Drizzle in the egg and then pulse in 5 second bursts, just until the pastry starts to clump together.

Tip the pastry out onto a lightly floured work surface and use your hands to quickly bring it together into a rough flattish disk, about 1 inch thick. Wrap in plastic wrap and refrigerate for at least 2 hours.

Liberally butter a rectangular tart pan and stick it in the fridge, too.

Take the chilled pastry out of the fridge and leave it at room temperature for 5 to 10 minutes so it becomes more pliable. Roll the pastry out between 2 sheets of parchment paper. Aim for a rectangle 2-inches (5cm) larger than your tart pan; it doesn't need to be too neat.

Lift the pastry onto the tin, gently pressing it into the base and edges and leaving an overhang. Take particular care to mold it into the fluted sides. Prick the pastry all over with a fork and return to the fridge for another 30 minutes (or longer) before blind baking.

Preheat the oven to 350ºF (180°C).

Line the tart shell with foil and baking beans or and blind bake until the edges are golden, about 20 minutes. Remove the foil and beans and return to the oven until set, 5 to 10 minutes more. Remove from the oven and leave to rest for a few minutes. Use a sharp knife to shave away the pastry overhang, leaving a nice flush edge.

☞ TESTER TIP: When baking the tart crust, place it over a piece of aluminum foil to catch any bits of crust that may fall off.
Make the pine nut toffee filling
Scatter the pine nuts on a rimmed baking sheet and toast in the oven until just beginning to color, 5 to 7 minutes.

In a medium saucepan over medium heat, melt the butter. Reduce the heat to low, add the sugar, honey, and golden syrup or dark syrup and stir until the sugar is completely dissolved.

Increase the heat and bring to a boil, then lower the heat again and simmer, swirling the pan every now and then, until it caramelizes to a deep amber color, about 11 minutes.

Take the saucepan off the heat and pour in the cream, taking care in case it splutters. Swirl to combine and return to low heat. Stir in the pine nuts, chopped rosemary, rosemary sprig, orange zest, and salt and remove from the heat. Let the toffee rest for 20 minutes to allow the flavors to mingle.

Remove and discard the rosemary sprig and then tip the pine nut mixture into the pastry-lined tart pan. Place the tart pan on a large baking sheet and bake until the filling is a deep chestnut brown, 25 to 30 minutes.

Transfer the pan to a wire rack and leave to cool completely before unmolding and serving. This tart is gooey at room temperature and thickens up to a firmer toffee in the fridge. Delicious both ways.
Make the orange-scented cream (optional)
In a medium mixing bowl, combine the cream and mascarpone and whisk very gently to soft peaks. Use a large spoon to gently fold in the orange zest, marmalade, and orange blossom water, if using, and refrigerate until needed.

Serve with orange-scented cream, chilled crème fraîche, or whipped cream.
Nutrition
Serving:
1
slice
Calories:
502
kcal
Carbohydrates:
43
g
Protein:
6
g
Fat:
36
g
Saturated Fat:
17
g
Polyunsaturated Fat:
4
g
Monounsaturated Fat:
8
g
Trans Fat:
1
g
Cholesterol:
89
mg
Sodium:
81
mg
Potassium:
103
mg
Fiber:
1
g
Sugar:
29
g
Vitamin A:
855
IU
Vitamin C:
1
mg
Calcium:
45
mg
Iron:
2
mg
Nutrition information is automatically calculated, so should only be used as an approximation.
Recipe © 2018 Greg and Lucy Malouf. Photo © 2018 Alan Benson. All rights reserved.
---
Recipe Testers' Reviews
This much is clear: This toffee tart with pine nuts and rosemary is nearly perfect in a technical sense. Every step is outlined so thoroughly that there is little guesswork and the end result looks exactly like the photo. The recipe and instructions are long on the page, but each of the three primary steps can actually be completed fairly swiftly and can be spaced across a day or so, making this far less of a time commitment than you might expect for a rather elegant dessert.
My strongest recommendation, however, is to finish the chilled tart with some flaky salt. For me, it was the 'bingo!' moment when I sprinkled some kosher salt on top and tasted how it unified all the disparate flavors. I suppose you could add a bit more salt in the filling (which is also not specified beyond 'a pinch'), but I think a flurry of crunchy flakes on top is still the best way to go. I made a topping of mascarpone whipped cream with barely a hint of sweetness (and no orange marmalade), and it also helped to unite the dessert as a whole and to fill in the flavor gaps.
The headnote for this recipe tosses out descriptors like "thick," "intense," "addictive," and "gooey." I might disagree with the overall impression of these words, finding the filling to be surprisingly light, except perhaps for the richness of the nuts. I'm also not sure that "toffee" is the best characterization; to my mind, the honey tones are more predominant.
This very rich unusual toffee tart with pine nuts and rosemary and orange is well worth the effort and time. The combination of rosemary and orange with toasted pine nuts is truly exceptional.

When blind baking the pastry, I recommend placing a sheet of aluminum foil underneath it to catch any extra overhang that may fall off. The toffee requires a great deal of patience and when pouring the cream in may seem like a disaster but it will come together.