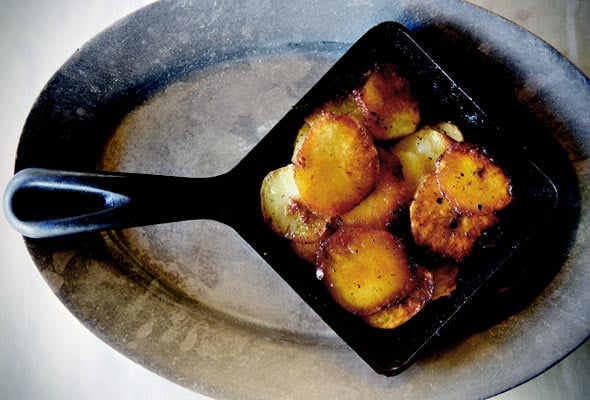 Once, when I was in Cambridge working all day nonstop with Julia Child, as we often did, it was almost 11 p.m. when she finally swept away the manuscript and announced we'd make dinner. She then turned to me and said: "Judith, you make a nice little potato dish while I fix the meat." Slightly unnerved, I managed to rise to the occasion and put together what I would call a fast stovetop version of the classic potatoes Anna. As I mashed some garlic and salt together and smeared this between the layers of sliced potatoes, Julia was looking on a bit skeptically, and although I used lots of butter, of which she always approved, it wasn't clarified butter. But when we sat down and she took her first bite, she pronounced the potatoes delicious, and her husband, Paul, toasted me. I was in cook's heaven. I probably made my potato dish that night in a standard round 5- or 6- inch skillet for the three of us, but in recent years I've made it regularly for myself in a 4 1/2-inch-square cast-iron frying pan, which once belonged to my father. After he retired, he liked cooking for himself, and I remember his acquiring this little pan with pride so that he could make himself one perfect fried egg. It's unlikely that you'll have such a pan, particularly one imbued with fond memories, but any very small skillet will do.–Judith Jones
LC Empty Larder or Lazy Cook Note
Truth be told, we also make this lovely side dish with some frequency, but without the garlic and with olive oil or bacon drippings in place of butter. But that's just us. Only the original was Julia-approved.
A Potato Dish for Julia
Quick Glance
10 M
30 M

Serves 1 to 2
Print Recipe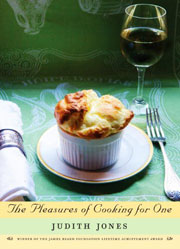 Ingredients
2 medium new potatoes or 1 large russet potato

1 small garlic clove

Salt to taste

4 teaspoons butter

Freshly ground pepper
Directions
1. Peel the potato(es) and slice them very thin.

2. Peel and mince the garlic. Using the flat of your chef 's knife, smash the garlic along with a little salt on your cutting board until a paste forms. Work about 2 teaspoons of the butter into the paste.

3. Heat 2 teaspoons of the butter in a small, preferably well-seasoned cast-iron skillet over medium-low heat. Place half of the potato slices in the skillet, overlapping them slightly and covering the bottom of the skillet. Lightly season the spuds with salt and pepper, then smear the garlic paste on top. Add the remaining potatoes in the same fashion.

4. Cook the potatoes gently over medium-low heat, placing a small cover askew on top of the pan. After about 8 minutes, turn the potatoes, which should be brown on the bottom, by removing the cover and setting a small, sturdy plate on top of the pan and flipping the potatoes over onto it. They won't hold together in perfect shape, but don't worry. Heat the remaining butter in the pan, then just slide the potatoes back in and arrange them as neatly as you can. Let them cook, semi- covered, for about 5 minutes, and then cook uncovered for a couple more minutes, at which point they should be tender thoughout and nicely browned on both top and bottom. The timing will vary slightly depending on the size of the skillet, the heat of the flame, and just how thick you sliced the potatoes.

5. Turn the potatoes onto a warm dinner plate and let them mingle with whatever meat and its juices you are having for dinner.
A Potato Dish for Julia Recipe © 2009 Judith Jones. Photo © 2009 Christopher Hirsheimer. All rights reserved. All recipes and photos used with permission of the publisher.
If you make this recipe, snap a photo and hashtag it #LeitesCulinaria. We'd love to see your creations on Instagram, Facebook, and Twitter.