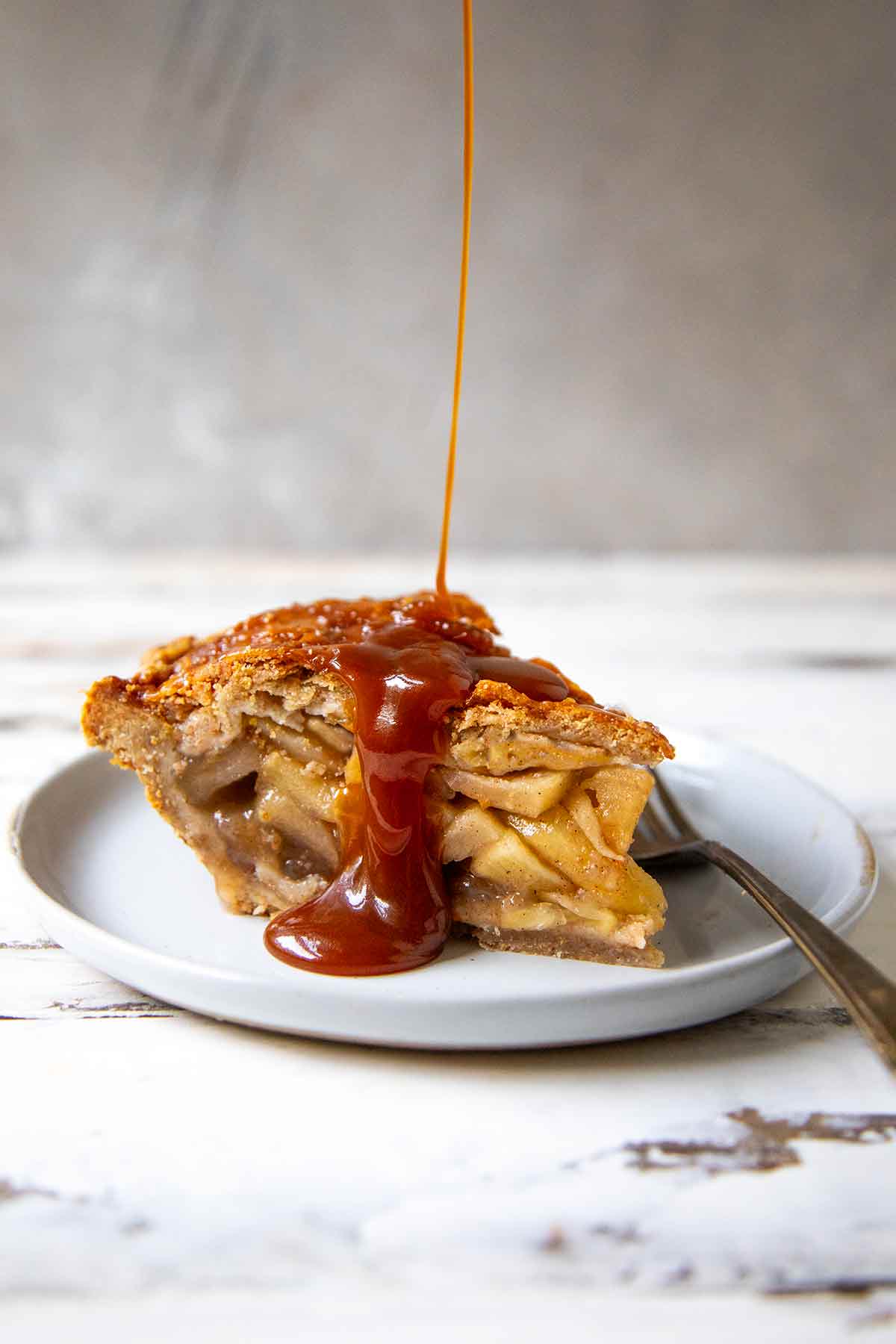 I love caramel. I love apple pie. I love caramel apples. So it was inevitable I'd eventually drench apple pie in deeply-flavored caramel. In a lot of deeply-flavored caramel.
I got the idea for the combination from Joshua McFadden's book Grains for Every Season. What sets this apple pie apart from the pack is a nutty whole-wheat crust, a buttery cinnamon-ginger filling, and the caramel. My luscious, licky-sticky caramel that you bathe your slices in.
Of course, if you have your own caramel sauce recipe, go for it. But don't even THINK of pouring on one of those store-bought monstrosities. I will personally hunt you down. Nothing compares to homemade.
One brilliant trick I got from Joshua was to paint the top of the baked pie with some of the caramel and bake it for several more minutes. It creates a smooth, sweet, lacquered top. Just gorgeous.
Now, if you're a fan of salted caramel (and who isn't?), consider using the salted variation in my caramel recipe.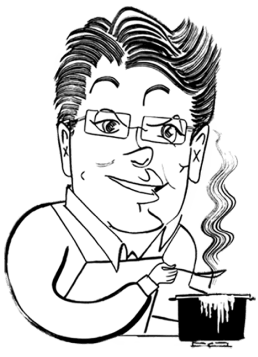 Why Our Testers Loved This
The testers adored this caramel apple pie recipe for several reasons. Jack V. loved the tender crust that held up for several days of leftovers and the sweet caramel that coats the pie.
Elie N. described this classic autumn dessert as "a delicious regal pie, with a flaky, buttery crust, and an apple filling that is not too heavy on the cinnamon."
What You'll Need to Make This
Whole wheat pie dough–The nutty flavor of the whole wheat dough pairs beautifully with the sweetness of the apples and sweet caramel. I don't recommend using a different pie dough as it may result in the pie tasting overly sweet.
Apples–Use sturdy baking apples for this pie. The testers had success with Honeycrisp, Fuji, Pink Lady, and Gala apples.
Cornstarch–I find that cornstarch works better than flour for thickening the juicy apple filling.
Caramel sauce–If you enjoy the flavor of salted caramel, use the salted caramel variation in my caramel recipe.
How to Make This Recipe
Combine the apple slices, brown sugar, cornstarch, and spices in a large bowl.

Mix well until the apples are evenly coated.
Heat a baking steel or baking stone in a 375°F oven for at least 30 minutes. Roll the larger disk of pie dough into a 12-inch (30-cm) circle.

Transfer the dough to a 9-inch glass pie plate.
Pile the apples into the pie crust and drizzle any accumulated juices over the filling. Dot with the butter.

Fit the top circle of dough over the filling and crimp to seal.
Brush the pie with an egg wash. Bake the pie at 375°F for 30 minutes, then reduce the oven temperature to 350°F and continue to bake until the pie is golden brown and cooked through.

Brush the pie with caramel and bake until sizzling. Cool for several hours before serving.
Common Questions
What's the easiest way to core an apple?
Slice the apple in half through the core. Working with one half at a time, use a small, sturdy spoon (I use sturdy my 1-teaspoon measuring spoon) to scoop out the seedy part of the core.


Why should I use a glass pie plate?
Besides being an excellent and even conductor of heat, a tempered glass pie plate lets you see if the bottom crust is browning. There is nothing worse than an undercooked, soggy bottom, as the judges on The Great British Baking Show are wont to say.
I don't have a baking steel or pizza stone. is there something else I can do?
There sure is. Before I bought my baking steel, I used to position the racks in the upper and lower thirds of the oven. Then, I'd place my pie right on the floor of the hot oven and let it bake there for the first half hour. Since it wouldn't get much color on the top, it would finish baking it on the upper rack. Easy peasy.
how can you tell when apple pie is cooked through?
When your apple pie is golden brown, and you can see juices bubbling through the vent or lattice top, it's ready. If you prefer a precise way to determine doneness, check it with an instant-read thermometer. A fully-baked apple pie should reach 175°F (80°C) in the middle of the pie.
what should i serve with this pie?
Although this pie is outstanding on its own, a scoop of French vanilla ice cream, a dollop of whipped cream, or a drizzle of pouring cream is always welcome on top of warm apple pie. Just don't forget that caramel.
Helpful Tips
If your pie crust begins to brown too quickly during baking, cover the edges with a pie shield or strips of foil.
Refrigerate any leftovers in an airtight container for up to 3 days and reheat in a 350°F (175°C) oven for about 10 minutes before serving.
When rolling pie crust, I like to use a silicone pastry mat. (See step 1 above.) It makes it easy to handle the dough.
Write a Review
If you make this recipe, or any dish on LC, consider leaving a review, a star rating, and your best photo in the comments below. I love hearing from you.–David
Ingredients
For the filling
3

pounds

pie apples (such as Granny Smith, Braeburn, Northern Spy, Jonagold, Honeycrisp, Gala)

,

peeled, cored, and cut into 1/4-inch-thick (6 mm) slices

2/3

cup

brown sugar

3

tablespoons

cornstarch

1

tablespoon

lemon juice

1 1/2

teaspoons

ground cinnamon

1

teaspoon

ground ginger

1/4

teaspoon

cardamom

,

optional

3

tablespoons (1 1/2 oz)

unsalted butter

,

cut into small bits
Instructions
Make the filling
Toss the apple slices, brown sugar, cornstarch, lemon juice, cinnamon, ginger, and cardamom (if using) in a large bowl. Set aside.

Position an oven rack in the middle position and slide a baking steel, pizza stone, or heavy baking sheet onto the rack. Crank the oven to 375°F (190°C). Because of the baking steel, the oven needs a good 30 minutes to reach temperature.
Roll and fill the crusts
On a lightly floured work surface or silicone mat, roll both dough disks into a circle about 1/8-inch (3 mm) thick. (The larger disk should be about 12 inches in diameter, while the smaller should be about 11 inches.) Ease the larger circle into a 9-inch (23 cm) glass pie plate.

Shingle the apple slices into the bottom crust, and dribble in any juices that puddled in the bottom of the bowl. Brush the rim of the bottom dough circle with water.

Dot the top of the apples with bits of butter. Cap the pie with the smaller dough circle.

Press the top and bottom crusts together to seal them. If there's any particularly floppy overhang, snip it off, leaving about a 3/4  inch (1.9 cm) rim.

Fold the dough rim under itself and crimp the edges decoratively.

Brush the top with the beaten egg and cut a small hole in the middle to let steam escape while baking.

Bake the pie on the baking steel for 30 minutes. Lower the temperature to 350°F (175°C) and bake until the crust is golden brown, about 45 minutes more.

☞ TESTER TIP: If the edges are browning too quickly, cover them with strips of foil or use a pie crust shield.
Brush on the caramel
Remove the pie from the oven and let it cool for several minutes. (Keep the oven on.) Brush the top with a thick layer of the caramel.

Return the pie to the oven and bake it until the caramel is sizzling, about 5 minutes. If you wish, brush on another layer of caramel and bake for a few more minutes. Watch carefully–this is burn territory!
Cool and Serve
Let the pie cool completely so the filling thickens.

Serve with warmed caramel drizzled on top.
Notes
Storage and reheating–Refrigerate any leftovers in an airtight container for up to 3 days and reheat in a 375°F (190°C) oven for about 10 minutes before serving.
Use a silicone mat for rolling–When rolling pie crust, I like to use a silicone pastry mat. It makes it easy to handle the dough.
Salted caramel variation–If you prefer salted caramel for your pie, use the salted variation of the homemade caramel sauce.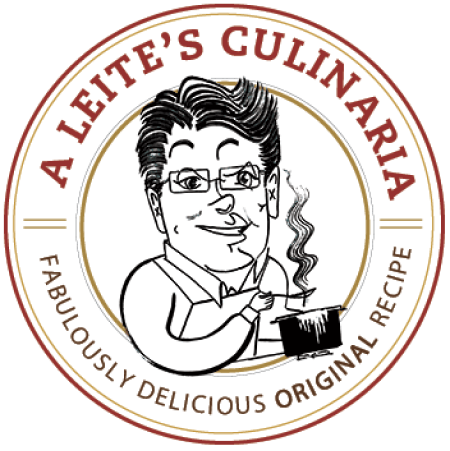 Nutrition
Serving:
1
slice
Calories:
661
kcal
Carbohydrates:
101
g
Protein:
6
g
Fat:
29
g
Saturated Fat:
17
g
Polyunsaturated Fat:
1
g
Monounsaturated Fat:
6
g
Trans Fat:
1
g
Cholesterol:
98
mg
Sodium:
189
mg
Potassium:
325
mg
Fiber:
7
g
Sugar:
64
g
Vitamin A:
785
IU
Vitamin C:
9
mg
Calcium:
55
mg
Iron:
2
mg
Nutrition information is automatically calculated, so should only be used as an approximation.
Recipe © 2023 David Leite. Photos © 2023 David Leite. All rights reserved.
---
Recipe Testers' Reviews
This is a delicious regal pie, with a flaky buttery crust, an apple-y filling that is not too heavy on the cinnamon (although another pound of apples would not be a bad idea for a 10 inch pie!) and a nice crown of sweet salted caramel. All in all, we all enjoyed it very much in my household with a scoop of vanilla ice cream.
This is a stellar caramel apple pie, and one of the people who ate a slice said it was one of the best they have ever had. None of the elements overwhelms the others, and you can taste the difference in flavor/texture the whole wheat flour brings to the crust.
The caramel melds so beautifully into the pie. And best of all, that bottom crust is very sturdy, thanks to the baking stone method. I had slices that were still intact at the 4- and 5-day mark.
My "baking stone" was a large cast iron griddle. I used Honeybee Apples.
☞ TESTER TIP: I would recommend this pie for everyone…just make sure you are using a pie plate that can handle going straight onto the baking stone without thermal shock concerns, such as tempered glass.