Leftover Roast Chicken Soup
This leftover roast chicken soup is a cinch to make in your slow cooker and is a great way to use up any vegetables languishing in your fridge.
Recipe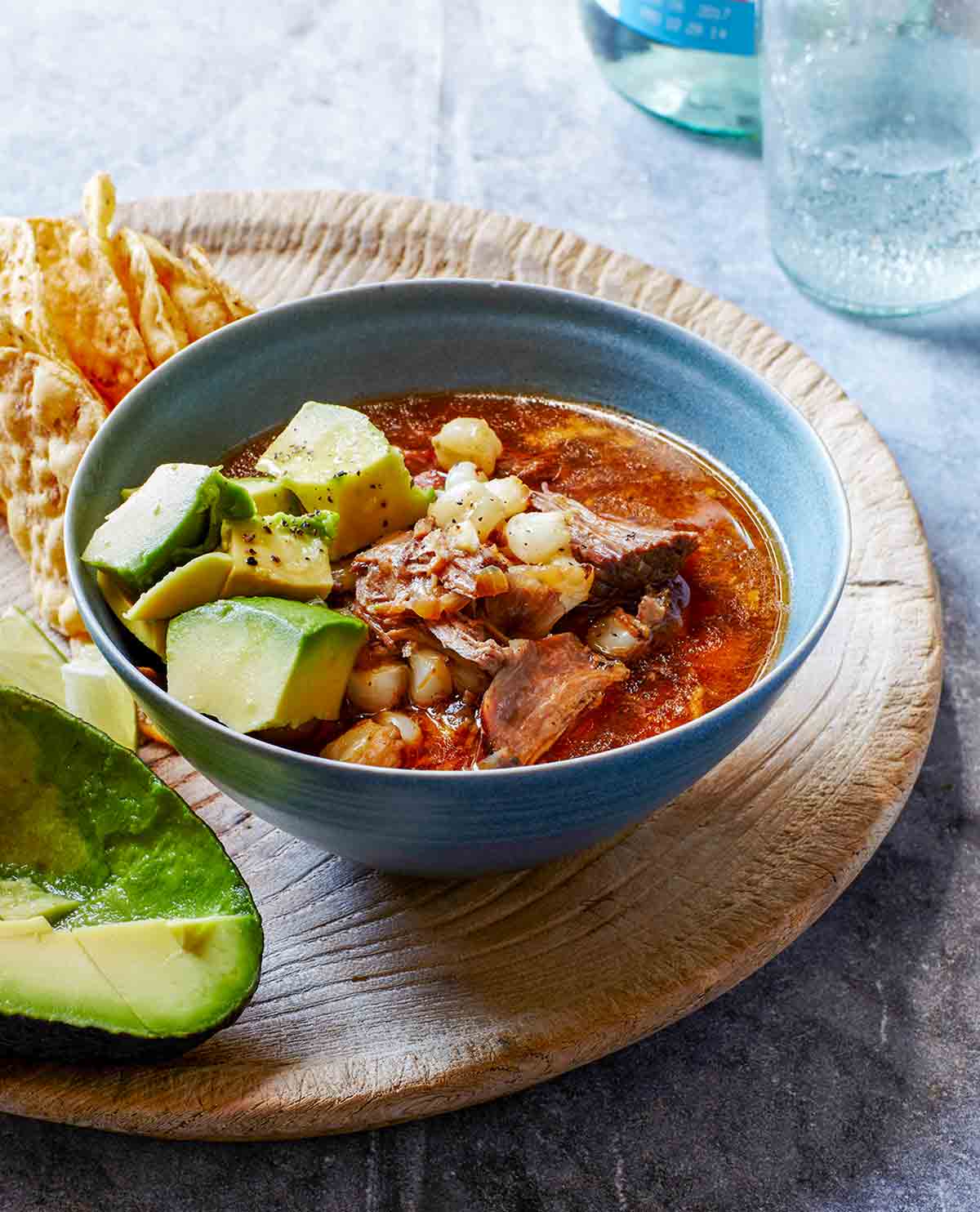 Slow Cooker Pork Posole
Slow cooker pork posole is sorta a cheater's version of authentic Mexican posole, a stew of sorts made with pork, hominy, onions, garlic, and all the traditional toppings. About the only thing missing is the constant need to tend it on the stovetop.
Recipe
I made this on a cool, rainy March day and invited neighbors over. They had never had pozole and practically licked their bowls clean.

This recipe is not as time-consuming as a traditional recipe using dried chilies (instead of the chili powder) and is darn good. Even better made a day ahead and chilled to meld the flavors (the leftovers were incredible). Thank you!

Victoria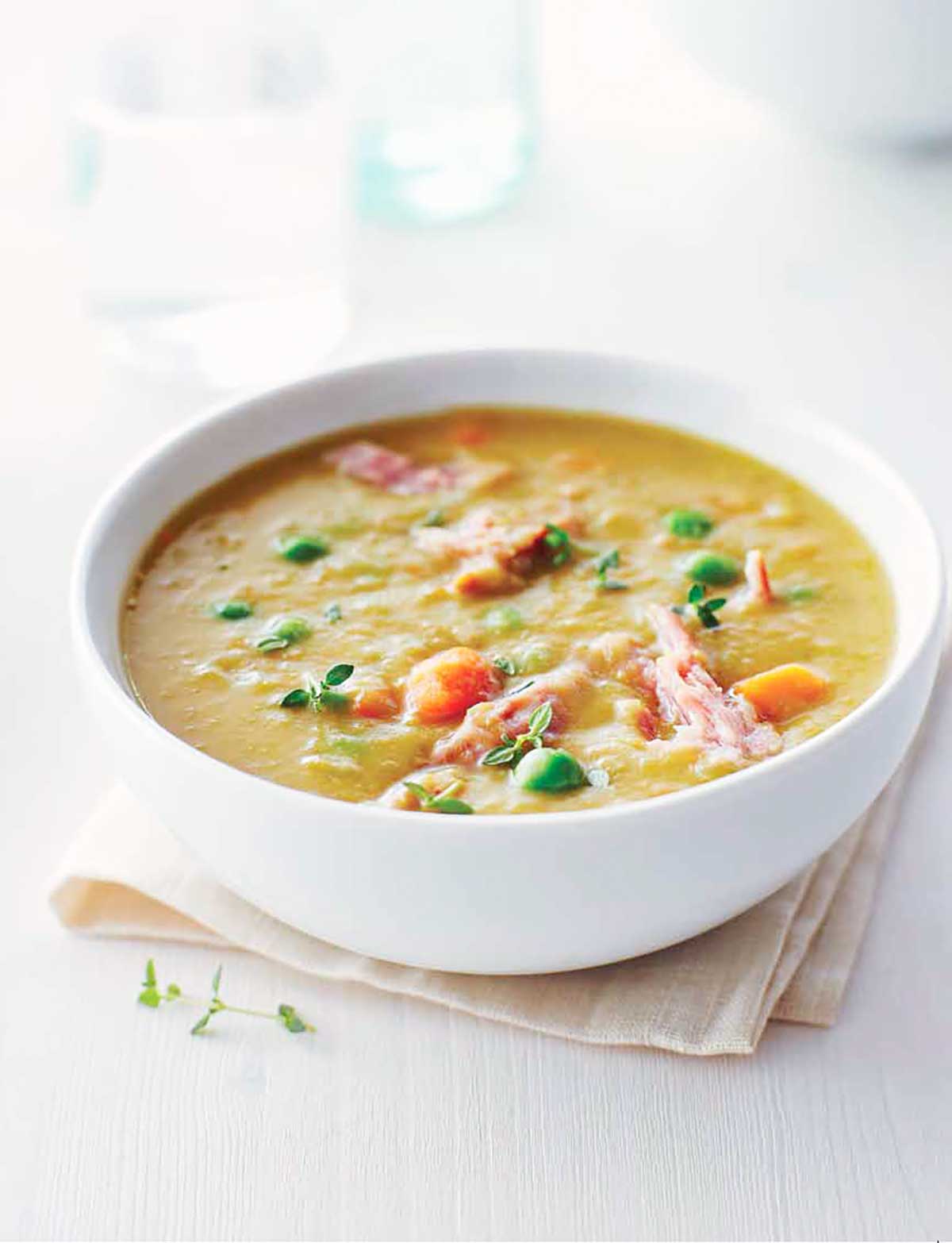 Slow Cooker Split Pea Soup
Slow cooker split pea soup with ham is traditional winter comfort food made easy. Just toss everything in a Crock pot and walk away. You're welcome.
Recipe
I made this tonight to sate my split-pea soup craving here in cold, wintry Adelaide, South Australia. Absolutely fantastic, and I followed the recipe as written! Thank you.

Melissa
Lentil Soup with Kale
This easy slow cooker lentil kale soup is healthy, nutritious, and satisfying. Perfect cold weather comfort food.
Recipe
Smoked Paprika and Chickpea Soup
This is something to make in a hurry when you want a hearty, simple soup and don't have any time or any stock. Don't overdo the smoked paprika—it should exude a slightly smoky mystery to the soup, not the obvious taste of full-blown paprika.
Recipe
I made this smoked paprika and chickpea soup tonight for my ailing daughter, and it was wonderful for both the sick and the well. We two enjoyed the seasoning and consistency of the soup, which made it rustic in flavor. The soup was both delicious and easy, making it the perfect meal.

Cleo
Slow Cooker Chicken Stock
Slow cooker chicken stock or broth is gloriously easy. Just toss raw chicken parts or carcasses in a slow cooker with vegetables, water, and herbs in the proper proportions, walk away, and come back later to a rich, deep, concentrated, out-of-this-world, paleo-friendly stock.
Recipe
This is now my favourite way to make chicken stock. Every time I make it, it reminds me of my grandfather's. The aroma is amazing, and the depth of flavour is one that I couldn't get from the stovetop.

Terri
Slow Cooker Soup FAQs
Will these recipes work in an instant pot?
Yes. Each of these easy slow-cooker soups will work with the slow-cooker function of a multicooker, such as an Instant Pot. In my experience, the slow-cook function on some multicookers does take longer than in a single-function slow cooker.
Should I be stirring my soup in the slow cooker?
No. It's best to keep the lid of your slow cooker on and let it work its magic. These Crock-Pot soup recipes are designed to braise in the trapped steam they create. Every time you lift the lid, that steam escapes, interrupting the cooking process.
What's the difference between the high and low settings on a slow cooker?
The difference between the two settings is the amount of time that it takes for the contents of the slow cooker to reach a simmer. Since the HIGH setting allows the slow cooker to reach temperature more quickly than LOW, the food cooks faster. This allows you to better budget your time and schedule.
Looking for more soup ideas? I've got plenty. If chicken soup is your favorite, try one of these chicken soup recipes. No slow cooker? Try one of these simple soup recipes that can be made on your stovetop.