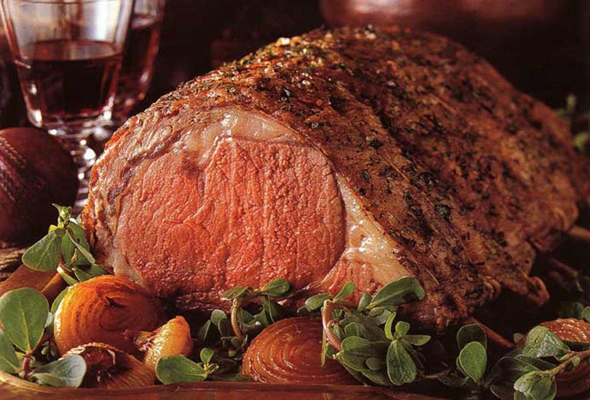 When we want to prepare a festive meal for a special occasion, we like to revisit ancient recipes, like mincemeat. Such foods often have a sweet-sour-spicy character that was popular in the Middle Ages (and, indeed, can be traced back to the cooking of ancient Rome). The French call this aigre-douce, to the Italians it's agro dolce, and that elusive flavor is provided here by verjuice (a very sour liquid pressed from unripe grapes), orange juice, and a rich stock sweetened with dates, currants, almonds, and sweet mace. The intricate counterpoint of flavors is marvelously medieval, and deeply satisfying—everything one could desire at the center of a holiday feast.–Gary Allen, LC Food HIstory
LC Renaissance Recipe Note
Betcha didn't know that tossing some spice in your stock makes you a renaissance cook, did you? Well, you heard what Gary Allen just said, whatcha waiting for? Follow the recipe below for an intricate interplay of sweet and sour and spice that's marvelously medieval—not to mention deeply satisfying.
Rib Roast with Orange-Glazed Onions
Quick Glance
30 M
2 H, 30 M

Serves 6
Print Recipe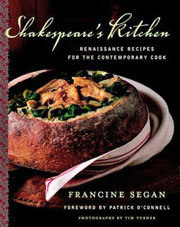 Ingredients
For the stock

4 1/2 pounds chicken parts (necks, backs, wings, giblets)

One 8-ounce lamb shank

2 sprigs rosemary

2 bay leaves

3 sprigs mint

4 sprigs flat-leaf parsley

1 whole mace

2 onions, peeled and quartered

1 cup white wine

1/2 cup ground blanched almonds

8 dates, pitted and chopped

1/2 cup currants

For the prime rib roast

6 large onions, quartered

1 cup finely chopped assorted fresh herbs (parsley, marjoram, tarragon, rosemary, hyssop, etc.)

One 10-pound prime rib roast, bone in (about 6 ribs)

Salt and freshly ground black pepper, to taste

2 tablespoons verjuice

1/4 cup stock

1/2 cup fresh orange juice

Zest of 1 orange, preferably organic
Directions
Make the stock

1. Place the chicken and shank bone in a large pot. Add 2 3/4 quarts of water and bring to a boil. Skim the impurities that rise to the top.

2. Add the rosemary, bay leaves, mint, parsley, mace, and onions and simmer for 30 minutes. Add the wine, almonds, dates, and currants and simmer for 1 hour, periodically skimming any impurities that rise to the top. Strain through a fine-mesh sieve.

Make the prime rib roast

3. Preheat the oven to 350°F (175°C).

4. Toss half the onions and herbs in a roasting pan. Reserve the other half of the onions in a plastic bag. Season the prime rib roast with lots of salt and pepper and place on top of the herb-onion mixture.

5. Roast the prime rib for 1 1/2 hours, then add the remaining onions to the pan. Continue to roast for another hour, or until the internal temperature reaches 160°F (70°C) for medium. [For medium-rare, pull the roast out when the thermometer reaches 135°F (57°C)]

6. Meanwhile, bring the stock to a boil in a sauce pan until reduced by half. Season to taste with salt and pepper.

7. Remove the roast from the pan and let rest.

8. Add the verjuice and reduced Renaissance Stock to the pan and stir to loosen the onions and drippings. Puree 1/4 cup of the onions, the juices from the pan, and the orange juice until smooth and stir in the orange zest.

9. Place onions in the center of a serving platter and top with the roast. Serve the onion-verjuice sauce in a side dish.
Rib Roast with Orange-Glazed Onions Recipe © 2003 Francine Segan. Photo © 2003 Tim Turner. All rights reserved. All recipes and photos used with permission of the publisher.
If you make this recipe, snap a photo and hashtag it #LeitesCulinaria. We'd love to see your creations on Instagram, Facebook, and Twitter.