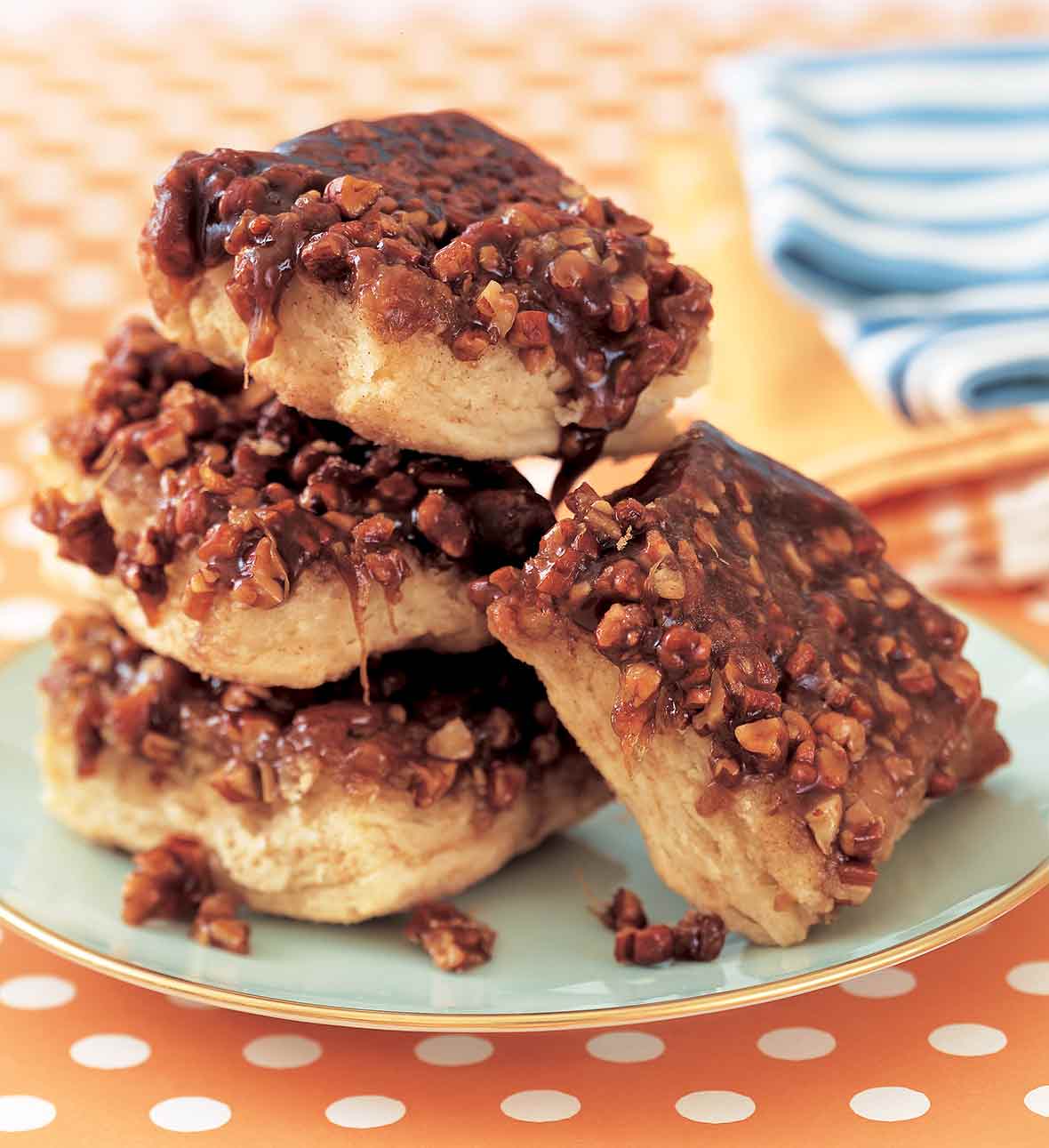 When I was seven years old, my mother enrolled me in my first cooking class. I loved it, and learned how to make cinnamon rolls by dipping refrigerator biscuits in melted butter and rolling them in cinnamon-sugar and walnuts before baking. Delicious! My family gobbled them up and the compliments for my cooking made me beam. Those cinnamon biscuits became a Christmas breakfast tradition for many years. I've upgraded them here with homemade Southern biscuits sprinkled with cinnamon-sugar and baked atop a sticky, gooey pecan syrup. Simple, sweet, and easy, they are a perfect grown-up version of my childhood specialty.–Jill O'Connor
Quick Sticky Biscuits
Quick Glance
40 M
1 H

Makes about 12 big biscuits
Print Recipe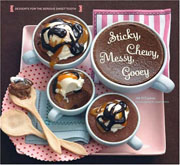 Ingredients
For the sticky pecan sauce

Softened butter or nonstick cooking spray, for greasing pan

1 cup firmly packed light brown sugar

1/2 cup dark corn syrup

3/4 cup unsalted butter

1 1/2 cups chopped pecans or walnuts, toasted

For the biscuits

4 cups bleached all-purpose flour

2 tablespoons baking powder

1/2 teaspoon baking soda

1 1/2 teaspoons salt

1 cup very cold or frozen unsalted butter, cut into 16 pieces

1 1/2 to 2 cups cold buttermilk (either low-fat or full-fat)

For the topping

1/2 cup granulated sugar

1 teaspoon ground cinnamon

4 ounces unsalted butter, melted
Directions
Prepare the oven and pan

1. Position a rack in the middle of the oven and preheat to 425°F (220°C). Grease a 9-by-13-inch pan with softened butter or spray with nonstick cooking spray.

Make the sauce

2. Combine the brown sugar, corn syrup, and butter. Melt over low heat. When the butter is melted, increase the heat to high and bring to a gentle boil. Cook, uncovered, until the mixture thickens, 3 to 5 minutes. Stir in the chopped nuts. Pour the mixture into the prepared pan and spread evenly. Set aside.

Make the biscuits

3. In a large bowl, sift together twice the flour, baking powder, baking soda, and salt. Cut the butter into the flour mixture using a pastry cutter. Blend until most of the mixture looks like coarse crumbs, with some of the bits of butter the size of small peas.

4. Make a shallow well in the center of the flour mixture and pour in 1 1/2 cups of the cold buttermilk. Use a fork to blend the buttermilk into the flour to create a soft dough. If the dough seems too dry as you are stirring it, add the remaining 1/2 cup buttermilk.

5. Turn the dough out onto a lightly floured work surface and knead a few times to make sure it comes together. Pat the dough into a 3/4-inch-thick rectangle. Use a sharp chef's knife to cut the dough into 12 square biscuits.

Make the topping

6. In a small bowl, stir together the granulated sugar and cinnamon. Brush the tops of the biscuits with some of the melted butter and sprinkle with some of the cinnamon-sugar. Place the biscuits, evenly spaced, cinnamon-sugar side down, into the pecan syrup-lined pan. Brush the tops (once the bottoms) of the biscuits with more melted butter and sprinkle with a little more cinnamon-sugar.

7. Bake the biscuits until golden brown and puffy, and the sticky pecan sauce is bubbling around them, 15 to 17 minutes.

8. Cool slightly, then place a large serving platter over the top of the pan and invert it. Remove the pan and allow the pecan sauce to fall around the biscuits. Use a small spatula to scrape any residual syrup from the pan onto the biscuits. Serve immediately.
Quick Sticky Biscuits Recipe © 2007 Jill O'Connor. Photo © 2007 Leigh Beisch. All rights reserved. All recipes and photos used with permission of the publisher.
If you make this recipe, snap a photo and hashtag it #LeitesCulinaria. We'd love to see your creations on Instagram, Facebook, and Twitter.