Wondering where this pear chutney belongs, aside from the top shelf of your fridge? We're partial to setting it out in a tall clear Mason jar with a lovely silver spoon alongside a cheese plate or on pork loin roast. But that's just us. Perhaps you prefer to stir a spoonful into your morning yogurt or oatmeal. Or dollop some atop your favorite curry. We won't argue. In fact, we'd love to know what you're thinking. Let us know in a comment below.–Renee Schettler Rossi
Pear Chutney
This pear chutney, which makes a lovely appetizer with a cheese plate or goat cheese-smeared crostini, is made with pears, allspice, cloves, coriander, mustard, golden raisins, vinegar, and molasses. Also the perfect playmate for all kinds of cured meats, roast pork, and curries.
Ingredients
1/2

teaspoon

allspice berries

6

whole

cloves

1

teaspoon

mustard seeds

1/2

teaspoon

coriander seeds

1/2

teaspoon

black peppercorns

3/4

cup

distilled white vinegar

3/4

cup

golden raisins

1/2

cup

sliced almonds

1/2

cup

light molasses (NOT blackstrap molasses)

1/4

teaspoon

salt

1/2

lemon

,

cut into thin slices

1

pound

ripe pears

,

(about 3, depending on the size), peeled, cored, and cut into 1-inch (25-mm) pieces
Instructions
Grind the allspice, cloves, mustard and coriander seeds, and the peppercorns to a powder in a spice grinder.

Place all the ingredients, including the spices, in a saucepan. Bring to a boil, stirring occasionally.

Cover the pan, reduce the heat to low, and gently simmer for 30 minutes.

Uncover the pan and cook until most of the juice has evaporated and the chutney is just moist, about 20 minutes.

Transfer the pear chutney to a jar and let it cool. Cover and refrigerate it for at least a couple days to let the flavors meld. It will keep for up to a couple weeks.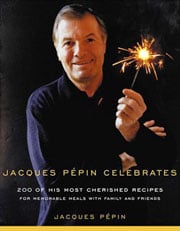 Nutrition
Serving:
1
portion
Calories:
309
kcal
Carbohydrates:
53
g
Protein:
5
g
Fat:
10
g
Saturated Fat:
1
g
Polyunsaturated Fat:
3
g
Monounsaturated Fat:
6
g
Trans Fat:
1
g
Sodium:
115
mg
Potassium:
811
mg
Fiber:
6
g
Sugar:
40
g
Vitamin A:
27
IU
Vitamin C:
9
mg
Calcium:
144
mg
Iron:
3
mg
Nutrition information is automatically calculated, so should only be used as an approximation.
Recipe © 2001 Jacques Pepin. Photo © 2001 Yurii Jarema. All rights reserved.
---
Recipe Testers' Reviews
The spice blend, including whole allspice, cloves, peppercorns, mustard seeds and coriander seeds, is heady and intensely aromatic. Upon tasting this, I did not think "pear" because chutneys are quite intense, but it's still lovely just the same. This one contains almonds, which really excited me as my favorite chutneys include nuts.
We will be having it with pork, but this would also be great baked with Camembert, on crackers with goat cheese, accompanying fatty proteins such as duck, goose, etc.
This pear chutney is a five-star recipe. I say that because the end product is fantastic with the recipe itself being quite easy to put together.
The spice blend is the star of this recipe. I used barely ripe Bartlett pears, which held up very well in the cooking process. This chutney definitely does improve over days in the fridge. I used ours as a complement to grilled veal chops and then again as the filling in phyllo cups for a neighborhood gathering. A big hit! And there's just enough left to try on some sweet potato waffles!
This chutney recipe is spot-on perfect. The lemon slices and almonds gave it a lighter, almost marmalade-like texture, yet it wasn't too sweet and still had a clean, clear flavor.
It came together in an hour, yielding 3 half-pints plus a couple spoonfuls extra which I clearly marked for himself so he wouldn't raid the half pints until they had a day or so for the spicing to meld and marry. That "OK-to-raid" jar was emptied with a smear on cream cheese on a muffin and pronounced delicious. Our Initial judgement was that it's also delectable straight out of the jar.
This was great use of our local Bartlett pears but it should work with almost any variety.
After an 2 days in the fridge, allowing some melding of the ingredients, a dollop with my morning yogurt, fruit, and muffin was perfect, although any change was subtle in the spicing. Ideally, this will be served with pork, or even turkey, tho I even tried with with lamb riblets and it was lovely. In fact, one jar nearly disappeared, so I decided to make a second batch, using local Asian pears. That batch was equally delightful, and since the spicing is what is dominant, I would recommend using any fresh seasonal pears that come your way.