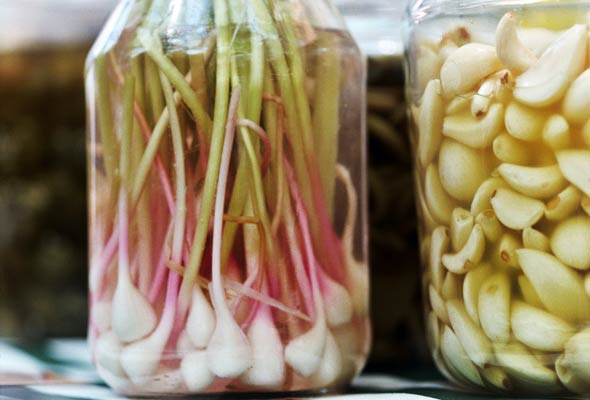 Eat your vegetables.
Funny how these three words stand for such an eye-rolling thing—let's be honest, both in the cooking and the coercing required to get them down the hatch of ourselves or others. Thankfully, David Chang understands this. The potty-mouthed, pork-crazed, much-ballyhooed chef of Momofuku fame has something of a penchant for quick pickles, and his rendition of pickled ramps is no exception. And we do mean quick; this recipe takes just five minutes to toss together (honest), doesn't require canning (hurrah), and is likely to disappear just as quickly as it came together (here's the voice of experience). They make an all-too-ephemeral ramps season everlasting, although given this quick pickle's charms, your ramps may still disappear all too soon.
Chang relies on pickled ramps as a revelatory garnish to eggs sunny side up. We find the slightly tart ramps equally impressive slipped onto burgers, draped atop pulled pork sandwiches, or cozied up alongside a proper roast chicken or steak and potatoes. Be sure to make ample batches, as they'll need to see you through the 48 or so weeks each year when ramps aren't in season. The technique works equally well with look-alike scallions.–Renee Schettler Rossi
LC The Spice Is Right Note
Chang's pickled ramps recipe is sufficiently simple to ensure the essence of the pungent wild leeks known as ramps remains unsullied. However, he does add just a pinch of Japanese seven spice powder, known as shichimi tōgarashi or sometimes as nanami tōgarashi. A mashup of orange peel, black, white and toasted sesame seeds, cayenne, ginger, Szechuan pepper and nori, it has no substitute. If this ingredient is beyond your means, consider simply doing without. Chang probably wouldn't consider it optional for his pickled ramps, though we'll look the other way.
Pickled Ramps
Quick Glance
5 M
5 M

Servings vary
Print Recipe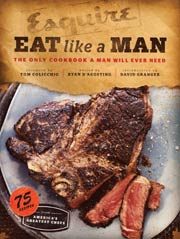 Ingredients
1 pound ramps or scallions, preferably slender ones

1 cup unseasoned rice vinegar

1 cup granulated sugar

1 teaspoon salt

Pinch Japanese seven spice powder (shichimi tōgarashi or nanami tōgarashi; optional but before you skip it see LC The Spice Is Right Note above)
Directions
1. Trim the root ends of the vegetables. If the greens are wilted or so large as to be unwieldy, trim them where they meet the white bulbous portion. Place the ramps or scallions in a bowl.

2. Bring the remaining ingredients to a boil in a small saucepan, stirring to dissolve the sugar. Pour the mixture over the ramps or scallions and let cool to room temperature.

3. Tuck the ramps or scallions in a jar or several jars, swirling the greens around the inside, and add enough liquid to cover. Screw on the lid(s) and refrigerate for no more than a week. The pickle flavor will become more prominent as the days go by.
Recipe Testers Reviews

This was a new foray into what I thought was the daunting world of pickling. Turns out, it's super easy, and yields great results. I happened to have seasoned rice vinegar at home, so I omitted half of the sugar. I wasn't quite sure how to trim the ramps, so I cut them into pieces about 3 inches long— I guess I could've left them whole, too. I've been sampling my pickled goods every day for a week now, and boy, do they get better with age! They're delicious on their own as a crunchy snack, or mixed into Japanese rice dishes. I've also snuck them into salads for a crisp, acidic element.
Pickled Ramps Recipe © 2011 Ryan D'Agostino. Photo © 2009 cafemama. All rights reserved. All materials used with permission.
If you make this recipe, snap a photo and hashtag it #LeitesCulinaria. We'd love to see your creations on Instagram, Facebook, and Twitter.