Learning to smoke ribs to finger-lickin' perfection is super simple. And this smoked spare ribs recipe is an exquisite example of just how easy it can be. Authentic barbecue flavor in your own backyard. No smoker required. No smoking experience required, either, for that matter. Although bear in mind, there are people who spend a lifetime getting smoked ribs just right, so give yourself some time to smooth out any kinks. Practice, practice, practice. [Editor's Note: Readers without a smoker, take comfort. We included directions for how to smoke these spare ribs on a grill. (Who loves you?!)]–Renee Schettler
Smoked Spare Ribs
These smoked spare ribs are coated in a spicy rub, slowly smoked, and finished with a Texas-style barbecue sauce. No smoker required.
Ingredients
2

(2-pound) racks

pork spare ribs

,

membranes removed* (see * Note)

1/4

cup

light brown sugar

,

(or substitute maple, date, or palm sugar)

1

tablespoon

chili powder

1

tablespoon

ground cumin

2

teaspoons

salt

2

teaspoons

dry mustard

1

teaspoon

garlic powder

1

teaspoon

onion powder

1/2

teaspoon

white pepper

1/2

teaspoon

cayenne pepper
Instructions
Let the ribs rest at room temperature for at least 30 minutes.

In a small bowl, make the rub by combining the sugar, chili powder, cumin, salt, mustard, garlic powder, onion powder, white pepper, and cayenne pepper with a fork.

Pat the ribs dry with paper towels. Then coat the ribs with the rub, using your hands to completely cover the surface of the meat with the spices.

Following the instructions below, smoke the ribs at 225°F (107°C) for 5 hours (about 1 hour more than the number of pounds of meat). Keep the coals smoldering at low heat so that the ribs don't burn, catch fire, or overcook. Check the ribs periodically to make sure they aren't drying out. Flip and move the ribs 90° every hour in order to get crosshatch sear marks across the flesh. The meat is done when it is tender and releases easily from the bone. If using a smoker: Put your soaked chips in the smoking basket and your meat on the top racks. If using a jury-rigged smoker: If buying a new smoker is too expensive for you, you can build one for yourself with just a large terra-cotta pot and a large terra-cotta bowl large enough to fit a hot plate and a round grill rack, bricks, and an aluminum pie plate. Here's how to construct it: Raise the pot off the ground with some bricks but leave the hole at the bottom of the pot uncovered for the hot plate cord. Place the hot plate in the bottom of the pot, and pull the hot plate's cord through the hole so you can plug it into an outlet or extension cord. Put your soaked wood chips into an aluminum pie plate and put that on top of the hot plate. Place the grill rack on top of the pot so that it sits inside the pot, but well above the hot plate. Cover with the bowl, which is your lid. Turn on the hot plate and you're smoking! If using a gas grill: Can you smoke meat with a regular gas grill? We've done it, and it's effective if not perfect. This is an unsophisticated version of smoking, and real pit masters frown on it, but we've done it many times. The taste is not as intense, but the meat is still tender and delicious. If you want to try it, here's how: Put your soaked wood chips in an aluminum pie plate and cover the top tightly with aluminum foil. With a butter knife, poke about 10 holes in the foil. Remove the grates from one side of your grill and place the pie plate directly on those burners. Light your grill and set only the burners underneath the wood chips on their lowest setting. If there is a large vent on the side of the grill with the wood chips, plug it with an old rag to prevent the smoke from escaping. Keep your meat on the opposite side of the grill, where the grates are still in place. Wait for the wood to start smoking—at least 15 minutes—before you place your meat on the grill.

Remove the ribs from the heat, and let them rest uncovered for 10 minutes before serving. Serve with Texas-Style Barbecue Sauce and lotsa napkins.
Notes
*How do I remove the membrane from spare ribs?
To remove the membrane or silver skin from a rack of ribs, slip a small spoon (bowl side down) under the corner of the membrane and then grab it with a paper towel—it's slippery—and slowly pull it off. And if you're not feeling confident about this, any butcher will do it for you.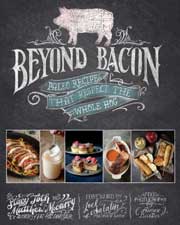 Nutrition
Serving:
1
portion without sauce, 1/2 rack
Calories:
962
kcal
Carbohydrates:
18
g
Protein:
51
g
Fat:
76
g
Saturated Fat:
24
g
Polyunsaturated Fat:
13
g
Monounsaturated Fat:
28
g
Trans Fat:
1
g
Cholesterol:
254
mg
Sodium:
1464
mg
Potassium:
918
mg
Fiber:
1
g
Sugar:
14
g
Vitamin A:
744
IU
Vitamin C:
1
mg
Calcium:
107
mg
Iron:
6
mg
Nutrition information is automatically calculated, so should only be used as an approximation.
Recipe © 2013 Matthew McCarry and Stacy Toth. Photo © 2013 Aimee Buxton. All rights reserved.
---
Recipe Testers' Reviews
I chose to make these smoked spare ribs because my family loves barbecue pork. This recipe, along with the Texas-Style Barbecue Sauce recipe, was a HUGE hit! Even my 4-year-old grandson loved the meat. The rub was wonderful, with beautiful earthy flavors, and it was simple to mix. I had all the spices in my cupboard, too. The first time I made them, it was a bit rainy to use my outside smoker, so I ended up using my oven at 225°F for 5 hours, then started a fire in my Big Green Egg with natural wood charcoal. I made sure the grill was at a temperature of about 225°F and took the spare ribs out of the oven and placed them in a foil pan on the grill and smoked them for about an hour.
While smoking the ribs, I made the barbecue sauce. Super easy and quick and a perfect match with the ribs. All the rich, earthy flavors went so well together. Everyone ate everything on their plates and even wanted more. There was only one tiny plate of leftovers left. I served this with rosemary carrot mash, sweet potato cornbread, and caramel ice cream for dessert. Beautiful presentation and everything tasted so wonderful together. Big wins for all!
The second time I make the spare ribs, I smoked a rack on my outdoor smoker. Wow, am I glad I did. Fantastic! The flavor of the rub is so wonderful, you don't need a sauce. I loved the sugary sweet and rich chili spices of the rub. The ribs were moist, tender, a little chewy, and the meat released easily from the bone. Followed the recipe instructions to a tee (set the smoker at 225°F for 5 hours) and they turned out just perfect. I know what I will be bringing to our next party or event. I bet they won't last long.
Great smoked spare ribs recipe! I smoked these on my Weber Rocky Mountain Cooker and was pleased with the results. The preparation was easy and straightforward.
The time estimate was accurate; I had 5 pounds of ribs and smoked them at 225°F for just over 6 hours. I served them with my own barbecue sauce and they received rave reviews.
I love great barbecue. For many years, I've strived to create great barbecue at home. I have a nifty professional smoker, several kinds of wood, and a handful of recipes that I've been fine-tuning over the years, but I'm far from being any sort of expert on the subject. I will say, though, that this is a great recipe for those who'd like to begin their own barbecue journey.
The recipe is easy to pull together, with no special ingredients and a pretty straightforward smoking technique if you already have a smoker. If you don't, there's an interesting way to construct your own. However, I'd suggest going to your local home-improvement store and picking up a smoker of your choice. There are some really inexpensive models and you will get a whole lot of mileage out of whichever one you choose.
Instead of putting all the rub ingredients in a bowl, I popped mine in a spice grinder to make sure all the brown sugar clumps were broken up and the rub was thoroughly mixed. From there I put the rub into a cheese shaker—yes, like the ones you'd find at any pizzeria—to evenly control the rub as I sprinkle it on the ribs. You can usually find these shakers in the kitchen supply section of your local grocery store.
It's important to remove the membrane as it can get pretty chewy when the ribs are cooked low and slow. It only takes a moment to remove the membrane. With a kitchen knife, make a little slit between the membrane and the fat and bones of the ribs. Then use a paper towel grab the corner of the membrane and pull. If you're good, the entire membrane will come off in a single sheet.
When I smoke ribs, I know if I smoke them low and slow, there's a definite chance the ribs will dry out. This has happened to me a couple of times, so making dry ribs is something I've become an expert at. I've learned that smoking the ribs for 3 hours and then wrapping them in aluminum foil for the last 2 hours stops them from drying out. When the ribs are done, the bones can almost be plucked out of the meat, though I emphasize "almost." The resulting ribs were moist, tender, and had a bold flavor from the rub. I used oak wood, which for me imparts a more mellow woody sweetness to the meat. These were very good ribs.
I thought the sauce was pretty good if you're into thick, tangy barbecue sauces that aren't very sweet. I prefer a smoother sauce so I used an immersion blender right in the sauce pan. The sauce was certainly more refined this way and came out smoothly from the squirt bottle I put it in.
For an additional layer of flavor, baste your finished ribs with the sauce and place under your oven's broiler for a few minutes to caramelize the sauce. I let mine get just slightly burnt as I love that flavor.
Make sure to have plenty of napkins.