This Portuguese salad of black-eyed peas with tuna, called salada de feijão-frade com atum in Portugal, is a classic dish. It's a mix of black-eyed peas, canned tuna, onion, olive oil, and parsley. Very economical!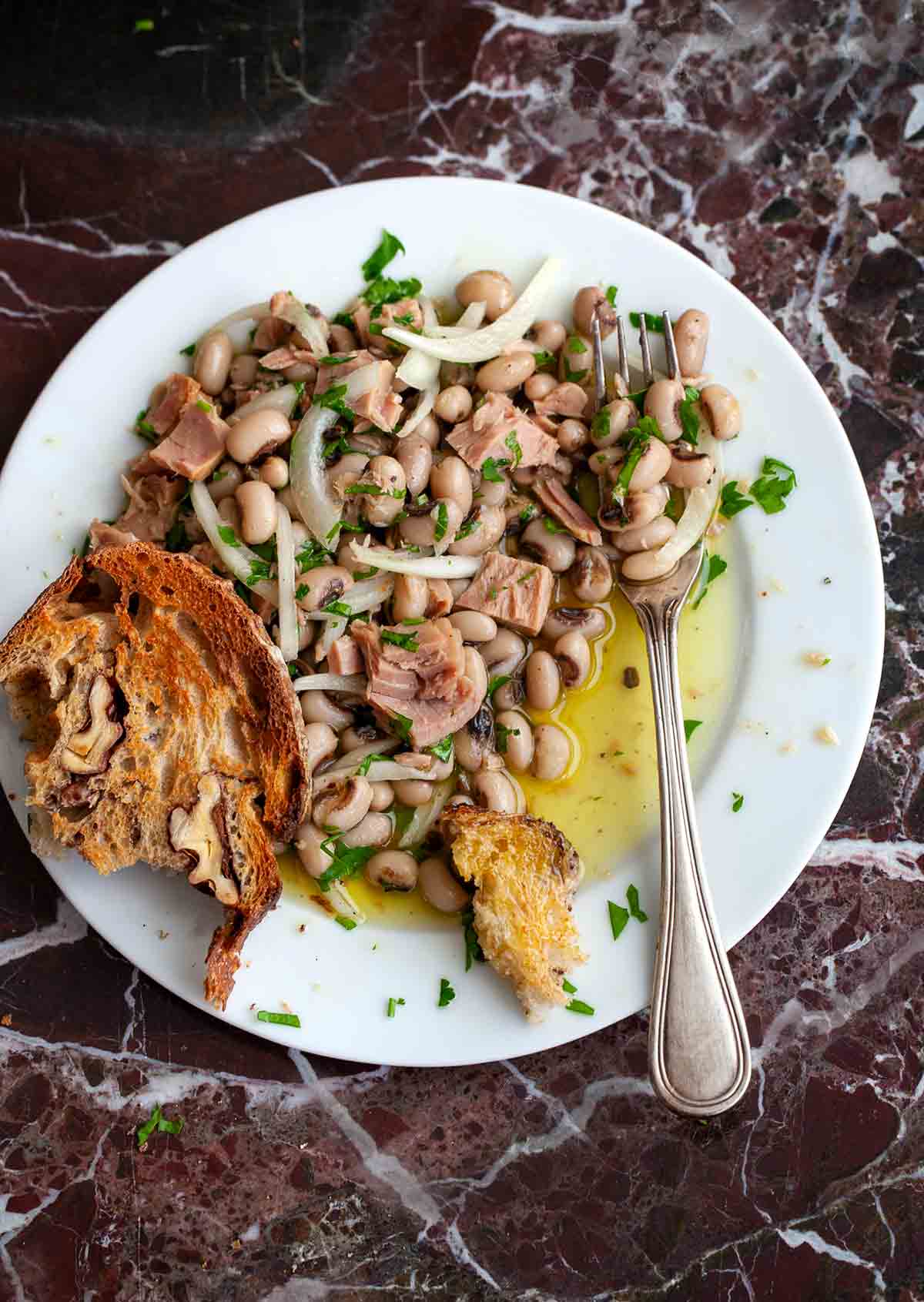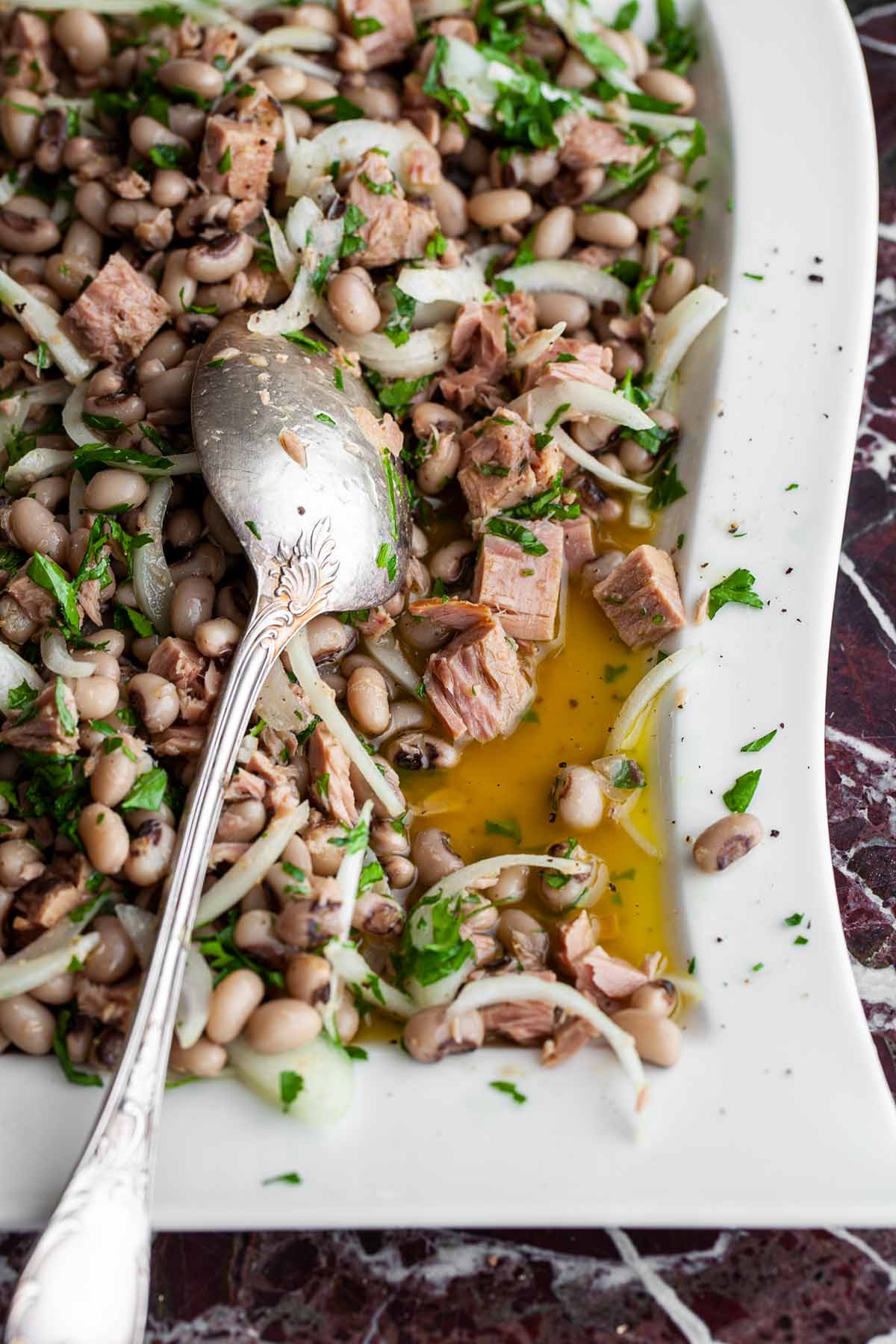 Portuguese Salad of Black-Eyed Peas with Tuna | Salada de Feijão-Frade com Atum
Quick Glance

(3)

20 M
5 H
Serves

4

to 6
Print Recipe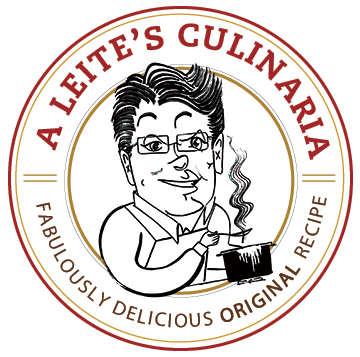 Ingredients
Directions
Place the black-eyed peas in a large saucepan, add enough water to cover, and soak for 2 hours. Drain and fill the pot with fresh water. Bring to a boil over high heat, reduce the heat to low, and simmer until the beans are tender but still hold their shape, 20 to 30 minutes. Drain and set aside.
In a small bowl, whisk the oil and vinegar until blended. 
In a large serving bowl, combine the black-eyed peas, onion, garlic, and 3 tablespoons of the parsley. Pour in about 3/4 of the dressing and toss to coat. If you'd like, add some or all of the remaining dressing. Fold in the tuna, season with salt and pepper to taste, and cover with plastic wrap. Refrigerate for at least 2 hours for the flavors to blend. 
Remove from the fridge 30 minutes before serving. Take a taste and, if desired, add a splash of oil or vinegar or season with salt and pepper. Toss, sprinkle with the remaining 1 tablespoon of parsley, and bring to the table. Originally published April 15, 2009.
Print Recipe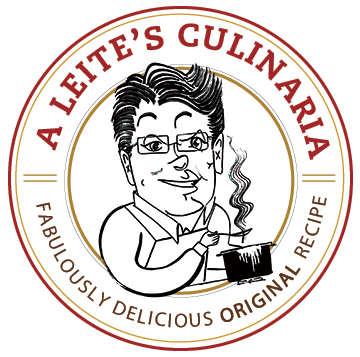 Recipe Testers' Reviews
This Portuguese tuna salad recipe is the bomb. All the flavors come together perfectly. I took the description to heart and made it slightly different with what I had on hand.
The first time I made it with pinto beans, in place of black-eyed peas, it was so good. The second time I made I used fresh tarragon, in place of parsley. I did use slightly less olive oil the second time because the recipe had plenty of oil and flavor.
Additionally, it tasted delicious right after it was made. This recipe makes about 8 servings and is an easy go to for the week.
The basic salad is delicious. I love black-eyed peas and have a marinated black-eyed pea salad I make on occasion, and that's what drew me to this.
In the spirit of never making this the same way twice, when I served more of the salad for lunch a day after first serving it, I plated it over baby arugula. Not only did it look gorgeous, but the peppery greens added a lovely new note to the earthiness of the black-eyed peas and rich, mild fishiness of the oil-packed tuna.
The first time I served this salad, it had been refrigerated for 3 hours and then rested at room temperature for another 30 minutes. By the second and subsequent days, the flavors had married more thoroughly and the salad got even better. It is definitely improved by being made ahead of time as much as possible.
I loved the raw onion in this. At first, I thought there might be too much (especially because the only small onion I had was fairly old and pungent), but I would have been happy with even more onion than was in here. The bite from the onion worked well with the other combined ingredients.
Portuguese Salad of Black-Eyed Peas with Tuna | Salada de Feijão-Frade com Atum Recipe © 2009 David Leite. Photos © 2021
Cenk Sönmezsoy
. All rights reserved. All materials used with permission.
If you make this recipe, snap a photo and hashtag it #LeitesCulinaria. We'd love to see your creations on Instagram, Facebook, and Twitter.