This egg and cheese strata, made with eggs, Fontina, asparagus, and prosciutto, can be put together ahead of time or last minute. A great breakfast or simple dinner.
I grew up thinking strata was my mom's signature dish, until I realized every mother has her own version. You should know how to make it too, but just between us, yours can be much more elegant than your mother's, especially when you make it in a small dish to serve two and pair it with a large salad. Of course, you can double this recipe for a large crowd and bake it instead in a 9-by-13-inch pan for 1 hour–then watch it disappear.–Sarah Copeland
LC Pretty or Practical? Note
In making this strata look pretty, the lovely and talented Sarah Copeland chose to leave the asparagus spears whole. While this does, indeed, make for a pretty presentation, it also creates something of a not-so-practical eating experience. (Attempting to politely cut through an asparagus spear that's irrevocably intertwined with melted cheese and bread using nothing but a fork? Not something we'd like to inflict on our loved ones.) So while we leave this decision to your discretion, we're thinking that slicing those spears into 1 1/2-inch lengths isn't such a terrible thing. Tastes just the same.
Egg and Cheese Strata
Quick Glance
20 M
1 H

Serves 2 to 4
Print Recipe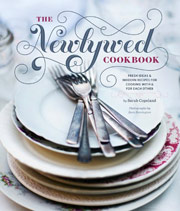 Ingredients
Butter for the baking dish

4 thick slices (about 4 1/2 ounces total) artisan bread, preferably hearty whole grain or multigrain

2 large eggs, lightly beaten

1 cup whole milk

8 ounces (about 1 cup) grated Fontina cheese

Sea salt and freshly ground black pepper

6 to 8 asparagus stalks

4 thin slices prosciutto or mortadella (optional)

1 tablespoon finely snipped chives (optional)
Directions
1. Preheat the oven to 350˚F (176˚C). Butter a smallish, 4-cup ovenproof baking dish.

2. Trim the crusts from the bread. Place the slices of bread in the baking dish, overlapping them slightly and, if necessary, allowing the edges to hang over the side of the dish just a little.

3. Whisk together the eggs and milk. Stir in half of the cheese and season with salt and pepper. Pour 3/4 of the egg mixture over the bread and set the rest of the egg mixture aside.



4. Break off the stem ends of the asparagus where each one snaps naturally. If desired, peel the bottom half of each spear and cut the spears into 1 1/2-inch lengths.



5. Layer the prosciutto or mortadella, if using, on the bread. Place the asparagus spears on top and pour the remaining egg mixture over the asparagus. Sprinkle with the rest of the cheese. At this point, if you have the time, we strongly encourage you to cover the strata with plastic wrap and refrigerate it overnight.

6. Bake the strata just until set, 30 to 35 minutes. (If you refrigerated the strata overnight, you may need to allow a few extra minutes of baking time.) 

Let the strata cool slightly. Grind a little pepper over the top, if you please, and sprinkle with chives, if using. Serve the strata straight from the dish.
Egg and Cheese Strata Recipe © 2011 Sarah Copeland. Photo © 2011 Sara Remington. All rights reserved.
If you make this recipe, snap a photo and hashtag it #LeitesCulinaria. We'd love to see your creations on Instagram, Facebook, and Twitter.