My cousin Leif is a Guinness fan and is always willing to split a pint of creamy stout. One cold spring evening, he and I got the idea to make a Guinness sauce for cowboy steaks. Luckily, the sauce used only half a cup of the beer, and Leif was more than happy to finish the pint.
The steak was a rib eye on the trimmed bone, the cut that old-time butchers call a cowboy steak. You can pick it up by the bone and feel like Fred Flintstone, but it's a lot of meat. Leif and I like to think we're pretty tough, but these steaks were too much for each of us to handle for dinner and could feed two or three noncowboys apiece. There was steak and eggs for breakfast the next morning.–Ian Knauer
LC Morning After Cowboy Steaks Note
True, these cowboy steaks constitute pretty sizable steaks, though we're not going to complain about having leftovers. Actually, we don't think we've ever bellyached about such an extravagance as morning-after rib eye. Have you? (And if you have, for shame!) Speaking of leftovers, it's such a shame the recipe calls for only half a cup of stout. What, oh what, to do with the rest of the bottle?!
Cowboy Steaks
Quick Glance
20 M
1 H

Serves 6 (or 4 cowboys)
Print Recipe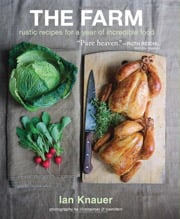 Ingredients
Two (2- to 2 1/2-pound) bone-in rib eye steaks (preferably 2 to 2 1/2 inches or 5 to 6 cm thick)

2 teaspoons kosher salt

1 teaspoon black pepper

1 tablespoon extra-virgin olive oil

1 large shallot, thinly sliced

2 garlic cloves, finely chopped

1 tablespoon store-bought or homemade tomato paste

1/2 cup Guinness or other Irish stout

1/2 cup beef stock

1 tablespoon Worcestershire sauce

4 tablespoons unsalted butter (2 oz)
Directions
1. Preheat the oven to 400°F (204°C).

2. Season the steaks with the salt and pepper. Heat the oil in a large, heavy, ovenproof cast-iron skillet over medium-high heat until it shimmers. Sear the steaks until browned on both sides, then turn the steaks on the fatty edge, opposite the bone, and sear until browned. This searing and turning should take 6 or so minutes total. If the skillet seems crowded with both steaks, sear them in batches, draining the fat in between steaks.

3. Transfer the skillet containing the steaks to the oven until the steaks register 110°F (43°C) in the center with an instant-read thermometer for medium-rare. This will take at least 20 minutes for a steak that's 2 to 2 1/2 inches and 30 minutes or more if your steak is thicker. [For medium, leave the steaks in the oven for another 5 minutes, or until they reach 115°F (46°C).] Transfer the steaks to a cutting board and let them rest for at least 10 minutes.

4. While the steaks rest, pour off all but 2 tablespoons of the luscious pan juices from the skillet, then add the shallot and garlic and cook over medium heat, stirring, until the garlic is golden brown, about 2 minutes. Add the tomato paste and cook, stirring constantly, until the paste starts to brown, about 1 minute. Add the Guinness and boil until the liquid is almost completely reduced to a syrup, about 2 minutes. Add the stock and Worcestershire sauce, then boil until the liquid is reduced by about half, 2 to 3 minutes. Remove the skillet from the heat and whisk in the butter until it's incorporated into the sauce.

5. Serve the steaks with the Guinness sauce on the side.
Cowboy Steaks Recipe © 2012 Ian Knauer. Photo © 2012 Christopher Hirsheimer. All rights reserved. All recipes and photos used with permission of the publisher.
If you make this recipe, snap a photo and hashtag it #LeitesCulinaria. We'd love to see your creations on Instagram, Facebook, and Twitter.