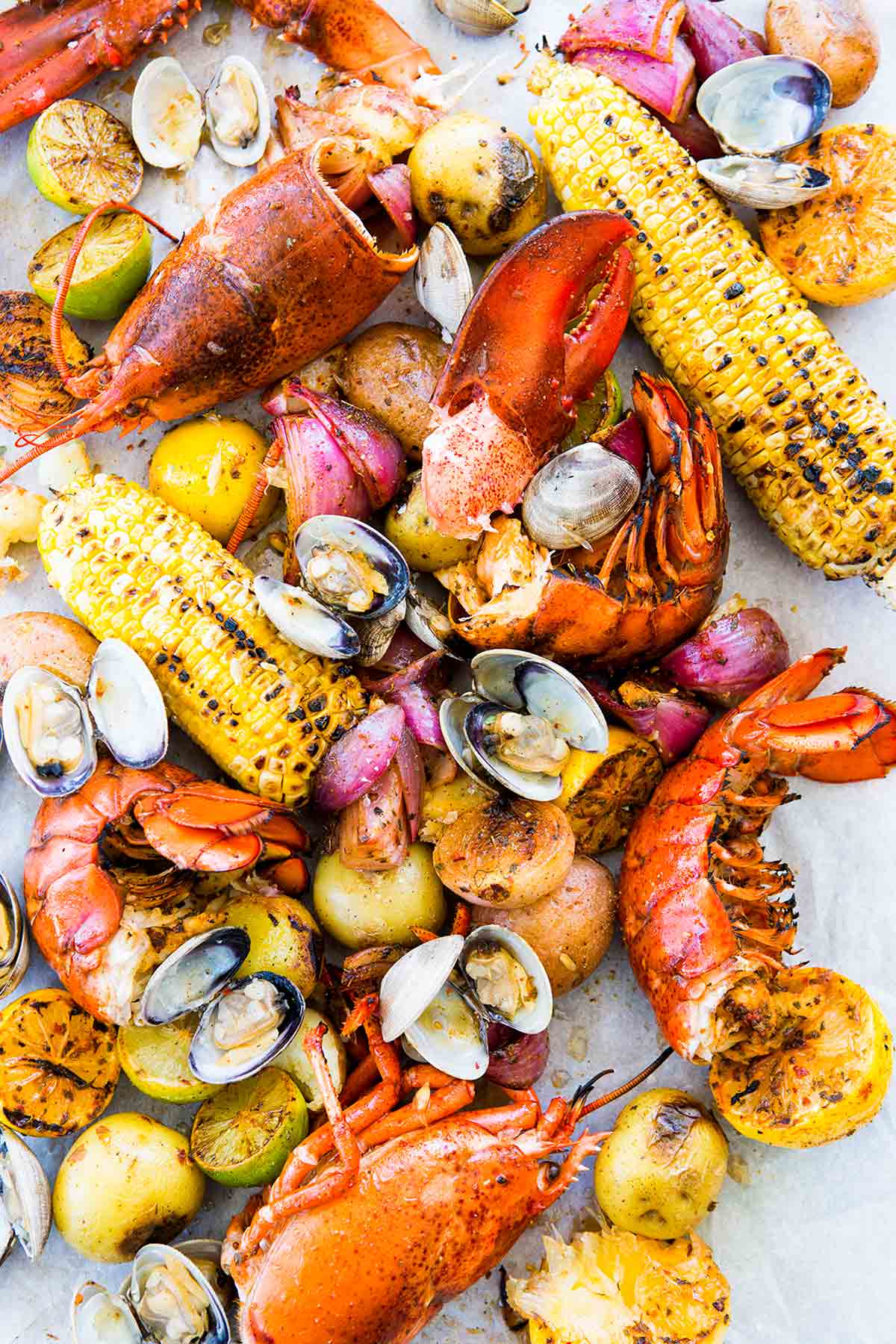 The only problem with a New England clambake? It's exclusively available to those in New England. Until now. This spectacularly land-loving approach to a clambake works its magic on the stovetop instead of over an open fire yet still gets you pretty darn close to feeling sand between your toes.–David Leite
Clambake FAQs
How do you prepare clams for cooking?
Fresh clams usually just need a quick scrub under cold running water to remove any sand or dirt. If they are extremely sandy, use a small brush to clean them. Discard any clams that don't close when tapped or any with cracked shells.
What should I serve with this clambake?
Everything you need for a complete meal is already in the pot, however, a loaf or two of crusty bread is an absolute must for sopping up excess juices. To drink, cold beer or a crisp white wine would pair nicely.
New England Clambake
This New England clambake, made with clams, lobster, Old Bay, sweet corn, and potatoes, is a summer classic that's easy to make at home. No sand or surf required.
Ingredients
1

cup

cold water

2

cups

dry white wine

2 1/2

tablespoons

store-bought or homemade Old Bay Seasoning

1

teaspoon

coarse sea salt

4

garlic cloves

,

smashed

1

red onion

,

roughly chopped

2

pounds

new potatoes

,

halved

Two

(1 1/2-to 2-pound)

lobsters

2

dozen

steamer clams or Manila clams

4

ears fresh corn

,

cut into quarters

Small bunch

tarragon or flat-leaf parsley

,

roughly chopped

2

sticks

unsalted butter

,

melted

Crusty bread

6

lemons

,

halved or cut into wedges
Instructions
In a ginormous pot, bring the water, wine, Old Bay, salt, and garlic to a boil.

Toss the onion and potatoes in the pot, cover, and cook over medium-high heat for 15 minutes.

Nestle the lobsters on the onion and potatoes, cover the pot again, and cook for 3 minutes.

Add the clams and corn and continue to cook, still covered, until the clams have opened, 8 to 10 minutes.

☞ TESTER TIP: If you happen to be doing your clambake in a pot that's set on a rack over an open gril, go ahead and instead toss the corn and the cut lemon directly on the rack to impart a slight smokiness to the final dish.

Carefully remove the pot from the heat and drain the cooking liquid. Remove and discard any clams that haven't opened.

Tip the contents of the pot onto a table lined with newspaper or butcher paper or transfer to a large platter. (If your guests can't be trusted to be amicable about splitting the lobsters, you may wish to cut each one in half prior to serving.)

Sprinkle everything with the herbs and set out small bowls of melted butter along with some crusty bread and lemon wedges and dishes or small buckets so folks have a place to toss the spent shells. Don't forget gobs of napkins.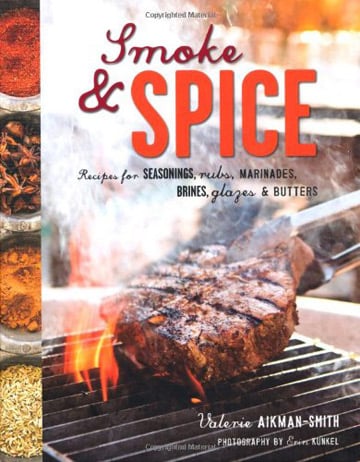 Nutrition
Serving:
1
portion
Calories:
826
kcal
Carbohydrates:
80
g
Protein:
11
g
Fat:
48
g
Saturated Fat:
30
g
Polyunsaturated Fat:
2
g
Monounsaturated Fat:
12
g
Trans Fat:
2
g
Cholesterol:
122
mg
Sodium:
632
mg
Potassium:
1590
mg
Fiber:
12
g
Sugar:
14
g
Vitamin A:
1689
IU
Vitamin C:
140
mg
Calcium:
134
mg
Iron:
5
mg
Nutrition information is automatically calculated, so should only be used as an approximation.
Recipe © 2013 Valerie Aikman-Smith. Photo © 2013 Erin Kunkel. All rights reserved.
---
Recipe Testers' Reviews
Oh my STARS, we had fun with this New England clambake! None of us knew what a traditional clambake might look like as our cooking and tasing team included a 9-year-old, our friend who's a chef from Thailand, and me, who's never been part of an East Coast clam event.
We started with the homemade version of Old Bay Seasoning—easy, fun, interesting, and a great project. We plan to give some as a gift. We bought fresh Manila clams at our favorite local spot (The Jolly Oyster in Ventura Beach) and ran home to prepare the feast. The entire meal was ready in less than 30 minutes.
We all sat outside and—per the instructions—I dumped the meal onto newspapers. Then we had ourselves a mighty fine feast! The experience was a 10, the flavors a 9.
Now that I'm in the know, I'd include much more tarragon—many tablespoonfuls. All in all, delicious, and so much fun to serve to 2 of my most discriminating—and delightful—tasters!
Such a genius alternative when cooking at the beach isn't an option. We had a few friends over and enjoyed a warm evening and a pot of fresh shellfish in our own backyard. Small pails around the table are great to discard the shells in.
Regarding the lobster cooking time, I was skeptical and didn't want to risk overcooking the lobster. But I added the lobster on top of the potatoes and onions about 3 minutes before scattering the clams on top, as directed. Along with littleneck and cherrystone clams, I added 2 dozen mussels. The clams and mussels were open in 8 minutes. The lobster was cooked perfectly.
Split the lobsters before serving so each person will get 1/2 or serve 1 lobster per person. I feel 1 to 2 cups white wine would be quite sufficient.
I was very pleasantly surprised by this New England clambake.
Instead of trying to find a lobster, we doubled the amount of clams to 4 dozen. We found extremely fresh Manila clams for this recipe. I am not sure how someone would think that 48 small clams will feed 4 to 6 people. That is beyond optimistic. There were 3 of us, and those 48 clams just upped and disappeared before we knew it.
Now, the 2 pounds of baby potatoes was a lot for the 3 of us. I can see that amount feeding 4 to 6 people. We did have some potatoes left over, as well as 3 pieces of the quartered corn. I cut the corn off of the cob, cut the potatoes into chunks, and made a very nice hash the next day.
Our friend thought that sausage might be nice addition to the dish. I would think that chouriço, linguiça, or dry-cured smoked Spanish chorizo, like David uses in his cataplana recipe would be wonderful.