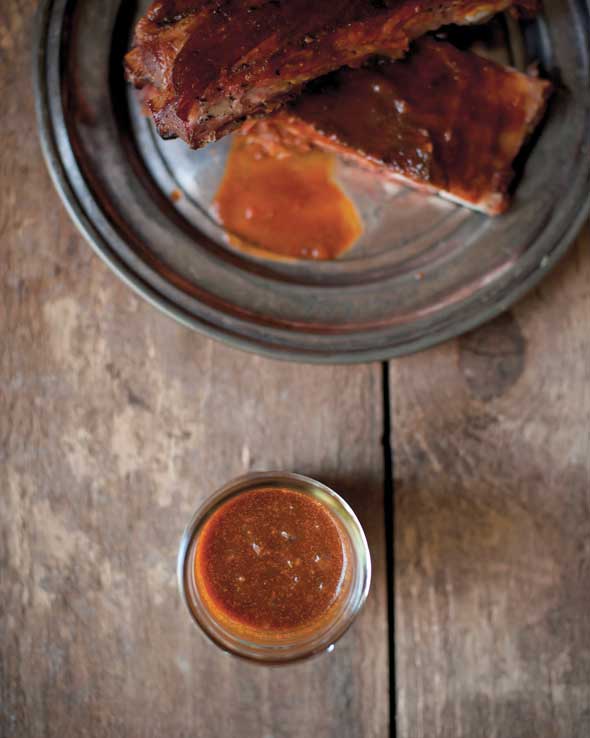 We've spent years testing Texas-style barbecue sauces, and this tomato-based version is our favorite by far. We keep the spices mild, but the depth of flavor is no less intense.–Matthew McCarry and Stacy Toth
LC A Sauce For Cowboys Note
Most cowboys we've known have been from Texas. They've also been men of few words. In keeping with this tradition, we see no need to blather on and on about how ridiculously smooth and earthy and complex this simple barbecue sauce is or how it can anoint all manner of meats and seafood, whether spare ribs or pulled pork or grilled chicken or salmon fillets or, well, ahem, you get the idea. Tasting is believing. And moms and dads, this sauce is blissfully slightly sweet without hardly any heat, and it's been kid-approved time and again in our kitchens.
Texas Barbecue Sauce
Quick Glance
20 M
1 H, 50 M

Makes about 2 1/2 cups
Print Recipe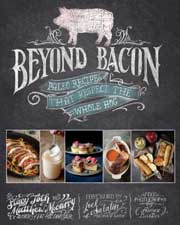 Ingredients
1/4 cup lard

1/2 cup diced yellow onions

3 garlic cloves, minced

1/2 cup diced celery

1 cup natural ketchup (rely on a sugar-free ketchup if you do that Paleo thing)

1/2 cup apple cider vinegar

1 cup cold water

1/4 cup Worcestershire sauce

1 teaspoon freshly ground black pepper

1 tablespoon chili powder
Directions
1. In a saucepan, melt the lard over medium heat. Add the onions, garlic, and celery, and cook until softened. Add the ketchup, vinegar, water, Worcestershire, and black pepper, and continue to simmer for about 30 minutes.

2. In a small bowl, combine a few tablespoons sauce with the chili powder until smooth. Add this mixture to the rest of the sauce in the pan and stir to combine. Remove the pan from the heat and let the sauce stand for 1 hour.

3. Okay, that's it. You're done. The slightly chunky sauce is nice as is, but for a more traditional consistency, purée it in a blender or with an immersion blender. You should have about 2 1/2 cups or enough for 10 to 12 servings. This sauce is best served warm or at room temperature, but it stores really well refrigerated in an airtight container.
Recipe Testers Reviews

"Really, really good!" That was my 12-year-old nephew's assessment after he demolished a rack of baby back ribs doused with this barbecue sauce. Just a few minutes prior, my nephew had asked me to "not glop on the sauce," as he had yet to try the sauce. But at the table, he was slathering crazy amounts of this sauce on each rib. My husband nodded his agreement at my nephew's proclamation, his mouth still full of ribs. I understand why. The sauce has a velvety texture from the lard and a remarkably cohesive and complex taste despite the fact that it calls for just a few everyday ingredients. I was particularly grateful that the recipe had kid appeal even though the only sugar of any sort comes from the ketchup—and I was careful to use natural ketchup without any high-fructose corn syrup. I also used ground ancho chili powder rather than standard supermarket chili powder. Since then, I've made this numerous times, once with standard chili powder and we prefer the more mellow heat of ancho. I've also taken to using bacon drippings in place of lard just because it's economical and we always have it on hand for barbecue sauce emergencies, of which there've been a few since this recipe landed in our laps.

I chose to make this recipe because my entire family loves barbecue pork. This BBQ Sauce recipe was a HUGE hit! Even my 4-year-old grandson loved the meat! Super easy and quick, about 20 minutes to prep. The sauce was a perfect match with ribs. All the rich, earthy flavors went so well together!! Everyone ate everything on their plates and even wanted more.

We served this sauce with the Smoked Spare Ribs. The sauce was nice and chunky with deep flavors that perfectly complemented the ribs. I think 1/4 cup lard is more than is actually needed; two tablespoons would probably be just right. While the sauce was simmering, it appeared to be quite oily and I skimmed about 2 tablespoons oil from the top of the sauce. There was still some oil left on top, but it seemed to incorporate into the sauce as the sauce rested.
Texas Barbecue Sauce Recipe © 2013 Matthew McCarry and Stacy Toth. Photo © 2013 Aimee Buxton. All rights reserved. All recipes and photos used with permission of the publisher.
If you make this recipe, snap a photo and hashtag it #LeitesCulinaria. We'd love to see your creations on Instagram, Facebook, and Twitter.