Mashed cauliflower along with raw cauliflower "couscous" made with preserved lemons, mint, and pistachio provide a perfect accompaniment to slightly sweet sea bream. A health-conscious dish packed to the brim with flavor.–Maria Elia
LC Caped Carb Crusader Note
To some of us, cauliflower has always been cool. As in, not just tolerable, but crazy versatile to the nth degree, witnessed by this surprisingly stunning supper in which it figures as a caped carb crusader in both a smooth, creamy mash and a crunchy, easy salad. Forget paleo power. This is sheer cauliflower power. (Although if paleo power is what you seek, nix the mash, as it contains dairy, which is verboten for paleo proponents.)
Pan-Fried Fish with Cauliflower
Quick Glance
40 M
1 H, 50 M

Serves 4
Print Recipe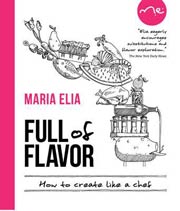 Ingredients
For the raw cauliflower "couscous"

1/2 cup pistachios, shelled

1/2 medium head cauliflower, cut into florets

Juice of 1 medium lemon, plus more to taste

2 tablespoons extra-virgin olive oil, plus more to taste

1/4 cup mint leaves, finely chopped, or to taste

1 preserved lemon, cut into quarters, flesh removed, washed, and finely chopped

Sea salt, to taste

For the cauliflower purée

1/2 medium head cauliflower, cut into small florets

1 cup whole or 2% milk

Pinch sea salt, plus more to taste

2 tablespoons (1 ounce) unsalted butter, plus more to taste

1 tablespoon fresh lemon juice

For the fish

4 fillets sweet, mild white fish (such as sea bream, wild striped sea bass, flounder)

Sea salt

Glug olive oil, for frying

Extra-virgin olive oil, for garnish
Directions
Make the couscous

1. Place the pistachios in a food processor and pulse to a bread crumb-like texture. Pour them into a large bowl. Place half the cauliflower florets in the food processor and pulse until they're a couscous-like texture. Add to the pistachios and repeat with the remaining florets.

2. Add the lemon juice, olive oil, mint, and preserved lemon to the cauliflower mixture and stir to combine. Season with the salt and add more olive oil and lemon juice to taste, if desired. Refrigerate for at least 1 hour before serving to allow the flavors to meld.

Make the cauliflower purée

3. In a small saucepan, bring the cauliflower, milk, and salt to a boil. Simmer until the cauliflower is very tender, 3 to 5 minutes. Drain the cauliflower, reserving the milk. Place the cauliflower in a blender, add the butter and lemon juice, and process until smooth, adding a little reserved milk if necessary to attain a purée. Season with salt and add more butter to taste, if desired. Cover to keep warm while you cook the fish.

Fry the fish

4. Pat the fish dry and season on both sides with salt. Heat the glug of olive oil—just enough to coat the surface—in 1 or 2 large skillets over medium heat. Place the fish in the skillet, skin side down (or, if the fish has no skin, the side that had the skin), until crisp and golden, about 2 minutes. Flip the fish and continue to cook until the fish is opaque throughout, another 2 to 3 minutes, depending on the size of the fish.

5. To assemble, place a dollop cauliflower purée on each plate, top with cauliflower couscous, and place a fish fillet, skin side up, alongside. Drizzle with extra-virgin olive oil as a garnish.
Couscous variation
Try adding some soaked golden raisins or chopped Medjool dates and a pinch cumin to the couscous.
Pan-Fried Fish with Cauliflower Recipe © 2013 Maria Elia. Photo © 2013 Jonathan Gregson. All rights reserved. All recipes and photos used with permission of the publisher.
If you make this recipe, snap a photo and hashtag it #LeitesCulinaria. We'd love to see your creations on Instagram, Facebook, and Twitter.