Preserved lemons, sold loose in the souks, or markets, are one of the indispensable ingredients of Moroccan cooking and used in fragrant lamb and vegetable tagines as well as in recipes for chicken with olives. Their unique pickled taste and silken texture cannot be duplicated with fresh lemon or lime juice, despite what some food writers have said. In Morocco, they are made with a mixture of fragrant-skinned doqq and tart boussera lemons, but I have had excellent luck with American lemons from Florida and California. If available, use Meyer lemons.
The important thing in preserving lemons is to be certain they are completely covered with salted lemon juice. With my recipe you can use the lemon juice over and over again. (As a matter of fact, I keep a jar of used pickling juice in the kitchen, and when I make Bloody Marys or salad dressings and have a half lemon left over, I toss it into the jar and let it marinate with the rest.) Sometimes you will see a sort of lacy, white substance clinging to preserved lemons in their jar; it is perfectly harmless, but should be rinsed off for aesthetic reasons just before the lemons are used. Preserved lemons are rinsed, in any case, before using to rid them of their salty taste. Cook with the thick peels and marinate with the pulp. Thin-skinned lemon peels are best reserved as a garnish.
–Paula Wolfert
Preserved Lemons
There's no need to pay a premium for preserved lemons at the store when they're this easy to make yourself.
Ingredients
5

lemons

,

preferably organic

1/4

cup

non-iodized salt

,

more if desired

Fresh lemon juice

,

if necessary
Instructions
Using a paring knife, quarter the lemons lengthwise, starting at the top and slicing to within 1/2-inch of the bottom. Sprinkle salt all over the exposed flesh of each lemon, and then reshape the fruit. Place 1 tablespoon salt on the bottom of a sterilized 1-pint mason jar.

☞ TESTER TIP: If your lemons are thick-skinned, notes Paula Wolfert, you can soften them by first soaking them in lukewarm water for 3 days, changing the water daily. (If only that trick worked with the trickily thick-skinned people in our lives!)

Pack the lemons in the jar and push them down, adding more salt and lemon juice, if needed. You'll need to press down on the lemons to release their juices and make room for the remaining lemons. (If the juice released from the squashed fruit does not cover the lemons, add enough fresh lemon juice—not chemically produced lemon juice or water—to cover.) Leave some space at the top of the jar before sealing.

Set the jars aside in a dark place and let the lemons ripen for 30 days, shaking the jar often to distribute the salt and juice. They are now ready to use.

Use a clean spoon to fish out a lemon as needed. Don't stick your fingers in the jar. Rinse the lemon under cool running water. Remove and discard the pulp, if desired, and thinly slice or chop as desired. You can also use the preserved lemon juice to flavor vinaigrettes, cocktailspan sauces, and more. Originally published January 4, 2014.
Notes
PRESSURE COOKER PRESERVED LEMONS VARIATION
Need preserved lemons in a hurry (like, say, for this

North African Chicken Soup)? Forget about waiting a month with this pressure cooker variation, which yields what we like to call "pressured lemons." Quarter 4 lemons, starting at the top and slicing to within 1/2 inch of the bottom. Toss them in your pressure cooker along with 1/2 teaspoon salt, a pinch of saffron threads, a pinch of granulated sugar, and 2 cups water. Cover the pressure cooker with its lid and seal according to manufacturer's directions. Bring to high pressure over high heat, then adjust the heat to medium or whatever level is needed to maintain high pressure. Cook for 4 minutes. Remove the pot from the heat and allow the pressure cooker to depressurize but do not take off the lid. (The cooling process will decrease the pressure naturally, which ought to take about 20 minutes. Alternatively, you can place the pot under cold running water to release the pressure.) Once the pot has fully depressurized, remove the lid and partake of your pressured, or preserved, lemons.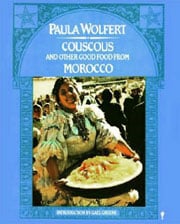 Adapted From
Couscous and Other Good Food from Morocco
Buy On Amazon
Nutrition
Serving:
1
portion
Calories:
31
kcal
Carbohydrates:
10
g
Protein:
1
g
Fat:
0.3
g
Saturated Fat:
0.04
g
Polyunsaturated Fat:
0.1
g
Monounsaturated Fat:
0.01
g
Sodium:
5661
mg
Potassium:
150
mg
Fiber:
3
g
Sugar:
3
g
Vitamin A:
24
IU
Vitamin C:
57
mg
Calcium:
32
mg
Iron:
1
mg
Nutrition information is automatically calculated, so should only be used as an approximation.
Recipe © 1973 Paula Wolfert. Photo © 2021 Daria Mladenovic. All rights reserved.
---
Recipe Testers' Reviews
Got 5 lemons and salt? If so, you practically have preserved lemons. The lemons do all the work. All you have to do is take a few minutes to add salt and lemon juice.
Preserved lemons are special things. They add such wondrous, exotic flavor to whatever they're in. This recipe is the simplest one I've tried. You have to let them "ripen" in the jar for a month, but they're so worth the valuable real estate that is the coveted top shelf of the fridge. Just don't forget about them. Usually when I make preserved lemons, I add bay leaves and peppercorns, and while I prefer that flavor, this recipe is just about the lemons—and that's just fine with me!
I made the pressure cooker variation of this preserved lemons recipe, and it came together really quickly. I also reduced the pickling liquid in the pressure cooker by boiling it on high until I had a nice, thick, honey-like consistency. Yum!