According to Daniel Leader, just about every bakery in Germany offers Berliners (which, if my recent trip to Baden-Baden is any indication, he's absolutely right about). Berliners are almost identical to American jelly doughnuts, but they call for a leaner and less sweet dough. He finds them to have a cleaner taste as a result. Daniel suggests when you make these Berliner doughnuts that you use either homemade preserves or the best-quality local jam you can find. He also suggests puréeing your jam in a food processor if it's super chunky so it'll easily pass through the tip of a pastry bag and into the doughnut.–David Leite
Do I HAVE To Use Raspberry Jam?
Raspberry jam may be the most expected filling for these fried little lovelies. But we gotta say, we're sorta eager to try them with our knee-wobblingly sweet-tart rhubarb jam. Or our seasonally summery apricot jam. Heck, maybe even our puckery blood orange marmalade. Really, the only requisite you need to deem a particular preserve fit for these Berliners is if you want that jelly in your belly.
Berliners | Jelly Doughnuts
Berliners, or jelly doughnuts, are like American jelly-filled donuts but are a little less sweet. They're traditionally filled with raspberry jam and originate in—where else?—Germany. Delicious hot straight from the fryer.
Equipment
candy or deep-fry thermometer, pastry bag fitted with a large plain tip
Ingredients
4

cups

unbleached all-purpose flour

,

plus more for the work surface

1/3

cup

granulated sugar

,

plus more for coating

1

tablespoon plus 1 1/2 teaspoons

instant yeast

3/4

teaspoon

fine sea salt or kosher salt

1

cup

room-temperature milk

,

(70°F to 78°F/20°C to 26°C)

5

tablespoons

unsalted butter

,

at room temperature, beaten

2

large

eggs

2

large

egg yolks

1

teaspoon

freshly grated lemon zest

,

preferably organic

2

teaspoons

vanilla extract

Vegetable oil

,

for the bowl, the baking sheet, and for frying

6

tablespoons

raspberry jam
Instructions
Dump the flour, sugar, yeast, salt, milk, butter, eggs, egg yolks, lemon zest, and vanilla in the bowl of a standing mixer fitted with the paddle attachment. (The hook isn't needed here since this is a rather loose batter.) Mix on low speed until smooth, 8 to 10 minutes. It may be necessary to add a touch more flour to form a smooth dough.

Turn the dough into a lightly oiled bowl, cover with plastic wrap, and let stand at room temperature until double in size, about 1 hour.

Line a rimmed baking sheet with parchment paper or waxed paper and lightly brush the paper with oil. Turn the dough onto a lightly floured countertop and divide it into 16 equal pieces. (Resist the temptation to make larger doughnuts as they'll be tricky to fry properly until the inside gets cooked thoroughly before the outside is overdone.) Shape each piece into a round and then flatten it slightly between the palms of your hands. Place each round, seam side down, on the oiled paper. Let stand uncovered at room temperature until double in size about 1 hour.

Pour enough oil into a deep pot to reach a depth of 3 inches. Attach a candy or deep-fry thermometer to the side of the pot and heat the oil over medium heat until it registers 350°F (177°C). Line a large platter or baking sheet with several layers of paper towels. Dump some more sugar for coating the doughnuts on a plate or in a large brown paper bag.

Place a few of the doughnuts in the hot oil, being careful not to crowd them. Fry until golden brown on one side, about 1 minute. Turn and continue to fry until the other side is golden, 1 to 2 minutes. (Don't worry if there's a line of light-colored dough around the perimeter of each Berliner. This is the "soft spot" where you'll insert the tip of a pastry bag to pipe in some jam.) Drain the cooked Berliners on the paper towels, roll them in the sugar while still hot, and repeat with the remaining dough, keeping an eye on the thermometer to make sure the oil stays at a steady 350°F (177°C), adjusting the heat as necessary.

To fill the still-hot Berliners, place the jam in a bowl and stir it thoroughly so that there are no lumps. (If it's particularly chunky, you may want to purée it in a food processor.) Scrape it into a pastry bag fitted with a large plain tip. Insert the tip into the soft spot of each Berliner and squeeze about 1 teaspoon jam into the center of each doughnut. Serve immediately. (As if you could resist!)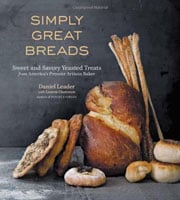 Nutrition
Serving:
1
berliner
Calories:
209
kcal
Carbohydrates:
34
g
Protein:
5
g
Fat:
6
g
Saturated Fat:
3
g
Polyunsaturated Fat:
1
g
Monounsaturated Fat:
2
g
Trans Fat:
1
g
Cholesterol:
57
mg
Sodium:
129
mg
Potassium:
75
mg
Fiber:
1
g
Sugar:
9
g
Vitamin A:
199
IU
Vitamin C:
1
mg
Calcium:
31
mg
Iron:
2
mg
Nutrition information is automatically calculated, so should only be used as an approximation.
Recipe © 2011 Daniel Leader. Photo © 2011 Ditte Isager. All rights reserved.
---
Recipe Testers' Reviews
Let me just say that I love jelly doughnuts. To have the ability to make them at home was just too good to pass up. Looking for a recipe that's easy and not a lot of work? This is the one.
I followed it exactly and was able to make 14 of the best jelly doughnuts I've ever had. These are almost a cross between a bread and doughnut, with more texture and flavor with a lot less air. I found them to have a denser consistency than most American doughnuts but at the same time I found them very appealing. I can easily see how these could be stuffed with any jam as long as it's smooth in texture.
I served these to friends at a meeting and everyone asked where I bought them, saying "these are incredible." I sprinkled confectioners' sugar on top, but would experiment a little with different toppings such as melted chocolate or a glaze. These are best if eaten when they're made, but can be stored in a covered container and reheated in the oven for a few minutes to restore them. I found they lasted 3 days—but after that they were gone. The thief—my son and taster—said they were "awesome."
These truly are the perfect jelly doughnuts. This recipe is indeed The One, so if, like me, you adore fried dough, look no further. These Berliners are so perfect that I don't need any other fried dough recipes as these also make great doughnut holes.
I used heavy cream instead of milk and I filled the doughnuts with homemade jam. I'll eventually fill these outrageously wonderful jelly doughnuts with confectioners' cream and maybe some chocolate pudding. My only suggestion is to resist the temptation to make these doughnuts too large or you'll run the risk of not having them cooked through in the center. Finally, as you fill them, you'll feel them puff up. Pull the tip out slowly while still pushing the jelly in.
I love jelly doughnuts. Yes, I do. It's one of those food stuffs, like fried chicken, that's defined by—and often defines—a region. I was drawn to this recipe because I needed to know what a German-style Berliner doughnut tasted like. I just had to. I realized Berliners must be the father of our American jelly doughnuts. These doughnuts are fluffy, not too sweet, and won-der-ful. The only difference I could detect in the German version was the wonderful permeation of the lemon zest, which is—holy Toledo—the bomb.
Some testing notes: Watch that oil temperature, ladies and gents. It will skyrocket if you don't manage it carefully. Be patient and know when to wait for the oil to cool back to the proper temperature before continuing. I'd use a low flame to maintain the temperature while the doughnuts bob around. I'd also cook them a little darker then golden brown, just to make sure the center is cooked seeing as I got a raw one in my first batch. The size of the doughnut from this recipe is comparable to an American portion, more then three bites. Depending on your mood, you might want to increase the yield and make smaller ones. I personally like a two-big-biter. Enjoy!