Rhubarb jam is easy to make at home. All you need is rhubarb, sugar, lemon, water and just one hour. Pink never seemed so pretty—or so simple. A great way to savor spring.
This rhubarb jam perplexes us. In the best possible way. It tastes far lovelier than you would ever imagine something that comes from a plant with gangly stalks and floppy leaves. It's also ridiculously easier to make than we'd ever thought, so if you're tempted—or at the very least curious—about putting up your own preserves, then, dear reader, this is the recipe for you. These pretty preserves call for just four ingredients and an occasional stir—no prior canning experience required. The jam is essentially foolproof and the carefully worded instructions are a godsend. Canning beginners, you may want to take a peek below at the Canning 101, which consists of even more of the author's simple and carefully explained techniques, tactics, and tricks. More experienced canners, you won't want to miss this, either, as you never know what you may learn. Originally published May 2, 2012.–Amy Pennington
Easy Rhubarb Jam
Quick Glance
45 M
2 H

Makes about 5 pints
Special Equipment: Canning jars and lids
Print Recipe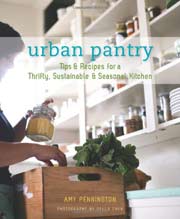 Ingredients
4 pounds rhubarb, trimmed, rinsed, and cut into small chunks

4 cups sugar

1 1/2 cups water

1 lemon, halved and juiced, seeds reserved in a cheesecloth pouch or tea ball
Directions
1. Sterilize the jars and lids for canning by boiling them. Place a small plate in the freezer.

2. Place the rhubarb, sugar, water, and lemon juice, spent lemon halves, and lemon seeds (they provide the necessary pectin) in a large bowl and set aside at room temperature for 1 hour. (If you want to make your life a little easier later on, put the lemon seeds in a tea ball or tie them up in cheesecloth to make for simple retrieval after while.)

3. After 1 hour, dump the rhubarb mixture in the bowl into a pot and bring to a boil over medium-high heat. Continue to cook, stirring the jam constantly, for about 15 minutes. Skim any foam from the surface of the jam as it cooks.

4. After 15 minutes, drop the heat to medium. You want to keep the jam at a constant simmer, stirring frequently, to make sure the jam isn't scorched at the bottom of the pot. After a total of 30 minutes, check to see if your jam has set by placing a small spoonful of jam on the plate from the freezer. The jam is set when it holds its shape on the cool plate. If it seems loose, continue cooking over medium-low heat until set.

5. Remove the lemon halves and seed bag and toss them in the trash or, preferably, in the compost. Place the jam in sterilized jars, filling them to the bottom-most ring. Gently tap the bottom of each jar on the counter to release any air bubbles. Using a damp clean towel, wipe the rims of the jars and secure the lids and rings. Process in a water bath for 5 minutes if using pint jars, 10 minutes if using quart jars. Remove the containers with tongs and let cool on the counter. When the jam is cool, remove the metal rings, check for proper seals, and label with the date and contents. Store in a cool, dark cupboard until ready to use for up to 1 year.
Canning 101
Preparing Jars
Be sure to set up your jars and workspace before making the jam so you can establish a rhythm. Wash your jars and lids in hot soapy water and set them to dry completely on a rack or on a clean dish towel. Sterilize jars by placing them in a canning pot, filling it with water, and bringing it to a simmer. Hold jars in water or in a 225° F (107°C) oven until ready to use. (This latter oven trick is not recommended by the USDA, but I'm still alive to give you the option.)
Filling Jars
All canned goods need headspace to allow for expansion of the food and to create a vacuum in cooling jars. As a general rule, leave 1/4 inch of headspace on all jams and jellies. When placing lids and rings on canning jars, do not overtighten the rings. Secure just until rings have tension and feel snug. Overtightening will not allow for air to vent from the jars—a crucial step in canning.
Processing Jars
Fill a canning pot or a deep stock pot half full of water and bring to a low boil. Hold the liquid at a very low boil until ready to use. If using a canning pot, place prepared jars of food on the rack in the canner. If using a deep stock pot, best only for small-batch preserving, line the bottom of the pot with a dish towel and place jars on top. This helps them from clanging around on the bottom of the pot or tumbling over onto their sides. This form of canning is not universally recommended or endorsed by the USDA, although I have seen plenty of farmers and European country folk use this old-school technique, and I've adapted their laissez-faire ways. Do not stack the jars, as you need to allow for the circulation of water for proper sealing. Lower jars into the pot and add enough hot water to cover the jar tops by an inch or more. Cover the pot and return to a boil. Processing times begin once the canning pot water is brought back to the boil. This can take as long as 15 minutes, so be sure to keep an eye on your pot and a timer nearby.
Removing Jars
Using a jar lifter or a set of kitchen tongs, remove jars from the canner when the processing time has elapsed. Set them aside on a folded towel to cool. Make sure you do not press on the tops and create an artificial seal.
Knowing When Jars are Properly Sealed
You'll hear the sound of can tops popping shortly—a sign that a secure seal has been made. Once the jars are cool, check the seal by removing the outer ring and lifting the jar by holding only the lid. If it stays intact, you have successfully canned your food. If the seal is loose or broken, you may reprocess in the water bath within 24 hours. Be sure to replace the lid and check the jar rim for cracks or nicks and replace if necessary. Alternatively, you can refrigerate the jar immediately and use within three weeks.
Easy Rhubarb Jam Recipe © 2010 Amy Pennington. Photo © 2010 Della Chen. All rights reserved. All recipes and photos used with permission of the publisher.
If you make this recipe, snap a photo and hashtag it #LeitesCulinaria. We'd love to see your creations on Instagram, Facebook, and Twitter.