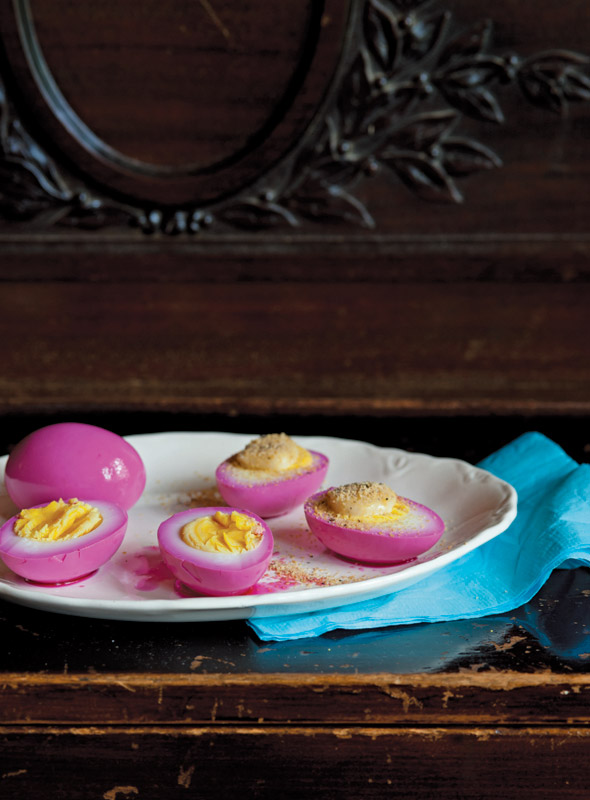 I've sat on barstools and eaten good pickled eggs and I've sat on barstools and eaten bad ones, and I've found that the condition of the barstool you're sitting on is a pretty good indicator of the quality of the eggs. Not to be a total snob, but if the seat is cracked or the stuffing is leaking out, you're probably going to want to ask for hot sauce.
At home I can make my eggs just the way I like them. I use farm-fresh eggs, a low-concentration pickling solution, plenty of whole spices, and a sliced beet to turn them hot magenta-pink. Distinguished with a cap of homemade honey-mustard mayonnaise and a sprinkling of fresh sweet-hot mustard dust (made by quickly pulverizing some yellow mustard seeds), these racy pink eggs are here to remind us of a good night at the bar, whether raucous or bittersweet or swinging in between.
The recipe makes 1 1/2 cups mayonnaise, about double what you need for this recipe, but it's difficult to make a smaller batch in a food processor. Besides, I find that the leftover honey-mustard mayonnaise makes an amazing addition to potato salad or egg salad. If you don't want to make homemade mayonnaise, however, you can always doctor store-bought mayo.–Amy Thielen
LC Pretty In Pink Note
If you're a pickled eggs virgin, you're in for something special. Kindly note, they're not always served with spiced mayo, as they are here. Or with a beer, as the author clearly prefers. They're also a fairly traditional accompaniment to Easter dinner, for what we think are obvious reasons. Talk about pretty in pink. Oh, and moms, what better thing to serve your little princess who will only deign to eat pink?!
Pickled Eggs
Quick Glance
25 M
45 M

Makes 12 pickled eggs
Print Recipe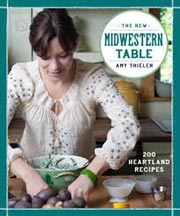 Ingredients
For the beet pickled eggs

1 medium red beet, unpeeled

1 1/3 cups apple cider vinegar

1/4 cup granulated sugar

1 teaspoon whole black peppercorns

5 small dried red chiles

One 3-inch cinnamon stick

1 teaspoon coriander seeds

3/4 teaspoon salt

12 large eggs

For the honey-mustard mayo (optional)

2 tablespoons yellow mustard seeds

1 large egg yolk

1 tablespoon fresh lemon juice

1 tablespoon cold water

1 cup canola oil

1/4 cup extra-virgin olive oil

1 1/2 tablespoons honey

1 teaspoon Dijon mustard

Fine sea salt and freshly ground black pepper, to taste
Directions
Make the beet pickled eggs

1. Wash and scrub the beet, trim and discard the ends, and slice the beet into 1/2-inch-thick rounds. Pour 3 cups cold water into a saucepan and add the beet, vinegar, sugar, peppercorns, chiles, cinnamon stick, coriander seeds, and salt. Bring to a simmer and cook for 10 minutes. Remove from the heat and let cool to room temperature. Pour the pickling liquid into a large storage container and refrigerate.

2. Place the eggs in a 2-quart saucepan and add enough water to cover by 1 inch. Bring the water to a gentle simmer, boil for 1 minute, remove from the heat, and leave the eggs in the water for 8 minutes. Drain the eggs, gently crack the shells against the side of the pan, and add enough cold water to cover them. Peel the eggs underwater, discarding the shells and adding the eggs to the cold pickling liquid. You want the storage container to be sufficiently narrow so that the eggs are submerged in the pickling liquid. Cover and refrigerate the eggs, letting them steep in the pickling liquid at least overnight and up to 7 days. (The longer you leave the eggs submerged in the pickling liquid, the flashier the hot pink color and the more pervasive it will be throughout the egg.)

Make the honey-mustard mayo (optional)

3. Pulverize the mustard seeds in a spice-devoted coffee grinder until finely ground but not powdery. In a food processor, combine the egg yolk, lemon juice, and water, and buzz to combine. With the machine running, begin to add the canola oil, drop by drop, until an emulsion forms. Then slowly add the rest of the canola oil, followed by the olive oil, pouring in a very thin but steady stream. Season with 4 teaspoons ground mustard seeds, the honey, the Dijon mustard, and salt and pepper to taste.

4. To serve the pickled eggs, blot them dry on paper towels, cut each one in half, and set on a platter (a deviled egg platter, if you have one). Dollop a small spoonful honey-mustard mayonnaise over the yolk of each egg, and, if desired, sprinkle generously with the remaining hot mustard dust—that is, the finely ground mustard seeds.
Pickled Eggs Recipe © 2013 Amy Thielen. Photo © 2013 Jennifer May. All rights reserved. All recipes and photos used with permission of the publisher.
If you make this recipe, snap a photo and hashtag it #LeitesCulinaria. We'd love to see your creations on Instagram, Facebook, and Twitter.