When I crave less meat and heavy food, and more vegetable-, fish- and grain-based dishes, this is one of the dishes I serve. I'm inspired by the food of the Middle and far East but also draw on cuisines from Georgia to Scandinavia. This vegetable fritter recipe is a favorite in the winter.–Diana Henry
Beet and Carrot Fritters with Yogurt Dill Sauce FAQs
What variations of these fritters can I make?
Greek Fritters—Add 7 ounces crumbled feta along with the salt and pepper.
Indian-Spiced Fritters—Add 1 chopped and seeded chile, 2 teaspoons ground cumin, 2 teaspoons ground ginger, and 1 teaspoon ground coriander to the onion before sautéing. Substitute cilantro for the dill.
What can I substitute for the peanut oil?
Peanut oil is perfect for frying but if you need to avoid it, there are alternatives. Sunflower, grapeseed, or canola oil all make great substitutes because of the similar smoke point.
How do I know when these fritters are cooked through?
The best way, you'll be happy to hear, is to taste one. You'll know from the taste whether they're cooked right through because the potato becomes sweet and soft. Go on, cut into one and take a nibble.
Beet and Carrot Fritters with Yogurt Dill Sauce
The beets give this beet and carrot fritters recipe an amazing color, but if you prefer something mellower in tone, use parsnips or butternut squash instead.
Ingredients
For the beet and carrot fritters
1 1/2

tablespoons

peanut oil

,

plus more as needed

4

ounces (1 to 1 1/2 cups)

finely chopped onion (about 1 small onion)

2

garlic cloves

,

crushed

5 1/2

ounces

potatoes (1 medium russet or 2 Yukon Gold)

7

ounces

carrots (about 3)

7

ounces

beets (about 1 large)

2

large

eggs

,

lightly beaten

Salt and freshly ground black pepper

,

to taste
For the sauce
1

cup

Greek yogurt

2

garlic cloves

,

crushed

1

tablespoon

extra-virgin olive oil

1

tablespoon

chopped feathery dill fronds

,

plus more for garnish
Instructions
Make the beet and carrot fritters
Heat 1/2 tablespoon peanut oil in a large nonstick skillet and gently sauté the onion until soft and translucent but not browned, 2 to 3 minutes. Add the garlic and cook for another 2 minutes. Dump everything into a bowl.

Coarsely grate the potatoes, carrots, and beets, keeping the piles of shredded vegetables separate. Put each pile, 1 at a time, in paper towels and squeeze out any excess moisture.

Toss the potatoes, carrots, and beets in a large bowl. Add the onion and garlic as well as the eggs and stir to combine. Season with salt and pepper.

Heat 1 tablespoon peanut oil in the skillet over medium to medium-low heat. Spoon mounds of the fritter mixture into the skillet to form fritters about 3 1/2 inches in diameter when gently pressed with the back of a spoon (we used 1/4 cup per fritter). You want the oil to sizzle a little, not splatter like crazy, when you plop the fritter mixture into the skillet.

Cook until a crust forms on the bottom of the fritters and turns golden brown. Then gently flip each fritter and cook it on the other side until a crust forms. (You best watch them carefully; don't overbrown the fritters or they'll burn on the outside before they are cooked through on the inside.)

After the crust is formed, reduce the heat and cook for 4 to 5 minutes on each side, or until the vegetables are cooked through. You can keep the cooked fritters in a low-temperature oven while you finish frying the others, adding more oil to the skillet if necessary.
Make the sauce
Mix all the ingredients together.
Serve the beet and carrot fritters
Sprinkle the fritters with more chopped dill and pass the yogurt sauce on the side.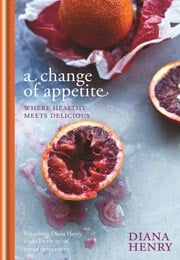 Nutrition
Serving:
1
portion
Calories:
230
kcal
Carbohydrates:
22
g
Protein:
11
g
Fat:
12
g
Saturated Fat:
2
g
Polyunsaturated Fat:
3
g
Monounsaturated Fat:
6
g
Trans Fat:
1
g
Cholesterol:
96
mg
Sodium:
131
mg
Potassium:
643
mg
Fiber:
4
g
Sugar:
9
g
Vitamin A:
8451
IU
Vitamin C:
16
mg
Calcium:
110
mg
Iron:
1
mg
Nutrition information is automatically calculated, so should only be used as an approximation.
Recipe © 2014 Diana Henry. Photo © 2014 Laura Edwards. All rights reserved.
---
Recipe Testers' Reviews
If you keep in mind that these beet and carrot fritters are not—IMHO–supposed to be as crisp as a potato fritter or deep-fried apple fritter, then these pancakes work very well. They deliver good texture and delicious flavor. The crust is a bit crisp, but loses that fairly quickly since the vegetables, even though they are patted dry, still contain a good bit of moisture. The dill yogurt sauce works great and transforms this into a very nice vegetarian dinner if you add a salad or maybe some quinoa on the side. I'd love to make them again.
I didn't bother keeping the piles of vegetables separate. I used paper towels to dry the veggies then tossed everything together. I suppose I might've gotten less color bleeding if I'd left them separate, but I don't think it's worth it. I did a taste test on a fritter to make sure it was cooked through. Again, these vegetables brown quickly, so a taste test is your best option. I do wonder if using cooked potatoes instead of raw ones might make these a bit better, but I never got around to trying this.
I don't think the sauce needs to be chilled, but it should be served cold. I made it an hour or so ahead of time and kept it in the fridge. The flavor was great. Just note, this is a pungent, garlicky sauce!
I was a bit surprised at how flavorful these beet and carrot fritters were. I honestly thought that the sauce would provide a majority of the flavor, but that wasn't the case.
After I grated the vegetables, I used a double layer of paper towels for each vegetable. There is an AMAZING amount of water in all of these. I was really surprised. I had almost a cup of juice to discard once I was done squeezing them. Keeping the vegetables separate until after you squeeze them dry keeps the colors separate (like the laundry maybe?). The beets really turn the whole fritter red, but you can still see some pink (potato) and orange (carrot) in the mix, so it makes a nice presentation.
I cooked the fritters in batches, experimenting with various cooking temperatures. My first couple of fritters using medium heat were quite dark on the outside and weren't cooked all the way through, even after reducing the heat as instructed in the recipe. For the next batch I used medium-low heat and had better results and still retained a nice crust.
The one thing I didn't like about this was the sauce on the next day. When I first made the dill sauce, it had a lot of tang from the yogurt and a little bite from the garlic. The next day the garlic was so strong it overpowered every other flavor in the sauce. Otherwise, this is a great recipe and your vegetarian friends, in particular, will appreciate your efforts.