I'm not sure who the bartender was at City Grocery about 15 years ago who commandeered a Farmer Brothers glass coffeepot and started making the City Grocery Spiced Cider, but I do know I want to kiss him. As soon as you take your first sip of this bourbon-spiced cider, you might decide to make multiple batches. Should you feel compelled to do the same, rest assured, it takes but the simplest of math skills to double or triple or quadruple the recipe and serve it as a punch.–John Currence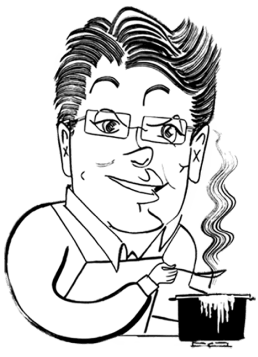 Why Our Testers Loved This
Our testers loved that this bourbon spiked apple cider was "warm, delicious, and comforting." They were also delighted that there were options to make it kid-friendly so that everyone can enjoy it.
What You'll Need to Make This
Apple cider–This is the raw, unfiltered apple juice that you'll find in the refrigerated or gourmet section of your grocery store, not the alcoholic beverage.
Bourbon–Since the bourbon flavor is quite pronounced, use a smooth, drinkable bourbon that you like drinking.
How to Make This Recipe
Infuse the cider. Combine the apple cider, citrus zest, and whole spices in a saucepan and simmer for 3 minutes. Turn off heat and let the cider steep for 10 minutes.

Strain the cider. Discard the citrus zest and whole spices, and stir in the bourbon. Serve hot, garnished with cinnamon stir sticks, freshly grated nutmeg, or lemon twists.
Recipe FAQs
How can I keep the cider warm?
Depending on the amount you've made, you have a few options. A thermos or insulated carafe is good for a few servings.

If you're at home and want to make a larger amount, you can keep the hot spiced apple cider (without the alcohol) in a large pot on a low-temperature burner or slow cooker. Add the alcohol as you serve the cider.
Can I make this in advance?
You can make the apple cider cocktail, without the alcohol, in advance then reheat the cider and add the bourbon as you serve the drinks. The premade cider will last up to 3 days in the fridge, making it great for pre-planned winter activities.
What's the difference between apple cider and apple juice?
Both are made from pressed fresh apples, but apple cider is fresh and unfiltered, and often unpasteurized. It has a shorter shelf life than apple juice, which is filtered and pasteurized to be shelf stable.
Helpful Tips
To make this spiced cider without alcohol, leave the bourbon out and add extra apple cider.
If you're making a large batch and find it awkward to strain it all, put your whole spices and citrus zest in a cheesecloth pouch or nut milk bag and tie it to secure everything inside. When you are finished simmering the cider, just remove the pouch.
For a lower-alcohol drink, reduce the amount of bourbon to 1 or 1 1/2 cups.
Write a Review
If you make this recipe, or any dish on LC, consider leaving a review, a star rating, and your best photo in the comments below. I love hearing from you.–David
Spiced Cider
There is very little on this earth better on a cold night than combining warm apple cider and bourbon with a blend of exotic spices. The smell fills the room, and more than a couple of these will put you on your butt. Believe me.
Ingredients
4

cups

apple cider

Zest from 1/2 medium orange

,

preferably organic

Zest from 1 lemon

,

preferably organic

1

stick

cinnamon

,

plus more for garnish (optional)

4

whole

cloves

3

allspice berries

2

cups

bourbon

Lemon twists

,

for garnish (optional)

Freshly grated nutmeg

,

for garnish (optional)
Instructions
Combine the cider, orange and lemon zest, cinnamon, cloves, and allspice berries in a large saucepan and bring to a boil. Reduce the heat to low and simmer for 3 minutes. Turn off the heat and let the mixture steep for 7 to 10 minutes.

Strain the spiced cider into a coffee pot or other heatproof vessel and discard the solids. Add the bourbon and stir to combine. Serve the spiked spiced cider warm in coffee mugs, pint glasses, or heatproof wine glasses with a cinnamon stick, twist of lemon, and grated nutmeg, if desired.
Notes
Non-alcoholic variation–Leave out the bourbon and add extra apple cider for an alcohol-free spiced cider.
Tie up your spices–To avoid the straining step, combine the citrus zest and spices in a cheesecloth pouch or nut milk bag. When the cider is finished steeping, just remove the pouch.
Storage–The cider can be refrigerated for up to 3 days. Rewarm over medium-low heat before serving.
Nutrition
Serving:
1
serving
Calories:
196
kcal
Carbohydrates:
14
g
Protein:
0.2
g
Fat:
0.2
g
Saturated Fat:
0.05
g
Polyunsaturated Fat:
0.1
g
Monounsaturated Fat:
0.02
g
Trans Fat:
0.001
g
Sodium:
7
mg
Potassium:
129
mg
Fiber:
1
g
Sugar:
11
g
Vitamin A:
4
IU
Vitamin C:
2
mg
Calcium:
18
mg
Iron:
0.3
mg
Nutrition information is automatically calculated, so should only be used as an approximation.
Recipe © 2013 John Currence. Photo © 2013 Angie Mosier. All rights reserved.
---
Recipe Testers' Reviews
I found this spiced cider to be quite an excellent drink for a winter day. It warms one from head to toe. If you're intending to drink more than a mugful, or if you're not using a smooth, drinkable bourbon, I'd suggest maybe cutting back the liquor to 1 1/2 cups, as otherwise, this spiced cider can pack a punch.
After steeping the cider, I strained it through some cheesecloth, which I thought worked very well. On a side note, this also makes a great nonalcoholic spiced cider that you could give to the kids.
I made this spiced cider recipe without the bourbon because I was serving this to kids, plus I didn't want to fall on my ass. I subbed more apple cider for the bourbon, and the drink was still warm, delicious, and comforting. We love the addition of orange, lemon zest, and allspice. This tastes so much better than store-bought cider!