Curious about the story behind apple pie moonshine? According to author Vivian Howard, "When bootleggers had to hide their shine, they'd mix it with apple cider and store it in the cider jug. The juice-colored camouflage quelled suspicion and made white lightning easier to drink. Eventually, apple pie moonshine, also called applejack, became a concoction moonshiners hung their hat on."
Words cannot contain the brilliance behind this. And it's also brilliantly easy to toss together. Just combine apple cider, spices, vodka, and apples, wait a few hours, and then splash it in a punch bowl, pour it into Mason jars, or just keep it all to yourself and indulge in a nip every once in a while.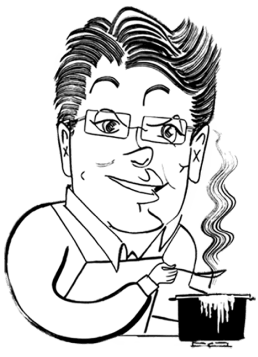 Why Our Testers Loved This
Our testers love that this is an easy-to-make cocktail that can be made in advance. They love the well-balanced spiced flavor so much that several are planning to make it their "signature drink" for holiday gatherings.
Notes on Ingredients
Apple cider–This is the cloudy apple juice that you will find in the gourmet section of most grocery stores, not the alcoholic beverage.
Moonshine–You can purchase good-quality moonshine at your local liquor store, or substitute another high-proof grain alcohol like Everclear. Vodka is also a great substitute here, although it will produce a lower alcohol drink than using moonshine.
Apples–Any type of apple will work here; just be sure to cut away any bruised or scarred spots before using.
How to Make This Recipe
Infuse the cider. Bring the cider, sugar, citrus fruits, whole spices, and ginger to a boil in a large pot, then cook gently for 5 minutes. Cool completely before adding the moonshine and apples. Let it rest overnight.

Store the moonshine. Remove the citrus, and the spices, if desired. Divvy the cider between Mason jars and store in the fridge until you're ready to serve or gift.

Serve the moonshine. Pour the cold moonshine over ice and enjoy.
FAQs
What is moonshine?
Moonshine is a high-proof alcoholic drink that was made illegally during the Prohibition era. "Moonshiners" would distill the alcohol under the cover of darkness to avoid being detected by authorities. Good-quality moonshine, or other high-proof alcohol can be purchased legally at liquor stores today, although many people still make it at home.
Do I need to make apple pie moonshine in advance?
The flavor of the moonshine generally improves with time, so we recommend making it at least a couple of days before you plan to serve it. Because it improves with time, it is an excellent choice for gifting.
How should I store it?
Store moonshine in the refrigerator in glass jars or bottles for up to 4 months.
Helpful Tips
To turn this cocktail into a lower-alcohol holiday punch, mix it in a bowl with more apple cider and soda water, to taste. Garnish with fresh apple and citrus slices.
This apple pie moonshine recipe makes a very large batch, which is perfect for gifting. The recipe can easily be halved, if you prefer.
Write a Review
If you make this recipe, or any dish on LC, consider leaving a review, a star rating, and your best photo in the comments below. I love hearing from you.–David
Apple Pie Moonshine
This apple cider-infused cocktail, made with vodka, apple cider, lemon, ginger, and spices, is very strong, but undeniably spectacular.
Ingredients
1

gallon

apple cider

1 1/2

cups

light brown sugar

4

small

lemons

,

halved, preferably organic

2

small

navel oranges

,

halved, preferably organic

4

whole

cloves

3

cinnamon sticks

3

star anise

Two

(2-inch)

pieces ginger root

,

peeled

4

cups

moonshine (or substitute unflavored vodka)

4

apples

,

unpeeled and quartered (any variety), preferably organic
Instructions
In a 2-gallon (7.6-liter) pot, bring the cider, sugar, lemons, oranges, spices, and ginger to a gentle boil. Cook for 5 minutes. Take the pot off the heat and let it cool completely.

Stir the moonshine and apples into the cooled cider. Cover and let it sit overnight at room temperature.

The next day, remove and discard the citrus. Take a nip and, if a stronger spice flavor is desired, leave the spices in the moonshine; otherwise, strain them out.

Transfer the moonshine to 1-quart Mason jars with lids wide enough to contain the apples. Screw on the lids and store in the refrigerator until you're ready to serve or gift your apple pie moonshine. (If you can, put this apple pie moonshine together ahead of time and let it mellow in the fridge for a week.)

When you're ready to impress friends or just get a little tipsy, serve it chilled over ice.
Notes
Make-ahead–The apple pie moonshine is best if made at least a week before using.
Storage–Store moonshine in glass containers or jars in the fridge for up to 4 months.
Scaling the recipe–The recipe can be halved to make a smaller batch.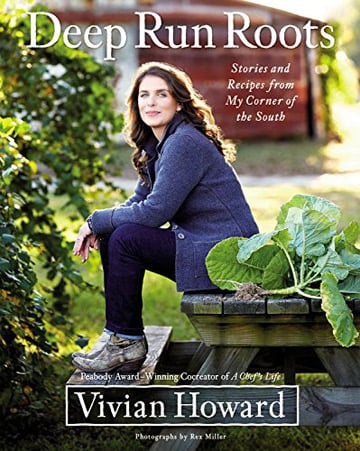 Nutrition
Serving:
1
cup
Calories:
246
kcal
Carbohydrates:
39
g
Protein:
1
g
Fat:
0.4
g
Saturated Fat:
0.1
g
Polyunsaturated Fat:
0.1
g
Monounsaturated Fat:
0.03
g
Trans Fat:
0
g
Sodium:
12
mg
Potassium:
260
mg
Fiber:
2
g
Sugar:
33
g
Vitamin A:
53
IU
Vitamin C:
19
mg
Calcium:
42
mg
Iron:
1
mg
Nutrition information is automatically calculated, so should only be used as an approximation.
Recipe © 2016 Vivian Howard. Photo © 2016 Rex Miller. All rights reserved.
---
Recipe Testers' Reviews
This apple pie moonshine is a highly flavorful spiced cider with a kick! It was a delicious addition to a friend's Halloween party. I thought the taste of the final product was delicious and so did many of the partygoers.
Since I was taking the drink to a party, I bought Martinelli's cider and repurposed to glass jug to transport the cider. This means I left the apples out for the party presentation because they wouldn't fit in the opening of the jug.
For the rest that wouldn't fit in the jug, I put all the apples in two pint jars and poured the remaining liquid over them. I strained all the spices because the mixture was perfectly spiced after steeping it overnight. I used Gala apples and Palmetto White Lightning Moonshine.
Many partygoers found the smell of the drink too overwhelming. Even though the moonshine constituted only a fifth of the overall mixture, the moonshine smell is very strong. I've never used or drank moonshine before, so I don't know if another brand would have less of an aroma that would pair better in this drink.
A great make-ahead cocktail. I look forward to serving it as our signature drink to our Thanksgiving crowd. Although I was a little apprehensive to work with moonshine, I was pleasantly surprised with the outcome of this recipe and look forward to taking daily nips until it's gone. The apple cider, citrus, and spices make this moonshine a pleasant but still strong cocktail.
While making the recipe, I questioned whether I should turn all the citrus cut side down for the overnight soak. (I did). Also, after quartering the apples, I automatically cored them but probably could have left the core in and saved a step.
I strained the moonshine and cider mixture through a colander with holes small enough to catch the citrus seeds and whole cloves. I divided the apples among the 3 quart-size Mason jars. I put a cinnamon stick and star anise in a couple of jars to see if the spice flavor increases with time.
I also questioned whether I should give the citrus a squeeze to release the juices after the overnight soak. I did and mixed the juice in with the moonshine mixture.
All in all, this is an easy recipe and could certainly become a signature "house" cocktail. After just a day of resting, it was still pretty raw tasting. I didn't leave it out overnight as the cider I used was fresh-pressed and specifically recommended keeping it refrigerated. So I cooled it to room temperature and then popped it in the fridge.
I tried it straight and well-chilled this morning—that was an eye-opener! And then I added mixed it with some apple cider and topped it with a splash of soda and I could see the potential there. After several more days, I strained the spices and apples out of the moonshine today. It still hasn't been a full week, but the spices really came through and the flavor is much more balanced.
I'm mixing it with more cider and topping with soda water to make a cider punch, adding a few more apple slices and some fresh citrus slices for garnish—should make a nice punch bowl for the Thanksgiving table! I could also see it as a sipper on the rocks. It's very attractive and would make a lovely addition to a gift box.
I made a half batch and ended up with 3 quarts of moonshine. I took the citrus out as directed and I left the spices in for the time being. Given that I will likely use this in a punch or cocktails, I'd like the spices to be a little stronger than they are today.
A couple of questions. How long should I leave the apples in? Will they get mushy and/or go bad? How long can I keep this for?