This homemade cavatelli is easy to make with flour, water, salt, and oil, and doesn't even require a pasta maker. Here's how to make it.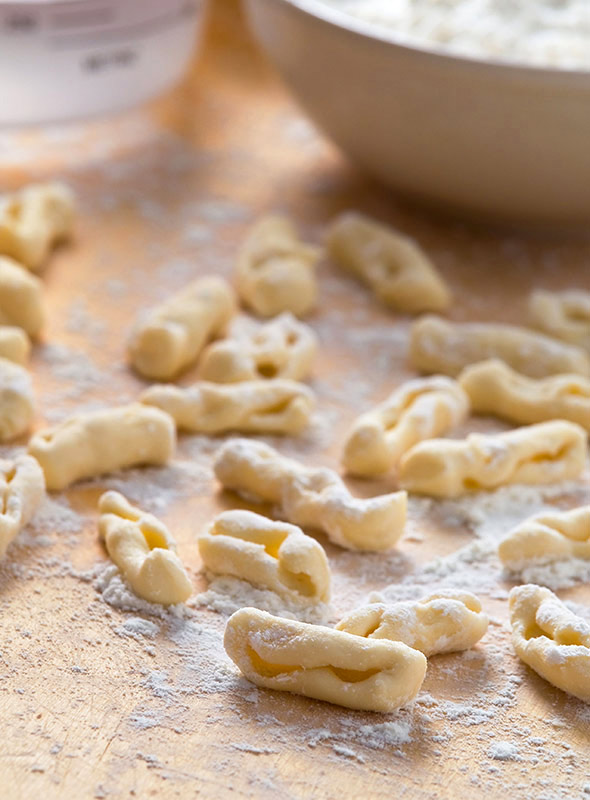 These homemade cavatelli are little curls of pasta and are quite common in southern Italy, where they're commonly served simply, as in cavatelli with broccoli. Yes, you can make your own homemade cavatelli pasta and no, you don't need a pasta maker. What you will need, however, is a little patience with yourself as you learn to fashion a cavatelli. We've included a few different ways to go about it along with links to some helpful how-to photos, so rest assured, you can do this. And after one taste, you'll want to do this week after week after week.–The Silver Spoon Kitchen
Homemade Cavatelli
Quick Glance

(2)

1 H
1 H, 30 M

Serves 6
Print Recipe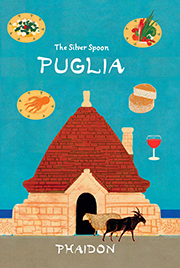 Special Equipment: Pastry scraper (optional)
Ingredients
Email Grocery List
Directions
Place the flour in a mound on a work counter or in a large bowl and make a well in the center. Add a pinch of salt, the oil, and 2 cups cold water and mix with a fork,
pastry blender
, or your fingertips until the mixture forms a firm dough. If necessary, add more water, a few tablespoons at a time, until the dough comes together.
Pinch off a small portion of dough and, using your hands, roll it against your work surface into a long rope no more than 1/2 inch (1 centimeter) thick.You want to roll with your hands beginning at the center and working toward the edges to try to keep the rope an even thickness. (If the dough is sticky or difficult to work with, stop rolling. Cover the dough and set it aside at room temperature for 30 to 60 minutes. Then proceed with the rolling.)
Using a
pastry scraper
or a butter knife, slice the rope crosswise into 1/2- to 3/4-inch (2- to 3-centimeter) portions.
To shape the cavatelli with your thumb
, use your thumb to push the dough against the work surface and away from you so that the dough
gently curls around itself
.
To shape the cavatelli with your fingertips
, take the first 2 fingers on your dominant hand and push the dough against the work surface as you draw it toward you so that the dough
gently curls around itself
.
To shape the cavatelli with a butter knife
, roll each length into a little rope. If the dough is still sticky, lightly flour it. Place the back edge of a butter knife right alongside a rope and turn the knife at a 45-degree angle to your work surface. Push the knife and the pasta down and away from you so that the pasta gently curls a little around it.
Spread the cavatelli in a single layer on lightly floured baking sheets or parchment paper, being careful that the cavatelli do not touch. Let dry slightly at room temperature for 30 to 45 minutes. (To freeze the cavatelli, slide the sheets into the freezer until the pasta is firm. Toss cavatelli into resealable plastic bags and freeze for up to 3 months.)
To cook the cavatelli, bring a pot of salted water to a boil.
Toss in the cavatelli and cook until they float to the surface of the water and remain there, 3 to 8 minutes, depending on the size. (If cooked straight from the freezer, the cavatelli will need an extra 1 to 2 minutes.)
Using a slotted spoon, transfer the pasta to a colander to drain before saucing and slurping. Originally published on June 1, 2015.
Print Recipe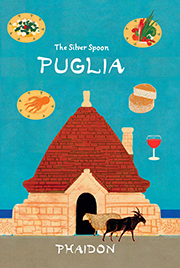 Recipe Testers Reviews
Homemade Cavatelli Recipe © 2015 The Silver Spoon Kitchen. Photo © 2015 milla74. All rights reserved. All materials used with permission.
If you make this recipe, snap a photo and hashtag it #LeitesCulinaria. We'd love to see your creations on Instagram, Facebook, and Twitter.