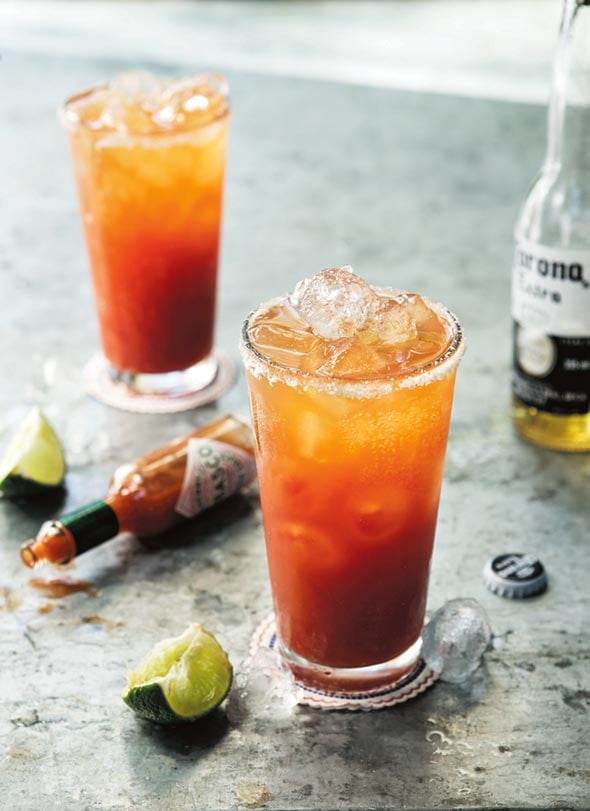 This Mexican Bloody Mary recipe was given to me by my mate, Andy. During a cocktail party at my place, Andy, who's worked in bars in the past, came up with this. It's a take on a Bloody Mary, minus the vodka. Feel free to add tequila to the mix, too, if you like something a little stronger.–Katie Quinn Davies
LC A Bloody Mary By Any Other Name Note
Call this cocktail what you will—a Mexican Bloody Mary, a riff on a michelada, or a simple and satisfying tomato beer (doesn't that sound like a version of beer pong in which college students use wee tomatoes in place of ping pong balls?). Though the cocktail is all of the above, it's actually far more nuanced than any of these monikers lets on. So think of it what you will, but we like to think of it as our own personal picker-upper come Sunday morning.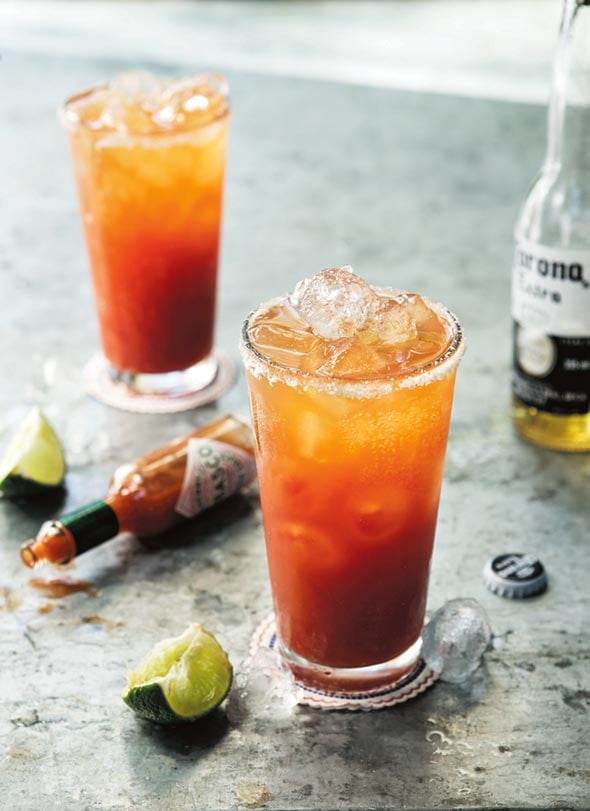 Mexican Bloody Mary
A Mexican bloody Mary is perfect for a boozy brunch, a spicy barbeque, or just for a veggie infused sipper by the pool.
Ingredients
1

lime

,

quartered

3

ice cubes

,

or more

3/4

cup

tomato juice

Worcestershire sauce

,

to taste

Hot red pepper sauce,

such as Tabasco, to taste (you're going to want at least a few good shakes)

Freshly ground black pepper

One

(11.2-ounce) bottle

Corona or similarly light beer
Instructions
Sprinkle some salt on a plate and spread out evenly. Rub a lime quarter around the rim of a glass, then dip the rim into the salt.

Add ice cubes to the glass and squeeze in some lime juice. Add the tomato juice, a couple dashes each Worcestershire sauce and Tabasco, and a little salt and pepper and stir well. Top the glass up with Corona, and continue to do so as you drink. If desired, tweak with more lime juice, Worcestershire, and/or hot sauce.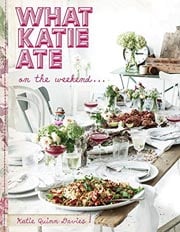 Nutrition
Serving:
1
drink
Calories:
51
kcal
Carbohydrates:
15
g
Protein:
2
g
Fat:
0.2
g
Saturated Fat:
0.02
g
Polyunsaturated Fat:
0.1
g
Monounsaturated Fat:
0.03
g
Sodium:
22
mg
Potassium:
486
mg
Fiber:
3
g
Sugar:
8
g
Vitamin A:
854
IU
Vitamin C:
53
mg
Calcium:
42
mg
Iron:
1
mg
Nutrition information is automatically calculated, so should only be used as an approximation.
Recipe © 2015 Katie Quinn Davies. Photo © 2015 Katie Quinn Davies. All rights reserved.
---
Recipe Testers' Reviews
Yum! I love this riff on a michelada. I like that it works with beer or tequila or both, depending on your whim. However, the entire drink does not fit into one glass, so you must keep refilling and readjusting the flavors as you sip. I fit about 1/2 a Corona into my glass along with the rest of the ingredients. Once I was near the end, the ice had melted a bit, and the cocktail was sort of watery. To keep the flavors alive, I basically remade the drink again in order to finish off the beer. A bit more trouble than it's worth. However, when I made the drink the next night, I just added a big splash of tomato juice, the rest of the beer, and a shot of tequila to keep the second round interesting. With just tomato juice and Corona, it gets a little bit boring unless you bring out the big guns and opt for the tequila shot. I added the rest of the lime juice to the glass, so 3/4 of a lime juiced. The perfect amount of lime to carry through to the second glass. I used a scant 1/4 teaspoon Tabasco and a full 1/4 teaspoon Worcestershire. It was perfect, but I do like spicy, so others might want to start with 1/8 teaspoon Tabasco. This actually makes enough for 2 glasses. The second time I made it, I skipped the lime and condiments on the second glass, opted for another 3/4 cup tomato juice and 1/2 Corona, and added a shot of tequila to keep it spicy. Both versions were delicious and satisfying; it just depends how much work (i.e. getting out the condiments and cutting limes) you feel like doing.
This drink recipe was a snap to put together. In less than 5 minutes, I was drinking a cocktail that had a nice bite with a smooth finish. I used 2 squirts Worcestershire sauce, 3 drops Tabasco, and regular salt on the rim of the glass. A perfect drink on a summer evening.
This is the kind of cocktail recipe where you can't really define how much Worcestershire, Tabasco, or lime juice to put in. First of all, my dash is probably different from your dash, and the amount of spice, heat, and lime juice I like is different from what you like. People need to find their own way here and dash to their heart's content. I do not use Tabasco sauce. I have a hot sauce from a market in New Orleans that I'm very fond of, as well as a homemade sauce that I like a lot. I had a very juicy lime and used the juice of 3 lime quarters because I really like citrus; some might not like that much, and some limes are not that juicy. Again, it has to be done "to taste." There were mixed reactions at my house. At first, neither of us really liked this. However, after sipping it for awhile, the drink sort of grew on us. I don't think that I would make this again for myself, but my drinking buddy said that he might. It's a good drink to have in your arsenal. I can see having the ingredients available for folks. I made this drink in a 4-cup glass measuring cup. You can't really make this "to taste" in the glass. You would ruin the salt-rimmed edge as you adjusted the drink to your taste. The measuring cup also made it easy to pour from.
I went to a few different stores trying to buy a single bottle of beer to make this cocktail. I was amused at the reactions I got. In the first store, I could not find the type of beer I wanted to buy. The beer guy asked me what I wanted it for. When I described the drink, he grinned and said, "You're making a michelada!" He told me that he had lived in the Southwest and enjoyed making micheladas with his friends. I could not buy an individual bottle of beer in the next store, but in the third, I found a bottle of Pacifico, which I took to the cashier. He asked me why I was buying it. (He was probably surprised that I was just buying 1 bottle of beer.) When I told him, he got excited and said, "You're making tomato beers!" He was fairly young, and I could see him and his frat buddies, or him by the pool or on the beach, drinking tomato beers. Lots of tomato beers.