This leftover roast chicken soup recipe is easy as can be. Just toss a chicken carcass in a pot with some aromatics, add water, soy sauce, and apple cider, and forget about it for a while.
Christina Tosi refers to this leftover roast chicken soup as "overnight chicken soup" because she dumps a chicken carcass in a pot and then leaves the flame on low and slow overnight. As she explains, "the depth is insane when you roll slow and low, challenging reason and basic safety, leaving a whole carcass, with plenty of meat on it, to simmer overnight." The result is that you're able to coax out "every last slurp of flavor into the soup," says Tosi. "Just cover the bird with water and say 'night, night.'" adds Tosi. Just like grandma knew how to do. Although you don't need to check your homeowner's insurance before making this as you can just as easily let the pot of soup barely burble over low heat during the day when you can cautiously keep watch over it. Either way, the meat turns incredibly tender and there's no fuss at all. Tastes exactly like something grandma would make. Originally published January 23, 2016.–Renee Schettler Rossi
Leftover Roast Chicken Soup
Quick Glance
15 M
10 H

Serves 6 to 10
Special Equipment: Slow cooker (if following the slow cooker method)
Print Recipe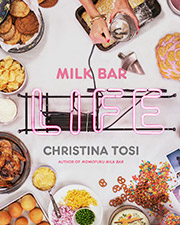 Ingredients
Roast chicken carcass with some meat attached (on the wings, back, etc.)

Any aromatics you desire (you know, the usual stuff including garlic, herbs, onion, carrots, ginger, etc.)

1/4 to 1/2 cup soy sauce (Christina Tosi likes Kikkoman)

1/3 to 2/3 cup apple cider or apple juice

1/4 to 1/2 teaspoon black pepper
Directions
1. To make the Leftover Roast Chicken Soup in your slow cooker, see the Slow Cooker Variation below.

To make the Leftover Roast Chicken Soup on your stovetop, combine the chicken carcass and any residual meat and desired aromatics in a large stock pot (5- to 8-quart capacity) and fill the pot with water so the chicken is fully submerged. Set over the lowest of low heat, lid that puppy 3/4 of the way so the water can evaporate a little bit but not too much, and leave it for at least 6 hours, skimming any scum that accumulates on the surface of the stock but leaving any puddles of fat. [Editor's Note: Christina Tosi leaves the stock simmering overnight. You may or may not wish to do the same. We guess it depends on your level of risk taking and whether your homeowner's insurance is up to date.]

2. Remove the pot from the heat. Your kitchen smells amazing, right? Strain the liquid from the chicken into another large pot and let the solids rest in the strainer. Walk away for a little while. Brush your teeth. Brush your hair. The chicken should be cool enough to handle at this point.

3. Using your hands, separate the chicken meat from the bones, aromatics, and gelatin. Don't be grossed out—put your best farm girl face on, roll up your sleeves, and get to work. This should yield 2 to 3 cups light and dark meat, depending on how much chicken you ate the night before. Toss the bones and stuff in the trash. Add the shredded chicken to the pot with the broth. (You can cover and refrigerate the soup until dinnertime.)

4. Bring the soup to a gentle simmer. If you want, you can clean out your fridge by throwing in a handful of baby carrots, chopped onion, Brussels sprouts, spinach, or whatever else you've got languishing in your vegetable bin. It'll taste awesome. Simmer until the soup is warmed through and any vegetables are tender.

5. Stir in the soy sauce, apple cider, and black pepper to taste and ladle into bowls.
Leftover Roast Chicken Soup Variations
Slow Cooker Leftover Roast Chicken Soup
Toss your roast chicken carcass and desired aromatics (that means vegetables or herbs) in your slow cooker and cook on slow for 8 hours or overnight. (Trust us, the only thing better than the smell of coffee in the morning is the aroma of chicken soup.) Continue with step 3 in the instructions above. Easy just got even easier.
Leftover Roast Chicken Soup with Carbs
If you like rice or pasta, cook some up in a separate pot, stealing some of the broth from the soup pot to use as your cooking liquid.
Egg Drop Soup With Leftover Roast Chicken
Lightly whisk 3 eggs to combine. Stir the finished soup in a clockwise direction and, while still stirring, pour in the eggs in a slow, steady stream. Continue to stir for 1 to 2 minutes, until egg ribbons form. Ladle into bowls and garnish with thinly sliced scallions if you've got 'em.
Leftover Roast Chicken Soup Recipe © 2015 Christina Tosi. Photo © 2015 Gabriele Stabile and Mark Ibold. All rights reserved. All recipes and photos used with permission of the publisher.
If you make this recipe, snap a photo and hashtag it #LeitesCulinaria. We'd love to see your creations on Instagram, Facebook, and Twitter.