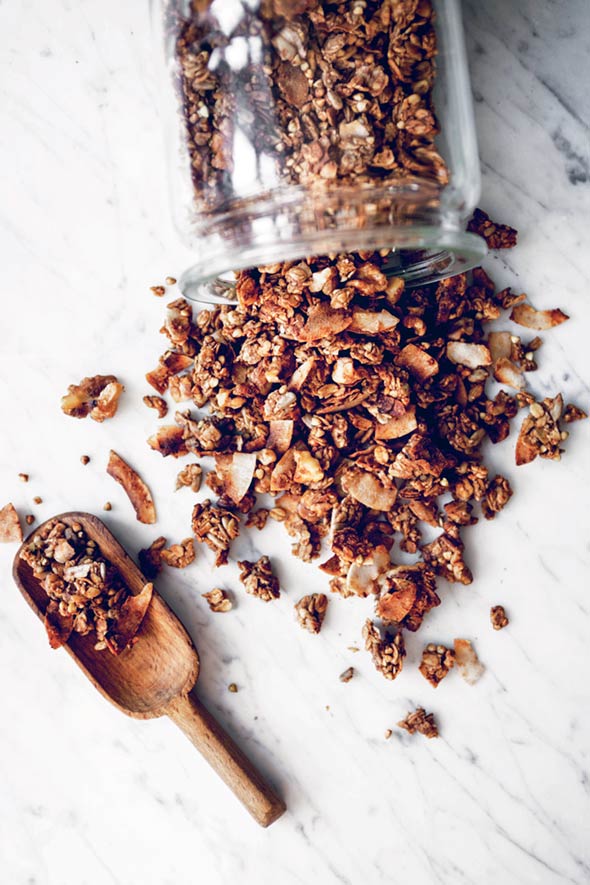 To say I'm obsessed with banana bread is an understatement—it's my kryptonite. Trying to figure out a way to eat it more often, I came up with a banana bread granola that tastes just like my favorite comfort food. I've made many a granola before, but this one beats them all! Not only does it have that rich banana flavor I dream about, but it's got a chunky quality to it that makes it perfect for snacking on right out of the jar. The secret to making chunky granola is using the bananas as a binding agent, fusing all those tasty ingredients together into crunchy, golden love clusters. Warning: This stuff is seriously addictive!–Sarah Britton
LC What Folks Are Saying About This Recipe Note
"Not too sweet." "Simple and terrific." "Everything a granola should be—full of flavor and texture all rolled into nice little chunks!" "In contrast to some granolas where you feel like you are chewing rocks, this has a wonderful chew with a bit of crunch." "Crunchy, whole-grain homemade granola, or sweet, tender banana bread? Which to choose? Thank the breakfast gods we don't have to decide." That's what folks are saying about this banana bread granola recipe. Among the numerous reasons they—and we—love this granola is the fact that it's only subtly sweet, which means those little ones (and those big ones) running around your house snooping for snacks may just pass this one by since it's slight on the sugar. Which means more for you.
Banana Bread Granola
Quick Glance
10 M
1 H

Makes 9 cups
Ingredients
Email Grocery List
1/3 cup (80 milliliters) coconut oil

3 very ripe bananas

1/2 cup (120 milliliters) pure maple syrup (not that Aunt Jemima crap)

3 cups (300 grams) rolled oats (gluten-free, if desired)

1 cup (185 grams) buckwheat groats or buckwheat hulled kernels (look for these in the bulk bins section of your grocery store)

1 1/2 cups (65 grams) unsweetened coconut flakes

1/2 cup (70 grams) raw sunflower seeds

2 teaspoons ground cinnamon

1/2 teaspoon fine sea salt

1 cup (140 grams) whole raw walnuts (or substitute pecans)
Directions
1. Preheat the oven to 350°F (177°C). Line 2 rimmed baking sheets with parchment paper.

2. Melt the coconut oil in a small saucepan over medium-low heat. Pour the melted oil into a food processor or blender, add the bananas and maple syrup, and blend until smooth. [Editor's Note: Unlike most commercial and homemade granolas, this banana bread granola is only subtly sweet. It's lovely, don't get us wrong. But it's only barely sweet. Best to set your expectations accordingly.]

3. In a large bowl, combine the oats, buckwheat, coconut flakes, sunflower seeds, cinnamon, and salt. Roughly chop the walnuts and toss them in the bowl, too. Pour the maple syrup mixture over the dry mixture and gently toss to coat. The mixture will be rather wet.

4. Divide the mixture between the 2 baking sheets and press it firmly with the back of a spatula to ensure that the mixture is compact and even. Bake the granola for 15 to 20 minutes, until it's beginning to brown.

5. Remove the baking sheet from the oven and use a spatula to flip the granola over in large sections. Return it to the oven and flip it every 5 minutes, making smaller chunks each time, until golden, 15 to 25 minutes more. The granola should be dry and crisp. Set the granola aside at room temperature to cool. Do not stir the granola until it is completely cool so it will set into chunks.

6. Store in an airtight container at room temperature for up to 1 month.
Recipe Testers Reviews
Banana Bread Granola Recipe © 2015 Sarah Britton. Photo © 2015 Sarah Britton. All rights reserved. All materials used with permission.
If you make this recipe, snap a photo and hashtag it #LeitesCulinaria. We'd love to see your creations on Instagram, Facebook, and Twitter.