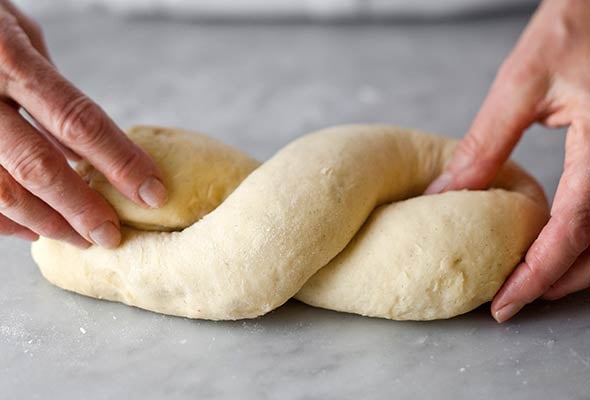 There's nothing this yeasted sour cream dough can't do. Buttery and tender, it's the versatile foundation of many recipes. It has all the richness of a croissant dough without the labor-intensive rolling. And the generous amount of sour cream in the dough gives it a more complex taste. The baked dough tastes like equal parts pastry, bread, and cake, making it the ultimate morning treat when harnessed in our recipe for Hungarian Coffee Cake. It's easy to make and can be kept handy in the freezer.–Sarabeth Levine
LC Half A Batch Of Yeasted Sour Cream Dough Goodness Note
The author, the famous Sarabeth Levine of Sarabeth's in New York City and the line of preserves carried at Williams-Sonoma for decades, explains above that she keeps a stash of this yeasted sour cream dough in the freezer. And we encourage that practice. But if you ever find yourself short on butter or patience and are tempted to make a half batch of this dough, which is the perfect amount for most indulgences, don't even hesitate. Several of our testers did just that and it worked perfectly.
Yeasted Sour Cream Dough
Ingredients
2 1/2

tablespoons

crumbled compressed yeast or 4 1/4 teaspoons (14 grams) active dry yeast

1/3

cup

superfine sugar

(or just blitz granulated sugar in a blender until finely ground but not powdery)

2/3

cup

sour cream

1/2

teaspoon

fresh lemon juice

1/4

teaspoon

vanilla extract

2

large

egg yolks

3/4

cup

whole milk

4 1/2

cups

unbleached all-purpose flour

plus more as needed

1/2

teaspoon

fine sea salt

15

tablespoons

unsalted butter

cut into tablespoons, well softened

Softened unsalted butter

for the bowl
Directions
If using compressed yeast, in the bowl of a heavy-duty stand mixer, combine the crumbled yeast and sugar. Let stand until the yeast gives off some moisture, about 3 minutes, then whisk well to dissolve the yeast. Add the sour cream, lemon juice, vanilla, and egg yolks and whisk well to combine. Whisk in the milk until smooth.

If using active dry yeast, in a small bowl, sprinkle the yeast over 1/4 cup lukewarm, 105° to 115°F (41° to 46°C), milk. Let stand until the yeast softens, about 5 minutes, then stir to dissolve. Pour into the bowl of a heavy-duty stand mixer. Add the sugar, sour cream, lemon juice, vanilla, and egg yolks and whisk well to combine. Whisk in the remaining 1/2 cup cold milk until smooth. Attach the bowl to the mixer and fit the mixer with the paddle attachment.

On low speed, gradually add half the flour and then the salt. Mix until a sticky, batter-like dough that clings to the sides of the bowl forms. Increase the speed to medium. Beat in half of the well-softened butter, 1 tablespoon at a time, letting each addition be absorbed before adding another. Replace the paddle attachment with the dough hook. Mix in half the remaining flour, then the remaining butter, and then the remaining flour, letting each addition be absorbed before adding the next. Knead on medium-low speed until the dough is smooth and soft, about 5 minutes.

Transfer the dough to a lightly floured work surface. Knead briefly to check the dough's texture: It should feel slightly sticky but not stick to the work surface. Knead in more flour only if needed. Generously butter a large bowl. Shape the dough into a taut ball. Place it in the bowl, turn to coat it with butter, and then turn it smooth side up. Cover tightly with plastic wrap. Let stand in a warm place until the dough doubles in volume, about 45 minutes.

Working carefully to preserve the dough's light and puffy texture, turn the dough out onto a lightly floured work surface. (Do not knead the dough.) Cut the dough in half and shape each piece into a 1-inch-thick rectangle. Cover with a kitchen towel and let rest for 15 minutes before using. If not using immediately, do not let the dough rest. Instead, immediately wrap each half tightly in plastic wrap and freeze for up to 2 weeks. To use the frozen dough, transfer to the refrigerator and let thaw for at least 8 hours, or up to overnight.
Recipe Testers' Reviews
This yeasted sour cream dough recipe yields a dough that is somewhat like a bread and Danish hybrid. I actually really enjoyed making this dough, and it came together quite easily, even with all the steps. There was something very therapeutic about it all, and the recipe instructions were spot-on. I didn't need flour to roll out my dough (I rolled it out on parchment paper), and I also noticed the first rise was not as significant as the second rise after turning the assembled coffee cake into the loaf pan, so don't worry if the rise is not so significant at first. I halved the recipe.
Originally published October 22, 2015
Recipe © 2015 Sarabeth Levine. Photo © 2015
Quentin Bacon
. All rights reserved. All materials used with permission.
If you make this recipe, snap a photo and hashtag it #LeitesCulinaria. We'd love to see your creations on Instagram, Facebook, and Twitter.