It's the most wonderful time of the year. Know how we can tell? There are candy canes strung everywhere, which makes it that much easier to snag a few to make this easy peppermint bark recipe.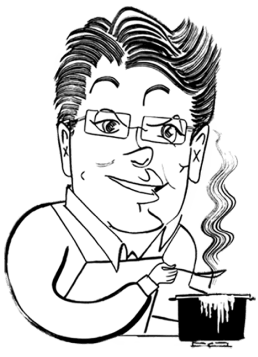 Why Our Testers Loved This
Tester Bart U. loved that this was a "simple recipe to follow" that turned out well and was extremely well received by the students he shared it with. Tester Adrienne L. enjoyed it so much that she had to stop herself from eating the whole batch! Both testers agreed that it would make a great holiday gift.
Notes on Ingredients
Peppermint extract–This will give the chocolate a more minty flavor. If you prefer more chocolate. flavor, you can leave it out.
Candy canes–If you can't find candy canes, round peppermint candies will work well instead.
How to Make This Recipe
Melt the white chocolate. Use the microwave or a double boiler to melt the white chocolate, then stir in half of the peppermint extract. Spread on a parchment-lined baking sheet and refrigerate until just set.

Melt the semisweet chocolate. Use the microwave or a double boiler to melt the semisweet chocolate, then stir in the remaining half of the peppermint extract. Spread over the set white chocolate, top with crushed candy canes, and refrigerate until fully set.

Break the bark into smaller pieces. Divvy into gift bags, or stash in the fridge to enjoy.
Recipe FAQs
What's the best way to crush candy canes for this bark?
Breaking candy canes by hand can be messy and sticky. We prefer to toss the candy canes into a resealable bag and then gently whack them with a meat mallet or the back of a heavy knife until they're crushed.
Can I make a larger batch?
Yes, but we don't recommend making more than double the recipe at once. It can become tricky to get the chocolate to melt evenly when using large amounts.
Do I need to temper the chocolate for this candy cane bark recipe?
Nope, you don't need to temper the chocolate for this candy cane bark. You could, but author Sally McKenney opts to simply melt it without tempering, mostly just to save time and patience. It's but one of the reasons we love her.
Why is oil added to the chocolate?
When added to the chocolate layers for this bark, it helps the chocolate melt better and more smoothly, giving it a better texture.
Helpful Tips
Store the finished bark in an airtight container in the fridge for up to 1 month or in the freezer for up to 6 months.
This recipe is suitable for a gluten-free diet.
More Great Chocolate Bark Recipes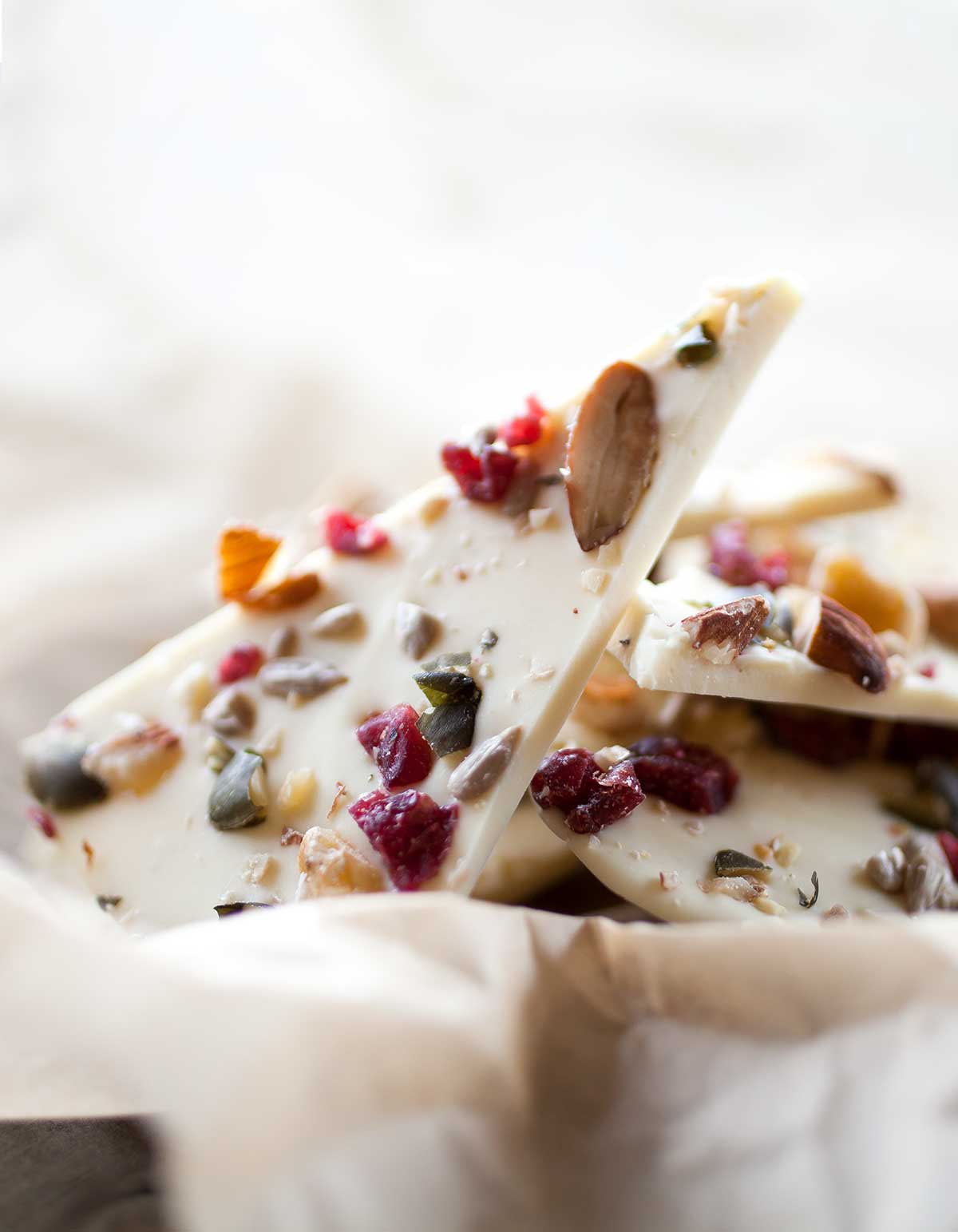 Write a Review
If you make this recipe, or any dish on LC, consider leaving a review, a star rating, and your best photo in the comments below. I love hearing from you.–David
Candy Cane Bark Recipe
This festive candy cane bark is made with chocolate, crushed peppermint candies, and lotsa love. A beloved food gift that's quick and easy, too. You can whip it up in no time…perhaps for those special website editors you forgot to add to your list. (A-hem!)
Ingredients
8

ounces

coarsely chopped white chocolate

,

(do not substitute chocolate chips)

1

teaspoon

vegetable, coconut, or canola oil

1/2

teaspoon

peppermint extract

8

ounces

coarsely chopped semisweet chocolate

,

(do not substitute chocolate chips)

3 or more

large

candy canes

,

crushed
Instructions
Line a large rimmed baking sheet with parchment paper or a silicone baking mat. Make sure you have room for the baking sheet in your refrigerator.

Melt the white chocolate with 1/2 teaspoon oil in a bowl in the microwave on low or in a heatproof bowl placed over but not touching a pan of gently simmering water. Remove the chocolate from the heat and stir in 1/4 teaspoon peppermint extract.

Pour the melted white chocolate onto the prepared baking sheet and spread it into an even layer with a rubber spatula. Refrigerate for 20 to 25 minutes, or until it has almost but not completely set. The chocolate is almost set when it's beginning to lose its shiny sheen. (If it sets completely, the bark layers could separate.)

While the white chocolate is setting, melt the semisweet chocolate and remaining 1/2 teaspoon oil. Remove the chocolate from the heat and stir in the remaining 1/4 teaspoon peppermint extract.

Pour the semisweet chocolate over the almost-set white chocolate and spread into an even layer. Sprinkle with the crushed candy canes.

Return the bark to the refrigerator to set completely, 30 to 40 minutes. (The chocolate is set when it has lost its shiny sheen and looks matte.)

Once the bark has hardened, break it into pieces as large or as small as you want. Nibble or gift at your leisure.
Notes
Storage–Keep the bark in an airtight container in the fridge for up to 1 month or in the freezer for up to 6 months.
Substitutions–If you can't find candy canes, substitute round peppermint candies.
Dietary–This recipe is suitable for gluten-free diets.
Nutrition
Serving:
1
portion
Calories:
171
kcal
Carbohydrates:
18
g
Protein:
2
g
Fat:
10
g
Saturated Fat:
6
g
Polyunsaturated Fat:
0.4
g
Monounsaturated Fat:
3
g
Trans Fat:
0.01
g
Cholesterol:
4
mg
Sodium:
14
mg
Potassium:
121
mg
Fiber:
1
g
Sugar:
16
g
Vitamin A:
11
IU
Vitamin C:
0.1
mg
Calcium:
37
mg
Iron:
1
mg
Nutrition information is automatically calculated, so should only be used as an approximation.
Recipe © 2015 Sally McKenney. Photo © 2015 Sally McKenney. All rights reserved.
---
Recipe Testers' Reviews
My daughter and I tasted this candy cane bark at the 30-minute mark, and I had to rush to put it back in the fridge, as we were on our way toward eating an entire half tray just standing there while we said how much we liked it! It would make a good gift.
I could see varying the semisweet to be darker or mixing chocolates to preference. I could also see varying the amount of peppermint flavoring depending on how strong your peppermint extract is. You can easily do this by tasting a little after adding since thereʻs no eggs or anything that might cause illness called for in the recipe.
You need to crush at least 3 candy canes, but I could see trying to crush more—you need more just in case you spread the candy canes more broadly across the chocolate.
This candy cane bark recipe got me ready for the holiday season. (I was looking for my Santa hat to go with this recipe!)
I sometimes get intimidated with homemade bark recipes, as they haven't turned out well for me in the past. I have burned and seized chocolate and also just failed to create what I consider a quality product. However, this recipe restored my faith in chocolate bark recipes.
This recipe only had a few ingredients, so I figured I would splurge a bit on really high-quality chocolate. Finding a good quality semisweet chocolate was harder than I expected, but I felt like the chocolate melted quicker and produced a higher-quality result.
This was a simple recipe to follow, and the chocolate acted correctly. For the chocolate-melting process, I am a fan of the quickness and effectiveness of the microwave.
I put the chocolate in a microwave-safe bowl on a plate for 25 seconds at a time. I continued this process 3 times, and the chocolate was ready to spread. Between each repetition, I stirred the chocolate to ensure it was melting in a consistent manner.
The chocolate was nice and shiny with a velvety taste and texture. Spreading the chocolate onto the sheet was pretty easy. I plopped it onto the middle of the parchment paper-lined sheet and spread it evenly to the corners.
I would suggest that for the first layer, one wait around 25 minutes for it to almost harden. The white chocolate layer was not quite set, and it leaked a bit into the semisweet chocolate layer.
My clue that the chocolate was set was that it was very matte-looking and had lost its sheen a bit. I was impressed that the chocolate almost peeled off of the parchment paper when it was set. The edges told me that the chocolate was ready to be eaten.
For the candy cane portion, I couldn't actually find any candy canes in the store, which surprised me since decorations were already in stores. I used round peppermint candies as a substitute and used the back of a large knife to smash the peppermint candies. I made pieces that ranged from 1/2 an inch to almost dust. This was a nice touch because the large pieces showed that it was peppermint and the dust provided an extra oomph to the overall peppermint flavor paired with the peppermint oil.
Overall, this recipe was a crowd favorite. I handed pieces out to the college students I work with. Before I knew it, all the pieces were gone. They devoured it. A few of my students requested some for the holiday season.
I love the peppermint flavor in this chocolate and the deep, rich flavor of the different chocolates.
I will be making this recipe for my family and friends as a nice holiday snack. I think this bark could easily be thrown in a cup of hot chocolate and be a perfect cold, snowy day treat. I love this recipe and will repeat it multiple times!